Enjoy all the bright flavors of summer in this easy-to-prep Pesto Bruschetta. An ideal appetizer, it also makes a great light lunch.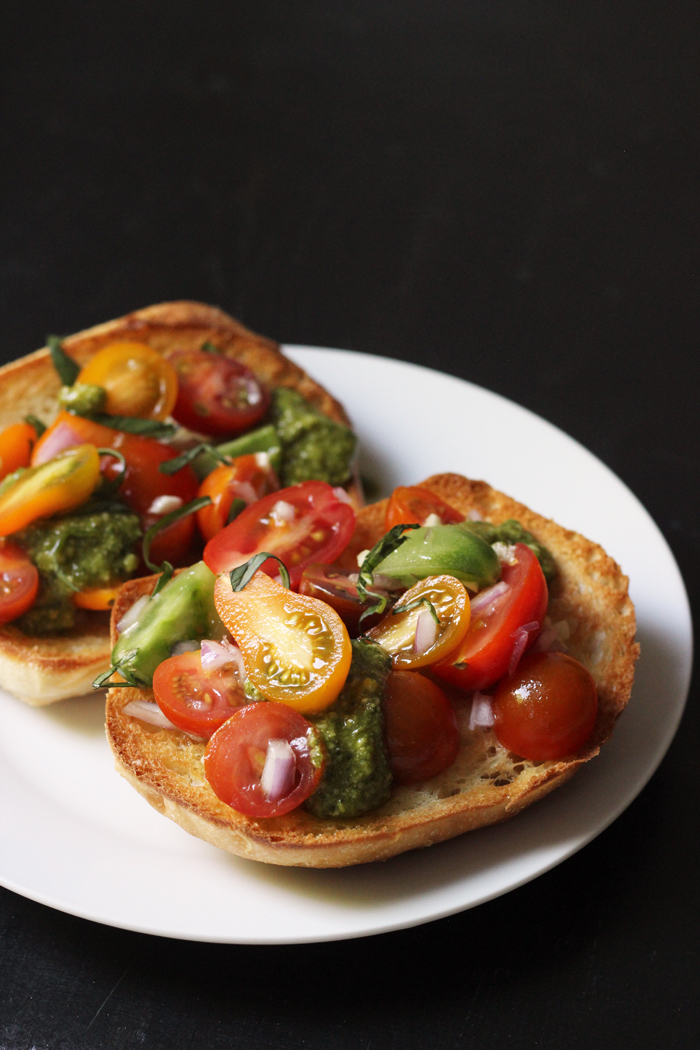 We spent late spring/early summer traipsing through Great Britain. We had a really nice time. It seems that I rarely take time off unless we go overseas. I'm thinking that we need to go overseas more often! While I save the money to do just that, I'm enjoying some great tastes that we encountered during our time in England, Scotland, and Wales.
One restaurant that we frequented quite often was Zizzi, a favorite stop from our previous trip to London. It's a UK chain that specializes in Italian food. Thanks to a strong dollar and offers (aka coupons) I downloaded from their website, we were able to enjoy Zizzi almost twice a week. Some of the kids got really adventurous in their meal selections, while others chose the same "Margarita Pizza add pepperoni" every single time. For my part, I tried something new almost every meal.
But, one thing I did come back to more than once was their bruschetta:
Isle of Wight mixed tomatoes, red onion & roasted garlic, marinated in extra virgin olive oil, on toasted bread, with super green pesto, fresh basil & riserva cheese.
Now, I don't have tomatoes imported from the Isle of Wight, nor did I spring for riserva cheese. But I do have Costco.
And my friends, this is a Costco kind of recipe! Everything except for the fresh basil can be purchased in one stop at Costco. I suppose other stores would work, too, but I'm partial to their ciabatta/torta rolls and their walnut/peanut-safe pesto. Plus, they have a bulk pack of beautiful mixed tomatoes this summer that is begging you to make it into bruschetta.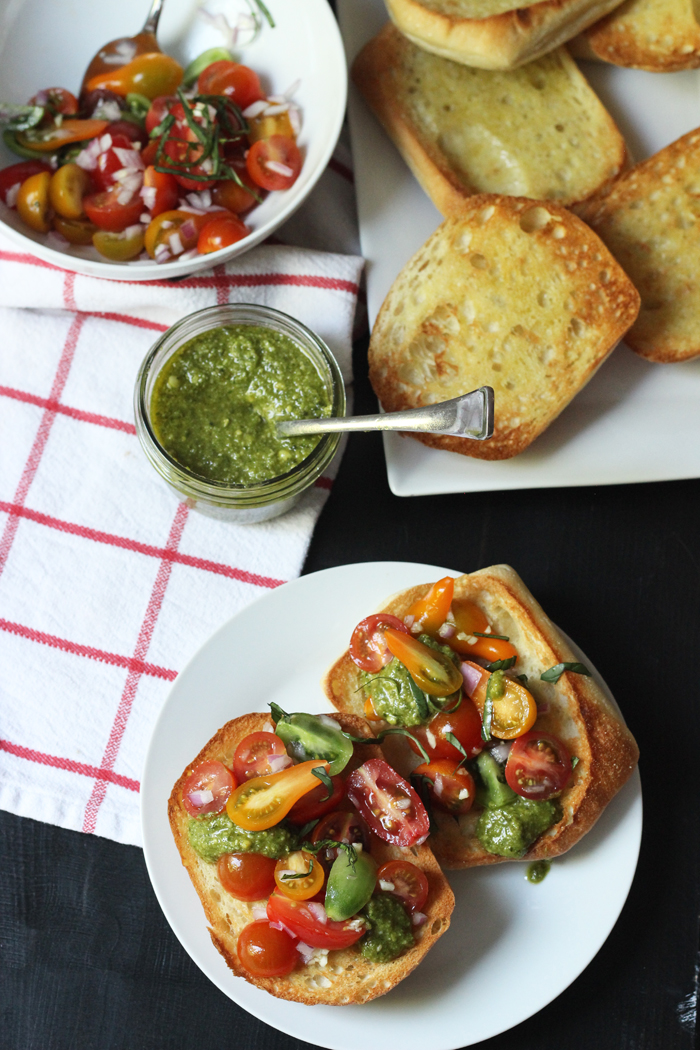 How to make this good and cheap:
Here are some of the strategies you can use to make this recipe more economical:
Stock up on ingredients when they are on sale. Pesto is the big ticket item in this dish. Stock up when you see a good sale.
Shop at Costco. When I did

 

my big grocery store showdown, I learned that Costco has the best price for a lot of the things I buy, plus they sell all the ingredients needed for this recipe.
Make your own pesto. Pesto can be a pricey ingredient sometimes, but it's super easy to make yourself, especially if you've got a source of cheap fresh basil, like your own backyard.
How I make this recipe easy:
This recipe really couldn't be easier than it is, but having the right kitchen tools can really make your time in the kitchen more enjoyable. Over time, I've honed my collection so that they are perfect for my needs.
Here are the tools that I use for this recipe:
Pesto Bruschetta
Enjoy all the bright flavors of summer in this easy-to-prep Pesto Bruschetta. An ideal appetizer, it also makes a great light lunch.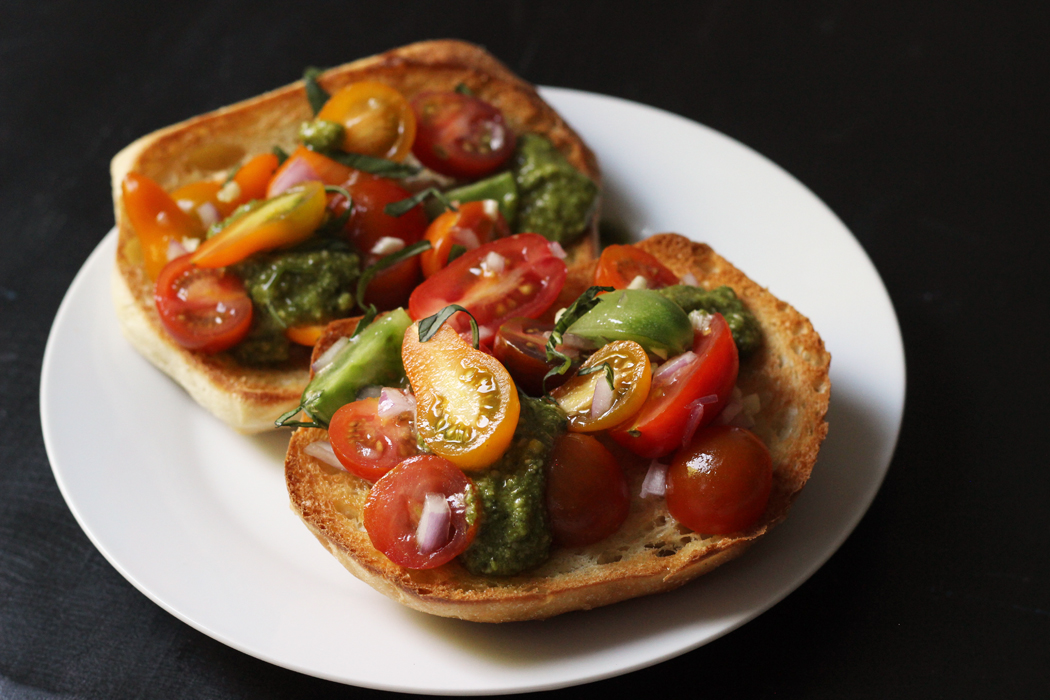 Preparation Time: 10 minutes
Cook time: 10 minutes
Total time: 20 minutes
4 servings
Ingredients:
4 ciabatta or torta rolls, split

3 tablespoons olive oil

1 clove garlic, chopped

2 cups sliced grape tomatoes

2 tablespoons chopped red onion

1/4 cup pesto

basil chiffonade for garnish, optional
Instructions:

Preheat the oven to 450 degrees. Lay out the ciabatta halves in a single layer on a large baking sheet.
In a small bowl combine the olive oil and garlic. Brush the breads with the garlic oil. Toast the bread until golden, about ten minutes.
In a mixing bowl, combine the tomatoes, red onion, and remaining garlic oil. Stir gently to combine.
Top the toasted rolls with the tomato mixture and dollops of pesto. Garnish with basil if you like. Serve immediately.