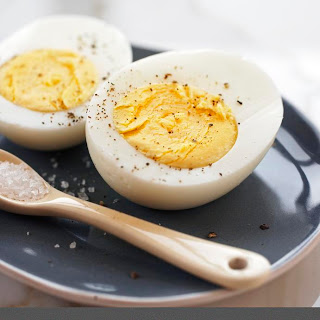 One of our favorite ways to enjoy eggs is hard cooked. Contrary to popular belief, the best eggs are hard cooked, not hard boiled. Boiling eggs or even leaving them in the water too long will make the whites rubbery and the yolks start to green. They're not bad for you. Just not as pretty as the ones pictured above.
And ever wonder why some eggs peel really easily while others fight to keep their shell? I'm not an egg-ologist, nor do I play one on TV, but my cooking magazine reading has told me that the older the egg, the more oxygen inside it, the easier it will release the shell. Remember the float test from the other day? A floating egg is bad; too much oxygen has permeated the shell and it has gone started to go bad. The eggs that stand up (rather than the ones that lie down) should make better hard cooked eggs. The very freshest eggs are the hardest to peel if they've been hard cooked.
Years ago, Julia Child published a multi-step recipe for cooking the perfect hard cooked egg. It was multiple steps more than either you nor I want to take. But, a good hard cooked egg is not hard to come by.
Here's what I do, which is exactly what the American Egg Board recommends:
Place eggs in saucepan large enough to hold them in a single layer. Add cold water to cover eggs by 1 inch. Heat over high heat just to boiling.
Remove from burner. Cover pan. Let eggs stand in hot water about 15 minutes for Large eggs (12 minutes for Medium eggs; 18 for Extra Large).
Cool completely under cold running water or in a bowl of ice water. Peel and eat, or store unpeeled in the refrigerator for up to 1 week.
I love to serve hard cooked eggs on salads and in egg salad sandwiches, and the rest of the family gobbles them down with a bit of salt.
How do you like YOUR eggs?


Want the dish on delicious ways to act your wage? Subscribe to GCE in a reader or via email.