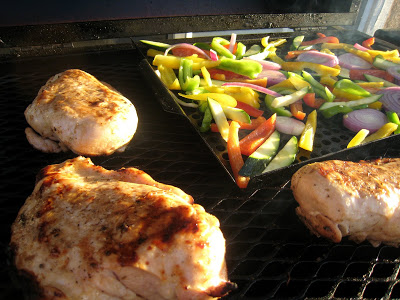 I have a great recipe for Tandoori Chicken that my family loves. Recently, I tweaked it by using Emeril's Chicken Rub instead of the regular spices. I had received a variety pack of Emeril's ingredients earlier in the summer for recipe testing, thanks to FoodBuzz's Tastemaker Program. How fun! It was great to get my creative juices flowing and make something new. Taking a basic recipe that we already liked was a good way to start, too.
If you can't find Emeril's Chicken Rub, you could easily substitute your favorite spice blend, provided it goes well with chicken
Ingredients
6 boneless, skinless chicken breasts
1/2 cup plain yogurt
1/4 cup buttermilk
1 Tablespoon Chicken Rub, or other favorite seasoning
2 Tablespoons lemon juice
2 Tablespoons olive oil
Instructions
Rinse chicken breasts and place in large ziptop bag or 9×13-inch pan.
In small mixing bowl combine yogurt, buttermilk, Chicken Rub, lemon juice and olive oil. Whisk to blend. Add more buttermilk to thin, if necessary.
Pour over chicken breasts. Turn to coat, or massage bag if using ziptop bag. Chill 2 hours to overnight.
Grill over hot coals or broil in the broiler until juices run clear. Serve with rice and grilled veggies.
For more delicious recipes, visit
Tasty Tuesday
. While I haven't tested this recipe yet as a freezer meal, as Jen suggests, I think it would do really well, just like the 4 meals in 4 minutes that she mentions.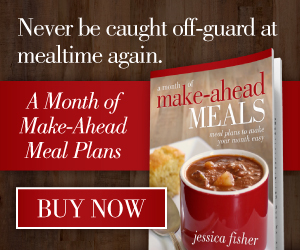 Make-ahead meals can make your month! Grab this month's meal plans to take it easy and enjoy great home-cooked meals.