Caesar Salad can be simple, quick, delicious, and economical if you know how to make the right tweaks. I'll show you how in this easy Caesar Salad recipe.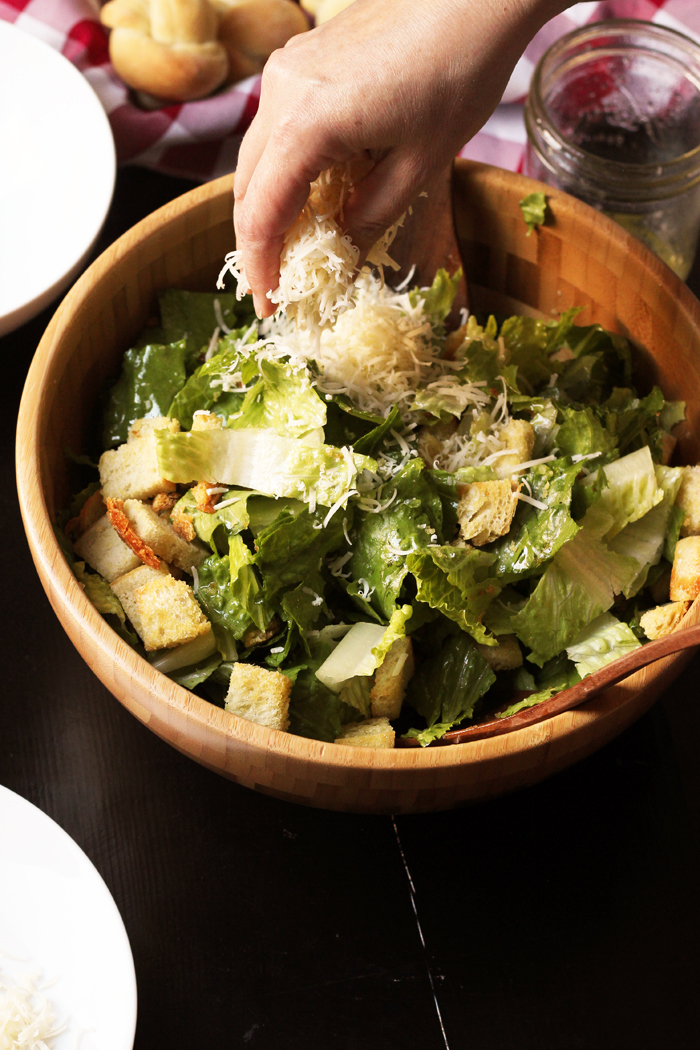 When we got married, restaurants were at the height of the Caesar Salad craze. Now, I know that Caesar Salad never truly goes out of style. But, in the early 90s every restaurant had a signature Caesar Salad recipe. Every. restaurant.
And it's a good thing, too, 'cause we loved it. There are many delicious caesar salad recipes filed away in my memory bank. The one that we ordered every time we went to CPK while we were dating. The chicken caesar salad from Taffy's Pizza that we usually got after church back in our Santa Barbara days. The salad I usually ate when I finished waiting tables at Brigitte's. The unbelievable version that Palazzio still makes.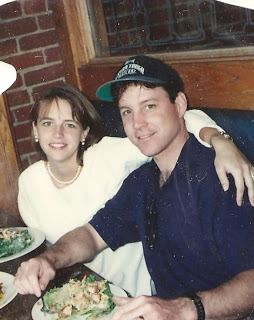 And the delicious, hand-crafted-at-your-table version that we enjoyed the first days of our honeymoon when we forgot our travel money at home and lived for two days on $40. We spent the first weekend in San Luis Obispo and then headed to France for ten days. That's us on our early honeymoon in SLO, circa 1994.
Yes, I've got lots of memories wrapped around the iconic Caesar salad recipe that was created on a spur-of-the-moment in Tijuana almost 100 years ago.
Thankfully, early in our marriage I found some inexpensive alternatives to restaurant caesar salad, delicious though it may be. At first I relied on Paul Newman's or Caesar Cardini's bottled varieties, but the best Caesar Salad recipe is the one you make yourself at home.
This particular Caesar Salad recipe is a trimmed down version. It's the one I made most often when we were fighting debt and had little kids. It has no expensive anchovy paste and no raw egg. This means it's light, simple, and very inexpensive to make. (If you want a frugal, but creamier version, check out this Caesar Salad recipe.)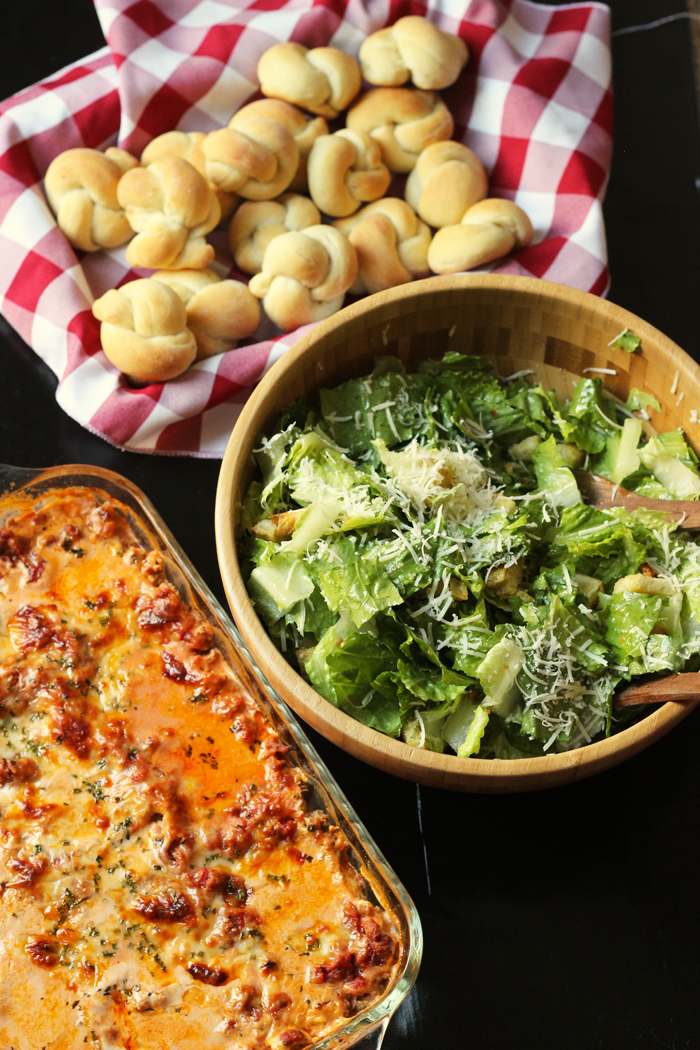 How to make this good and cheap:
Here are some of the strategies you can use to make this recipe more economical:
Stock up on ingredients when they are on sale. Parmesan is the high ticket item here. Buy it when you find it on sale. I buy big blocks of it at Costco for a cheap price. I also use Asiago or Romano if they are cheaper.
Make your own dressings. I'm sure you've got plenty of salad recipes that call for bottled dressing. Those bottles are either way too expensive or full of junk. Make your own and save money.
Make your own croutons. Do not waste money on boxed croutons when you can make your own for pennies.
Tools I use to make this recipe easy:
This is a pretty straight-forward dish. You don't need any fancy equipment. However, having some good basic kitchen tools can really make your time in the kitchen more enjoyable. Over time, I've honed my collection so that they are perfect for my needs. Here are the tools that I like to use in this recipe.
Caesar Salad
Caesar Salad can be simple, quick, delicious, and economical if you know how to make the right tweaks. I'll show you how in this easy Caesar Salad recipe.



Preparation Time: 10 minutes
Cook time: 0 minutes
Total time: 10 minutes
8 servings
Ingredients:
the juice of one lemon

1 garlic clove, minced

1/2 cup olive oil

salt and pepper to taste

1 head romaine lettuce, washed, torn into bite-sized pieces, and chilled until ready to serve

3/4 cup freshly grated Parmesan

1 cup croutons
Instructions:

In a small glass jar or bowl combine the lemon juice and garlic. Blend well. Add the olive oil and shake or whisk well to combine. Season with salt and pepper.
In a large salad bowl, place the lettuce and toss with the dressing. Sprinkle on cheese and croutons, toss again.
Serve immediately.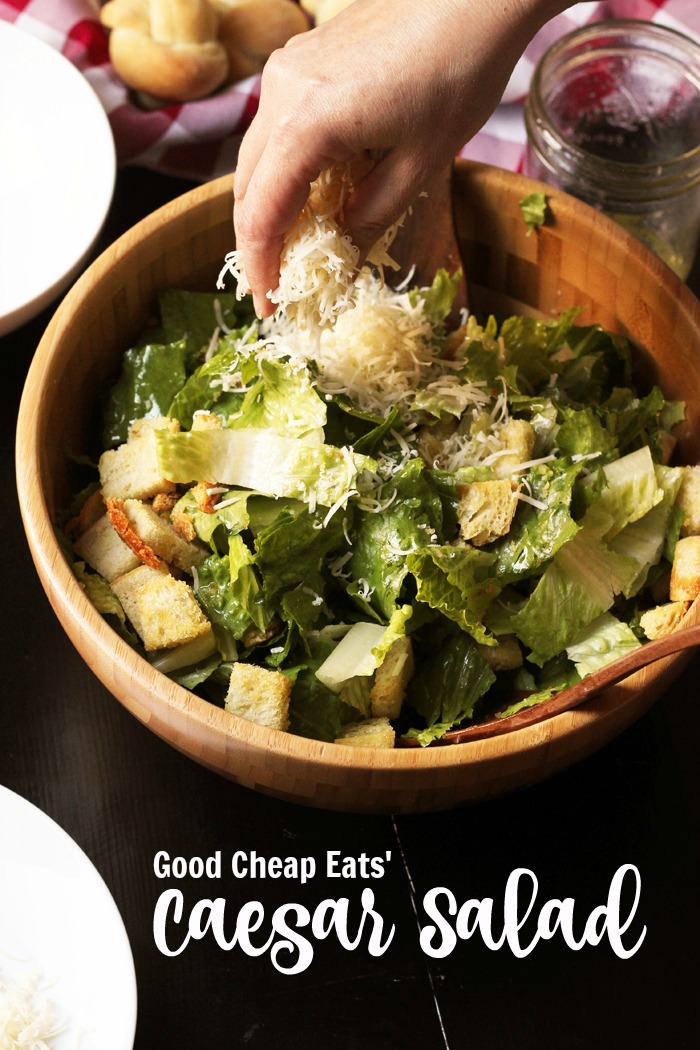 Updated March 18, 2017.
Are you looking for more good cheap eats?