Leap Day, also known as Bachelor's Day, was traditionally an occasion for turning the tables. Women were free to propose to men. As such, I propose a day of "chick food" and this Tortellini Pasta Salad.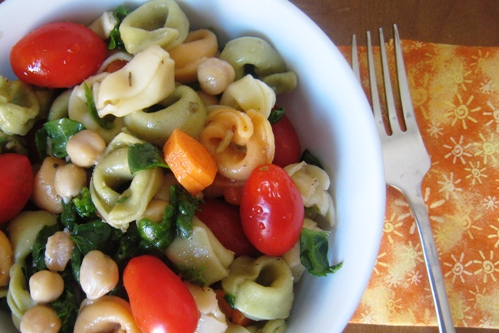 Believe it or not, Leap Day, February 29th has also been known as Bachelor's Day. Somewhere along the line, this date that appears only once every four years on the calendar also became associated with an occasion when women could propose to men, not the other way around. Back in history somewhere a man could be fined (money, a gown, or up to 12 pairs of gloves) for refusing a marriage proposal.
It could all be legend. But, hey, why not?
Since women get the upper hand on February 29th, how about some chick food?
I define chick food basically as "stuff my husband doesn't like." Except for my love of rare steak, I could easily be a flexitarian. The men in my life? Well, they're most satisfied if the meal's got just a little bit of meat in it.
My favorite "chick food" is light on the meat, heavy on the cheese, carbs, and rich flavor. Your guys might love these offerings — or not. Either way, you and your girls probably will.
Here are some of my favorites: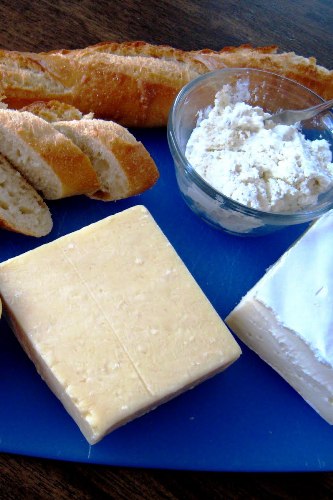 Cheese Plate
Slice a baguette or bust out some crackers to accompany a spread of cheeses and fruit. Try to vary the cheese selections based on richness and texture. Apples, grapes, berries, and clementines make nice accompaniments.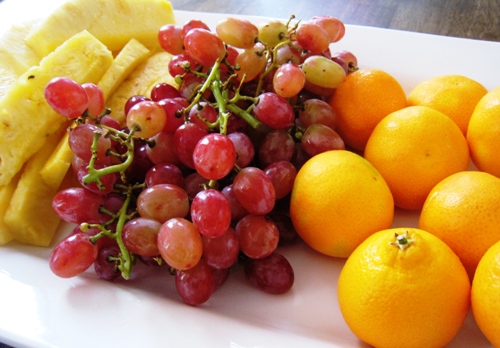 Fruit Platter
The contents of your fruit plate are going to vary, depending on the season. February doesn't lend itself to tasty melons or berries. However, apples, oranges, pineapple, and pomegranates make a lovely combination in the cooler months when it's harder to find good quality, affordable soft fruits. A layered fruit salad made with seasonal fruit works, too.

Soup and Salad
I could probably live on soup and salad. Some of my favorite soups are those that are creamy, cheesy, and/or blended, like Cheese Soup, Broccoli Cauliflower, or Roasted Vegetable.

Potatoes and Salad
Alternatively, potatoes could sub for the soup and I'd be a happy camper. A plate of rich and creamy potatoes with a salad on the side makes a perfectly satisfying meal. I love Potatoes Alfredo, Cheddar and Leek Potato Bake, and Jalapeno Poppers Potatoes.

Pasta Salad
Pasta is hearty and filling, but adding a ton of vegetables and a tasty dressing gives it a woman's touch. This Tortellini Pasta Salad is one that I could eat over and over. The garbanzo beans add protein as does the cheese filling. Grape tomatoes add color and tend to be the one type of tomato that can hold its own over the winter. Toss in some sliced carrots and chopped fresh spinach for good measure.
Recipe: Tortellini Pasta Salad
Ingredients
12 ounces cheese tortellini, cooked according to package directions, rinsed and drained
one 16 ounce can garbanzo beans, drained and rinsed
2 cups chopped fresh spinach
10 ounce package grape tomatoes
1/4 cup chopped carrots
1/3 cup red wine vinegar
juice of 1/2 lemon
1/2 teaspoon dried oregano
1/2 teaspoon crushed garlic
1/3 cup extra virgin olive oil
Instructions
In a large mixing bowl, combine the tortellini, garbanzo beans, spinach, tomatoes, and carrots.
In a small bowl, whisk together the vinegar, lemon juice, oregano, and garlic. Season to taste with salt and pepper. Whisk in the olive oil.
Pour the dressing over the salad and toss gently to combine. Adjust seasonings.
Serve chilled or at room temperature.
Preparation time: 15 minute(s)
Number of servings (yield): 4
What's YOUR favorite "chick food"?