Beans and rice are a good cheap eat, especially when you top it with chips, salsa, and some other goodies. It's a filling meal to help you save money.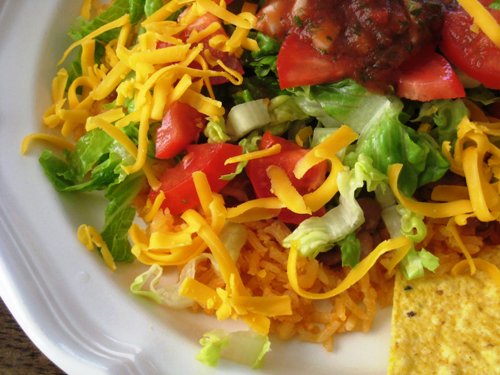 We eat beans and rice at least once a week for dinner. Sometimes they are side dishes, but usually they make the bulk of the meal. I make my own pintos as well as "from scratch" Mexican rice. We've found that the taste is better than the canned and boxed varieties, and generally the homemade version is less expensive as well.
During very lean times, we might have just beans and rice and perhaps a little cheese. But when we can, we dude them up with toppings. I make my own salsa because it's very inexpensive. I buy the other items on sale whenever possible. Since I'm a salad girl, I tend to pile on the veggies. Yes, there really is rice and beans under all that. Quite a bit actually.
Here's a loose recipe as well as the price breakdown.
Recipe: Easy Beans and Rice
Ingredients
1 batch pinto beans ($1) or 2-3 cans, if not using homemade
1 batch Mexican rice ($0.75)
2 cups grated cheddar cheese ($1)
2 cups shredded lettuce ($0.25)
1 cup salsa ($0.50)
1 cup chopped tomatoes ($0.25)
1 bag tortilla chips ($1)
optional toppings: sour cream, guacamole, sliced black olives, avocado, chopped green onion
Instructions
Allow diners to layer beans, rice, and toppings in each bowl or dish, according to tastes.
* You can make the beans in advance and freeze them in dinner-sized portions.
Number of servings (yield): 4
Total cost to feed a crowd: $4.75