French toast is a good cheap eat, making use of dry bread that might otherwise go to waste. Make the process of making it easier by cooking it in the panini press.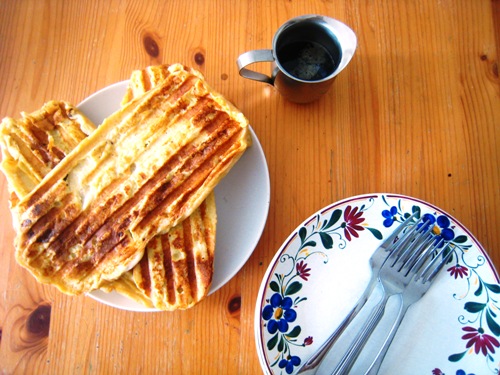 Earlier this year, I shared a long list of small kitchen appliances that I love. Somehow, I overlooked the humble panini press. I'm not sure how that happened!
Not only has it revolutionized my grilled cheese sandwich making, but it's also allowed me to make breakfasts a little easier. While some might think it's a uni-tasker, I say, Nay. In fact, I've made hashbrowns a super success when prepped in the press. And now, my French Toast making has been transformed.
French Toast is part of our breakfast rotation this summer. It's easy to make and uses up dry bread that might otherwise go to waste.
I buy clearance bread and rolls whenever I get a chance. It's super cheap to buy it this way. The baked goods might be a tad on the dry side for regular sandwiches, but they are perfect for egg bakes, bruschetta, croutons, bread crumbs, garlic bread, and of course, French toast.
In the past, I've baked my French toast or cooked it on the griddle. The panini press version takes the flipping out of the process. Just dip the bread in the egg mixture, slap it in the hot press, fold it down, and walk away.
Well, don't walk away for too long, just until it's toasty, golden brown. Serve it with butter and maple syrup for a rocking breakfast with very little effort.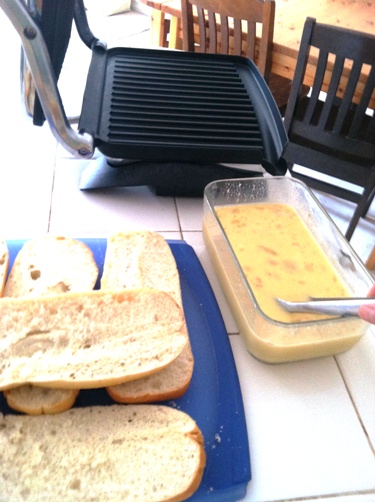 I'm working toward delegating more kitchen duties to my kids and this is an easy thing that the older ones can take care of without much, if any, help from me.
If you make too much, simply cool, wrap, and freeze any leftover French toast. They can be popped in the toaster oven straight from the freezer for an easy breakfast or snack.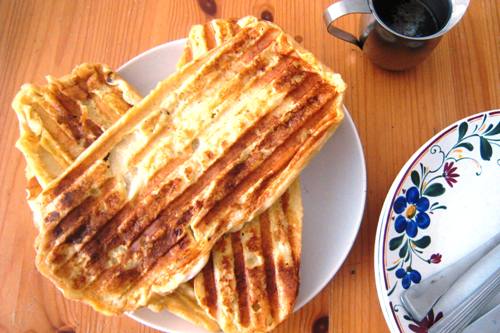 This version of French toast is flavored with vanilla, sweetened with maple, and gets a little bit of crunch from the almond meal mixed into the egg custard. It's naturally sweetened and all real food goodness. Perfect for breakfast.
I used sub rolls because that's what was on sale. You can use sandwich bread or slice up a large Italian or French loaf of bread. Use what you have and adjust cooking time accordingly.
Vanilla Almond French Toast
Ingredients
6

egg

beaten

1 1/2

cups

milk

2

tbsp

almond meal

2

tbsp

maple syrup

1

tsp

vanilla extract

6

Italian sub rolls

split horizontally
Instructions
In a shallow dish combine the eggs, milk, almond meal, maple syrup, and vanilla extract.

Heat the panini press or griddle. Grease the griddle, if using, with melted butter or oil.

Dip the bread pieces in the egg mixture, flipping to coat.

Cook the bread in the panini press, for about 5 to ten minute, or on the hot griddle until toasted brown. If using the griddle, you will need to flip the bread once the first side is toasted.
Notes
Nutritional values are approximate and are based on 1/6 of the recipe. Refrigerate leftovers promptly and use within 4 days.
Nutrition
Calories:
306
kcal
|
Carbohydrates:
41
g
|
Protein:
13
g
|
Fat:
10
g
|
Saturated Fat:
3
g
|
Cholesterol:
170
mg
|
Sodium:
382
mg
|
Potassium:
156
mg
|
Fiber:
1
g
|
Sugar:
12
g
|
Vitamin A:
336
IU
|
Calcium:
112
mg
|
Iron:
12
mg