Looking for lots of flavor at lunchtime? This Veggie Pesto Sandwich packs a punch, all while being meatless, portable, and budget-friendly.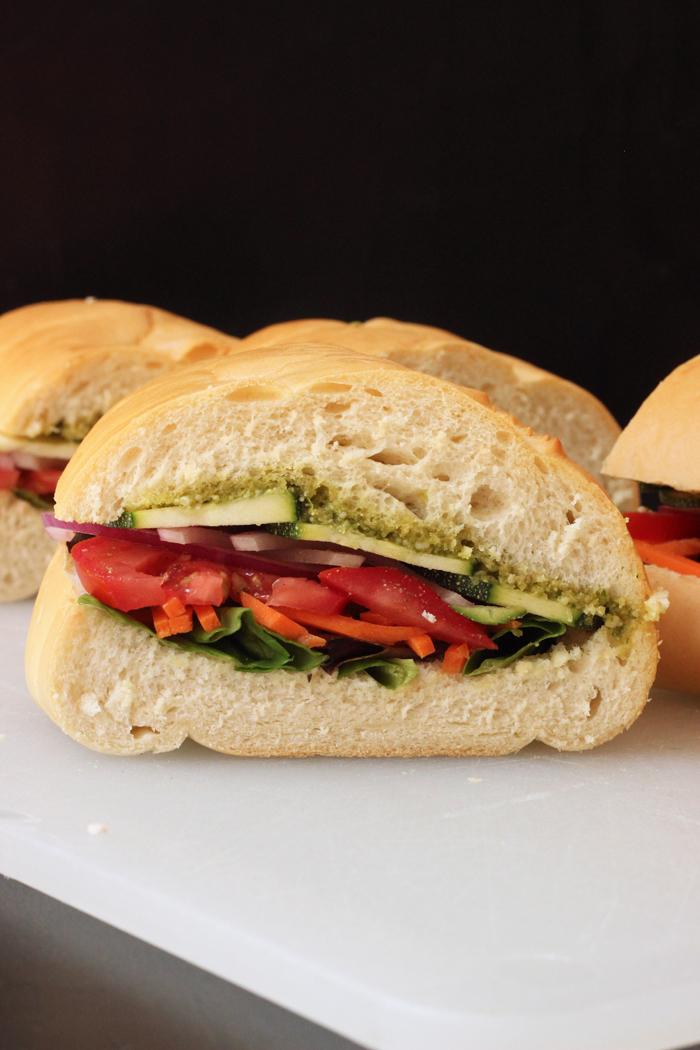 My friend Alison is so great at discovering new flavor combinations. I love it when we're at potlucks together because I get all kinds of great ideas. This sandwich is one of them. Alison prepared it with a layer of turkey in it which was amazing, but I knew it would be good as a meatless sandwich. And it is!
In fact, my 20yo who doesn't typically eat anything meatless — he even added tuna to my quinoa chili last time [insert eye roll] — but he really liked this Veggie Pesto Sandwich, particularly the crunch of the veggies.
One of the things that attracted me to this sandwich was the use of zucchini. Yes, really! It's about this time every year that zucchini growers all around the northern hemisphere wonder what they can do with their zucchini. Layering it in a pile of pesto really works. 
Similar to my Picnic Sandwich, this Veggie Pesto Sandwich is very make-ahead and packable, when wrapped carefully. I have one kid in particular who needs to up his calories but is often too lazy to make himself a snack. Having portions of this sandwich ready to go in the fridge solves that dilemma.
Feel free to add avocado, hard-cooked egg, or even sliced turkey into this sandwich. They'll all be delicious!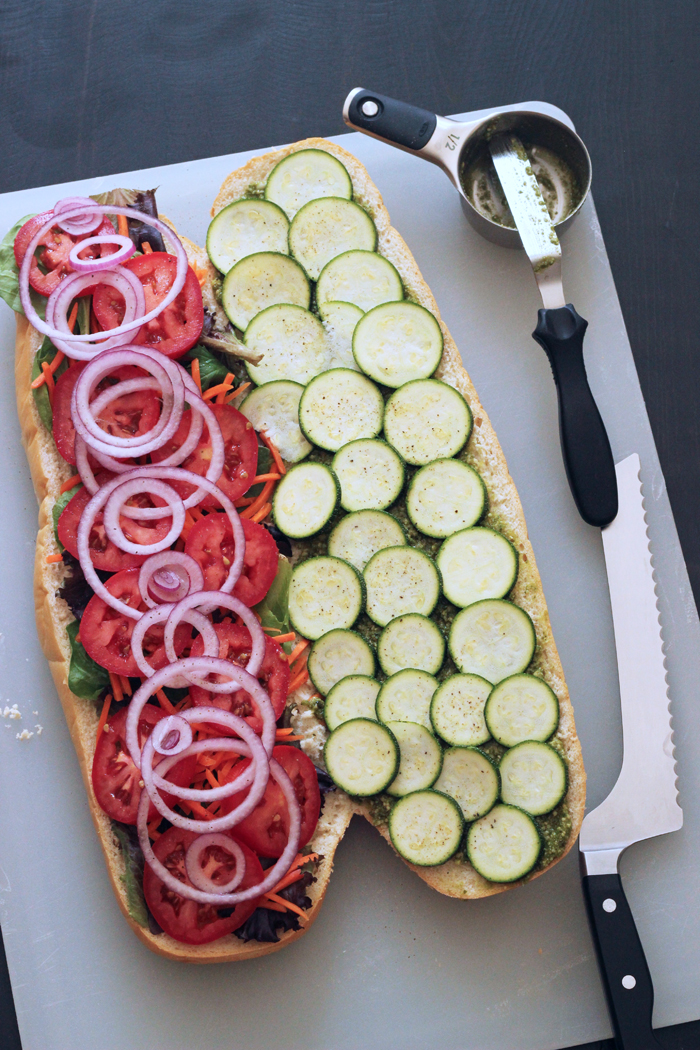 How to make this good and cheap:
Here are some of the strategies you can use to make this recipe more economical:
Stock up on ingredients when they are on sale. Pesto is your big ticket items here. Stock up when you see a good sale.
Shop at Costco. When I did

 

my big grocery store showdown, I learned that Costco has the best price for a lot of the things I buy, plus they sell all the ingredients needed for this recipe. I love their pesto because it is safe for my daughter who's allergic to walnuts and peanuts. (Other store brands use walnuts in theirs.)
Use this Rustic Basil sauce instead for a nut- and dairy-free option that's a bit cheaper because it's, well, 

nut- and dairy-free.
How I make this recipe easy:
This recipe really couldn't be easier than it is, but having the right kitchen tools can really make your time in the kitchen more enjoyable. Over time, I've honed my collection so that they are perfect for my needs.
Here are the tools that I use for this recipe:
Veggie Pesto Sandwich
Looking for lots of flavor at lunchtime? This Veggie Pesto Sandwich packs a punch, all while being meatless, portable, and budget-friendly.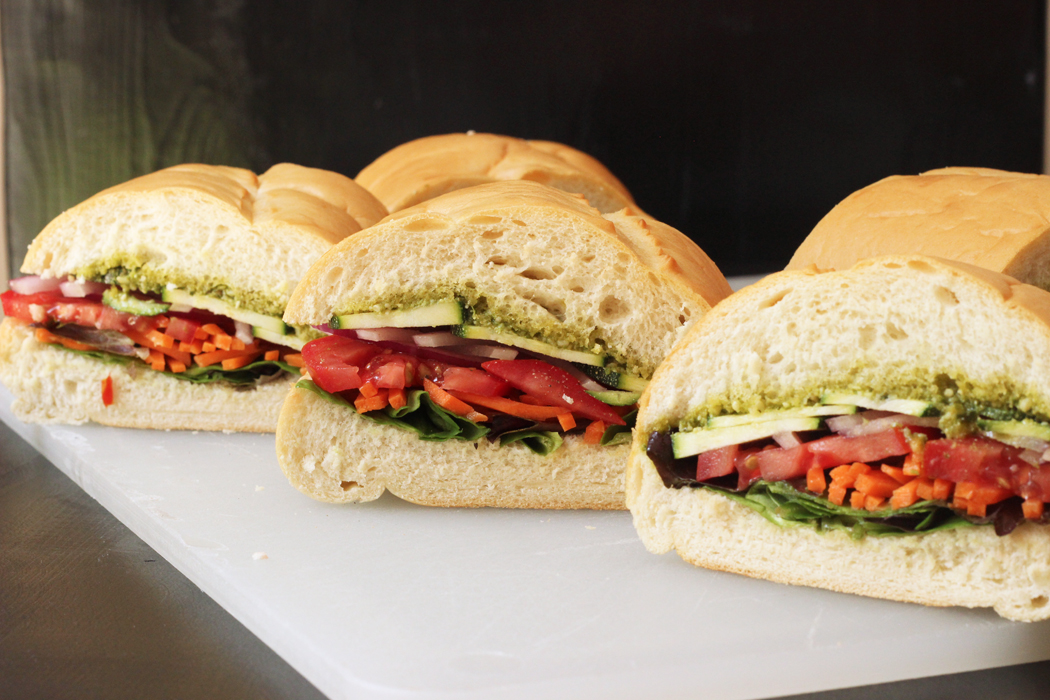 Preparation Time: 15 minutes
Cook time: 0 minutes
Total time: 15 minutes
4 to 6 servings
Ingredients:
1 large loaf French bread

2 cups shredded lettuce, baby greens, or baby spinach

1 cup shredded carrots

1 to 2 tomatoes, sliced

small red onion, sliced

1/4 cup to 1/2 cup pesto, depending on your tastes

1 medium zucchini, thinly sliced

freshly ground black pepper
Instructions:

On a large cutting surface, split the French loaf lengthwise with one edge still attached. Open the loaf wide.
Layer the bottom half with a bed of lettuce. Add a layer of carrots, then tomatoes, then onion.
On the top half of the sandwich, spread the pesto to taste. Layer the zucchini on top of the pesto. Season both halves with salt and pepper.
Fold the sandwich closed and wrap tightly with plastic wrap. Refrigerate until ready to serve.
If you prefer, you can use smaller Italian rolls instead of the large loaf to prepare the sandwiches.