Freezer cooking doesn't always involve cooking! One of the things that I did this week was build up our smoothie station.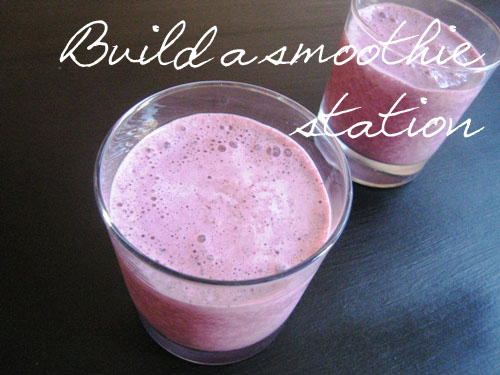 My eldest son really loves to make his morning smoothie. Now that he's working out on a regular basis, he takes his nutrition pretty seriously. He beefs up his smoothies with protein powder and counts on his mom to keep milk or juice in the fridge and a supply of frozen fruit in the freezer. Though he probably could add the ice cream that is there, he rarely does.
At least to my knowledge.
This last month, I created a dedicated drawer in our freezer for smoothie supplies. It made sense to me that all that stuff be located in one place. This week, I added to the collection.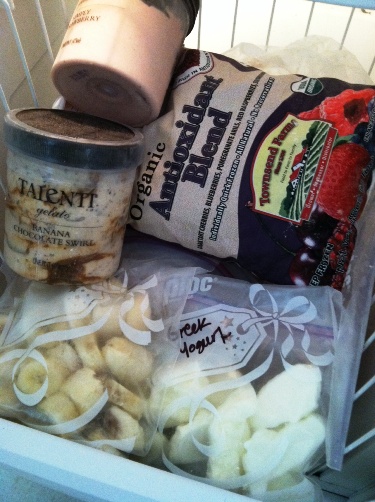 You can fill your drawer with anything that you like to include in smoothies:
chopped and frozen bananas
frozen stone fruit, like cherries, peaches, or plums
sorbet, gelato, frozen yogurt, or ice milk
even frozen spinach
I typically chop and "flash freeze" any fruit that we have that is getting very ripe or those that I find a great deal on. So, we've got several bags of home frozen fruit as well as a commercially packaged bag.
Today I chopped and froze some ripe bananas. While I was at it, I decided to freeze little lumps of Greek yogurt.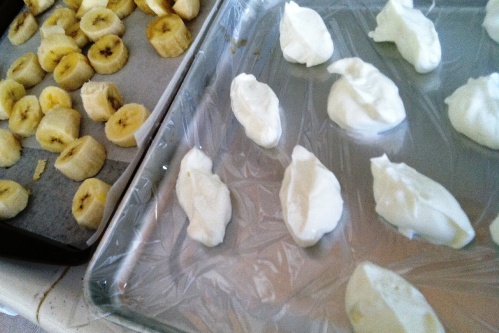 You can do this with ice cube trays, but it's easier and less messy just to dollop your yogurt onto a piece of plastic wrap on a tray. Once the yogurt is frozen, it pops right off and you can store all your little yogurt gems in a freezer bag in the freezer. This is a great way to use up some yogurt that might be too close to the "best buy" date as well.
Having a smoothie station works really well for our family and encourages my kids to eat/drink more fruit and dairy.
Try these recipes:
What's YOUR favorite smoothie combination?
Best 100 Juices for Kids

My book, Best 100 Juices for Kids: Totally Yummy, Awesomely Healthy, and Naturally Sweetened Homemade Alternatives to Soda Pop, Sports Drinks, and Expensive Bottled Juices, is your answer to healthy treats this summer.

The book includes a variety of juice and smoothie recipes as well as popsicles, sports drinks, slushies, and sparklies. It's an ideal handbook for anyone (not just families) who wants to make the switch from processed, overly sweetened beverages.

The recipes are all FishKid-tested, FishMama approved.