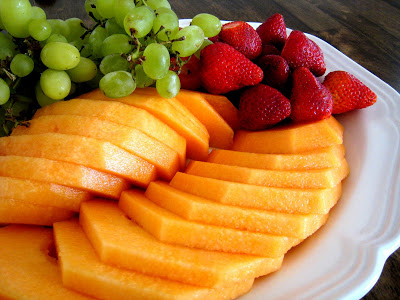 Years ago I worked for my university's catering company in their prep kitchen. I learned how to put together deli trays and fruit platters. And among other skills that I learned, they taught me how to cut a melon. Perhaps you have a method that you like and are happy with. Great! If not, you might want to give this one a try. This way totally works for me.
1. Rinse the husk with water and vinegar. Even though you aren't going to eat the peel, you are going to cut through it, thereby possibly exposing the inner flesh to bacteria and other germs.
2. Cut off the two ends and stand the melon on one end.
3. With a chef's knife, cut away the rind, curving your cuts between the rind and flesh, thusly. Proceed around the sides of the melon until all the rind is removed.
4. Slice the melon through the center.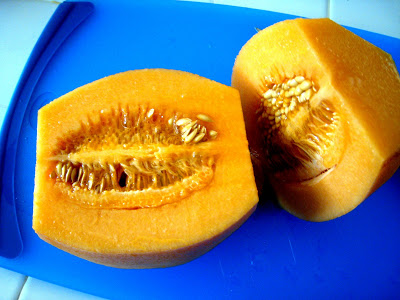 5. Gently scoop out the seeds and inner membranes.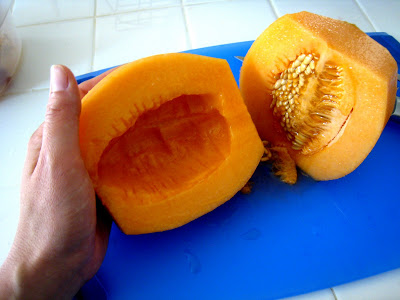 6. Place each half, cut-side down on the cutting board and slice thinly.
Arrange on a platter with strawberries and
grape clusters
.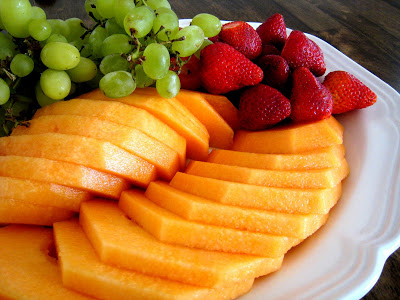 Want the scoop on delicious ways to act your wage? Subscribe to GCE in a reader or via email.