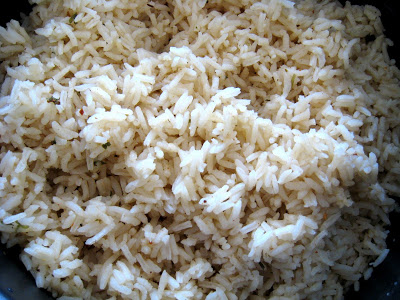 Thanks to the Tastemaker Program from FoodBuzz, I recently had the opportunity to test out some ingredients from Emeril Lagasse of Food Network fame. Two of the products, Chicken Stock and Essence of Emeril, I put together for a simple and delicious side dish, Quick Seasoned Rice. Emeril is one cool guy, not just for his passion for cooking, but especially since he shares his spice recipe online. You don't have to buy the packaged mix to make this recipe.
You could obviously do this with any chicken stock (like the kind you make yourself) and your favorite seasoning. It's easy and delicious and there will most likely be nothing leftover. And since my husband insisted on our purchasing a rice cooker, there is virtually nothing for me to do except mix the ingredients and push the "cook" button. Oh my!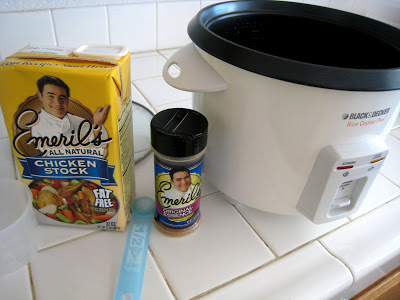 But, since I know many people don't own rice cookers, here are traditional directions for preparing a great tasting rice sidedish.
Summary: serves 4, can be doubled
Ingredients
2 cups chicken broth
1 cup long grain white rice
1 teaspoon Essence of Emeril, or other favorite seasoning blend (like Spicy Chicken Rub or Jamie's Spice Mix)
1 teaspoon dried parsley
Instructions
In medium stockpot bring chicken broth to boil.
Stir in rice, seasoning, and parsley. Reduce to simmer and cover.
Cook, covered, for 20 minutes or until water is absorbed. Fluff with fork and serve.