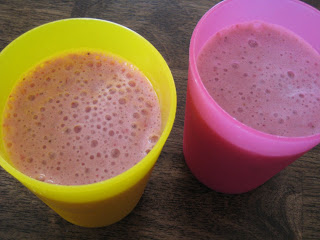 FishPapa and I met and married in Santa Barbara, where he grew up and I went to college. We lived there for the first four years of our marriage and then moved on. But, one wonderful treat that we enjoyed then and still do on our visits back is a trip to Blenders. Short for Blenders in the Grass, Blenders is a smoothie and wheat grass bar. And these smoothies are a meal in itself.
Since it's been years since we could enjoy our daily occasional Blenders, we've experimented making our own. My favorite is the Red Banana. It's milk based with strawberries (for the Red) and Banana for the, you know, Banana. They add ice milk, but since that is not easily available, I use ice (when the fruit isn't already frozen). Thawing the fruit for 20-40 seconds in the microwave helps me avoid those little icy fruit lumps in the middle of the drink. I hate those.

Recipe: Red Banana Smoothie
Ingredients
1 cup milk
1/2 cup frozen strawberries, slightly thawed (about 5 medium)
1 frozen banana, slightly thawed, broken into pieces
Instructions
Place ingredients in blender bowl and blend until smooth. If using fresh fruit, add crushed ice and blend some more to reach desired consistency.
Serves one mamma or 2 kiddos.
Number of servings (yield): 1
Stay tuned for FishPapa's favorite: The Red Orange.
Related:
How to Store Bananas
How to Store Berries
For more strawberry-based recipes, visit Tammy's In-Season Recipe Swap.