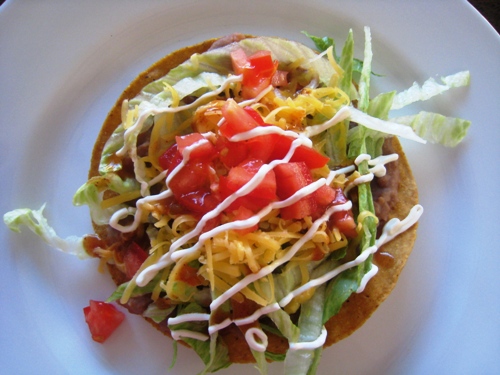 This is one of our favorite meals! It is an assemble-your-own kind of dish. Feel free to add meat or other vegetables and toppings. But, this way is just simple and good.

To get the sour cream to drizzle so nicely, spoon some into a sandwich bag. Clip the corner and use it like a piping bag.
Ingredients
oil for frying (such as vegetable or olive oil)
12 corn tortillas*
2 (15-ounce) cans refried beans or homemade cooked pinto beans
2 cups shredded cheddar cheese
2 large tomatoes, diced
2 cups shredded lettuce
1/2 cup sour cream
Instructions
Preheat the oven to 425°F. In a small skillet, heat 1/2 inch of oil over medium-high heat until very hot. A small bit of tortilla will sizzle when the oil is ready. Fry the tortillas until stiff. Place the tortillas on a rimmed baking sheet and bake until brown and crunchy, 5 to 7 minutes.
Warm the refried beans in a saucepan until bubbly.
Spread the beans over the crisp tortilla shells. Top with the cheese, tomatoes, lettuce, and sour cream. Serve with salsa.
*You can also purchase tortilla shells already fried at the grocery store
For more great Mexican food recipes, visit LifeasMOM every Thursday for Ultimate Recipe Swap.