A Super Bowl feast should be easy and simple so you can enjoy the game and good eats.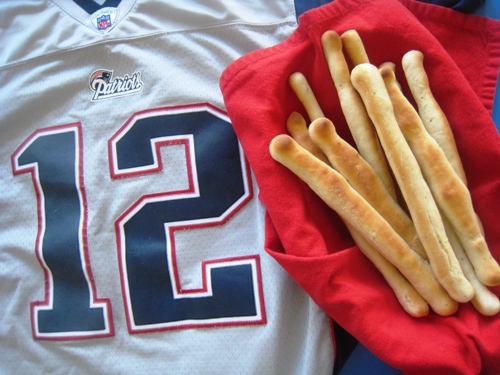 My husband and eldest son are big football fans. Not so big that we kept extra cable channels, but big enough that we've cleared the schedule for the day so that they can watch the Big Game this weekend. Part and parcel with the Super Bowl come the snacks. When I asked them what was good Super Bowl food, one said, "Tri-tip," while the other said, "Chips."
They are so boring!
Thankfully, tri-tip was on sale this week; I've got one all ready to throw on the grill. And I bought a big bag of tortilla chips at Costco last weekend, so they're covered on that front, too. It gave me pause to reconsider our menu for Sunday night. Time to switch the game plan.
Super Bowl Menu
Not only is this menu seasonal, making use of items on sale or in my produce box, but it's also pretty make ahead — and tasty to boot. Be on the lookout in this week's grocery ads for deals on chips, avocados, grilling cuts of meat, broccoli, and potatoes. Those have all been offered at great prices in my local stores and also showing up in my produce delivery.
Here's our revised Sunday menu:
Appetizers: Chips, Homemade Salsa, Guacamole
Chips and salsa are a go-to  combo at our house. I regularly mix up a batch of salsa to enjoy as a snack or to use as a condiment for a myriad of dishes. It goes great on a tri-tip sandwich, too.
This guacamole is a non-recipe recipe. Just mash your avocados, season with lemon juice and salt and pepper and stir in a few teaspoons of your favorite salsa. Restaurant quality guac with very little fuss.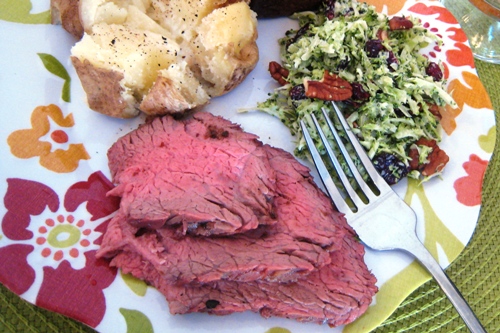 Dinner: Grilled Tri-tip, Broccoli Slaw, Crockpot Baked Potatoes, Easy Garlic Breadsticks (recipe follows)
Tri-tip is a "California cut," having been popularized by a group of meat cutters on the Central Coast who decided to take a cut normally destined for ground beef and work a miracle. They seasoned it well and cooked it over a woodfire. The result is a meaty and flavorful cut, perfect for grilling.
While tri-tip is the "bargain cut" in Southern California, as low as $2.49/pound in recent months, it may not be as affordable in other areas of the country. Brisket, London Broil, or Top Sirloin may be better options for you this weekend.
I have a number of favorite spice blends that I use for grilling tri-tip, but in a pinch, you can go simple. Just brush your tri-tip with olive or grape seed oil. Season heavily with kosher salt, black pepper, and garlic powder. Cook on the grill until your desired doneness. Cut it against the grain after it has rested for about ten minutes.
You can start your baked potatoes in the morning and have them ready later in the day by cooking them in the slow cooker. The texture will be slightly altered from traditional baked potatoes, but a tasty, make-ahead option, nonetheless.
And broccoli slaw? I was stunned that my husband loves this salad so much. He typically doesn't like sweet and savory mixed, but he loves this salad.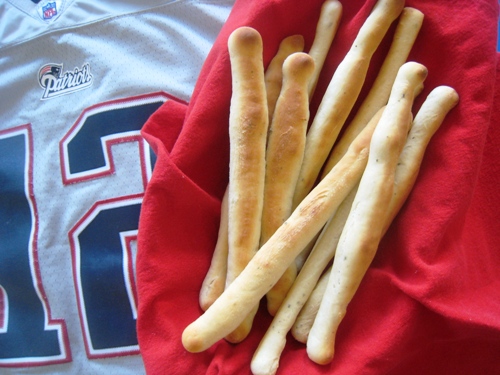 Add a little bread to the meal with these Easy Garlic Breadsticks. You can whip the dough up by hand or in a bread machine. Form the dough into sticks and bake. You can do this in advance if you want. Just warm them in the oven prior to serving.
Recipe: Easy Garlic Breadsticks
Ingredients
3/4 cup plus 1 tablespoon warm water
2 tablespoons olive oil
2 1/4 cup bread flour
1 1/2 teaspoons salt
1 teaspoon garlic powder
1/4 teaspoon dried basil
1 1/2 teaspoon yeast
melted butter, optional
Instructions
For the bread machine: Assemble the ingredients in your bread pan in the order recommended by the manufacturer. Set the machine to the dough cycle and turn it on. Check to make sure all the ingredients have been incorporated. Scrape them down into the pan if necessary. Allow the machine to do its work.
For mixing by hand: In a large mixing bowl, combine the water, olive oil, and yeast. Stir to combine and allow to proof for five minutes.
Stir in the remaining ingredients.
Turn the dough out onto a lightly floured surface and knead until a smooth dough forms, about 3 minutes.
Place the dough in a greased bowl and allow to rise until doubled in bulk, about 1 hour.
Preheat the oven to 450 °.
Line a baking sheet with parchment or a silpat baking mat.
Remove the dough from the bowl and place on a lightly floured surface. Divide the dough into 16 portions. Roll each portion into a long snake and place on the prepared baking sheet.
Bake for 10 – 15 minutes or until golden brown. Remove from the oven.
Brush with melted butter, if desired. Serve immediately.
Preparation time: 1 hour(s) 30 minute(s)
Cooking time: 10 minute(s)
Number of servings (yield): 8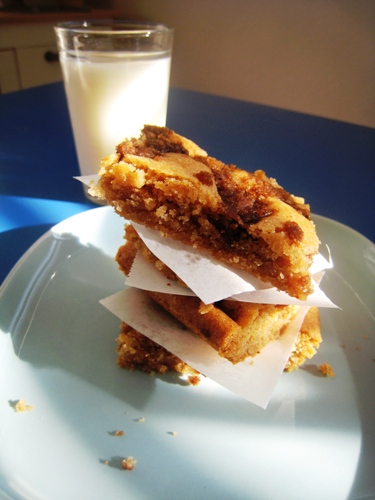 Dessert: Snickerdoodle Bars
This dessert is what we call "a happy accident." You can read the details here. It's a delicious bar cookie that mixes up in a jiffy. You could even make it as a mix several days in advance. If a pan would last long enough, I could tell you if they freeze well. I haven't tried it yet, but I have no doubt they will.
What's on your game day menu?