Organizing your freezer can help you keep track of what you have and use it in a timely manner, avoiding waste.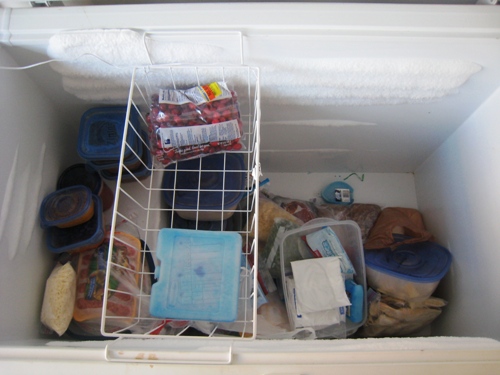 Having a deep freeze can be a great way to save time and money in the kitchen. Not only can you stock up on items on sale, but you can also practice freezer cooking where you store in the freezer a number of meals for later use.
Freezer meals have saved my bacon on any number of occasions.
Keeping your frozen assets organized can help you use them up before they go bad.
There are two types of freezer: upright and chest. There are pros and cons to both kinds of freezer.
We have had the same chest freezer for the last 12 years. While it is a little bit of a pain to defrost periodically, the Pantry Challenge helps me do that AND make the most of what we have.
It's also been a little tough to keep organized. Until now.
Last weekend I strategized with hubs as to the best way to put some order in my freezer chaos. We agreed that bins would work. He preferred metal baskets — at twenty bucks a pop. I favored plastic — for well, cheaper.
An hour later I came home from Target with these babies: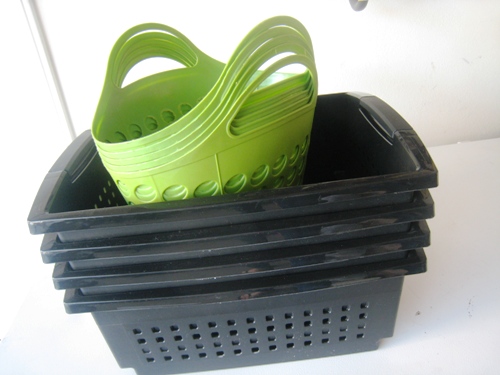 The green plastic baskets are from the dollar section at Target, for, well, a dollar. The black stackable bins were $5. So, I spent $25 to get our freezer in shape. I suppose that sounds expensive, but not compared to the $100 I might have spent at Home Depot. And seeing as I spent $200 to buy this baby in 1999/2000, I think we're good.
Now, since I'm in the middle of the Pantry Challenge, I did not empty and defrost the freezer. I didn't wipe up the spill I found on the bottom of the freezer. But, I did put things in order.
Each basket contains a different kind of item: beef, pork, chicken, fish, bacon/sausage, baked goods, vegetables, sauces, etc. I just started filling the baskets and it was all categorized in a matter of minutes! I did leave "freezer meals" on the shelf of the freezer since those are fairly varied and stack well. Thankfully, they were labeled!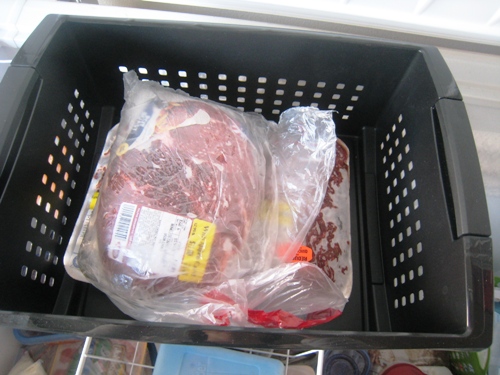 When I add items to the freezer, I just need to sort them into the appropriate bin or basket. Here's the Beef Fin.
Hubs is not convinced that the plastic will hold up for very long in the freezer. I admit, I am taking a risk. But, I'm guessing that all 9 of them won't break at the same time, so I will be able to repurpose the remaining baskets if one does prove that they aren't freezer friendly.
In the meantime?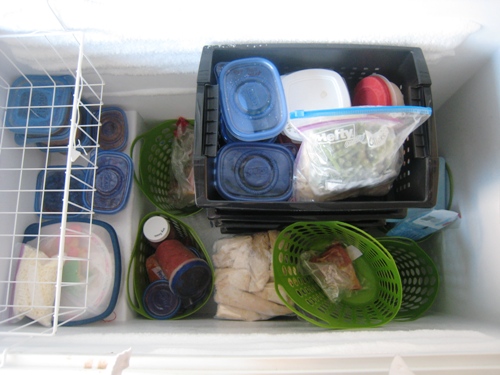 I'm good.
How do YOU organize your freezer?