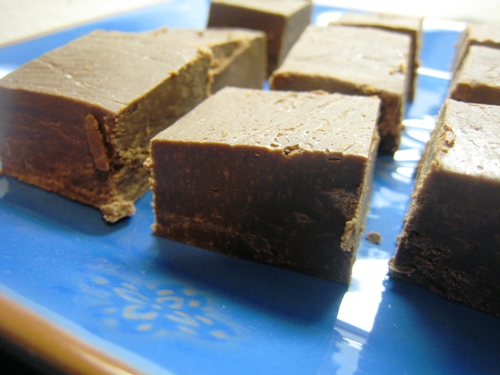 Growing up fudge was a Christmas tradition at our house. My mom usually made a very simple version using marshmallow creme. I've followed in her footsteps — until this year.
I bought all the ingredients, fully prepared to make fudge to add to our Christmas cookie tray. Well, who woulda thunk that marshmallow creme had egg whites in it? It never occurred to me.
Since FishChick2 is allergic to egg whites, I figured fudge was off the list. I mean, you can deprive a child of scrambled eggs, but can you really deprive the girl of chocolate?!
Yeah, I thought not.
So, I facebooked my woes and lo and behold there was an easier, simpler fudge than my mom's version! Readers pointed me to "the Eagle Brand fudge." I had never heard of it. But it sure is good.
And it's easy! Only three ingredients: chocolate chips, sweetened, condensed milk, and vanilla extract. I'll take that! After sales, you can make a pan of fudge for about $3. Very cool.
Do YOU make a special candy at the holidays?