Feel a little chill in the air? See the harvest coming in? Ready to dust off the soup pot and get cooking?
Autumn is a wonderful time to bring back tummy-warming, stick-to-your-ribs meals. When quizzed, FishPapa said that his most favorite fall recipe was Minestrone. (I knew he would say that.)
Traditionally, my Minestrone bubbles on the stove or crockpot for several hours. This past week, I endeavored to develop a quicker version of hubs' most favorite soup. This soup was ready to go in about an hour. Paired with sourdough bread and soft butter, it was the ideal one-pot supper.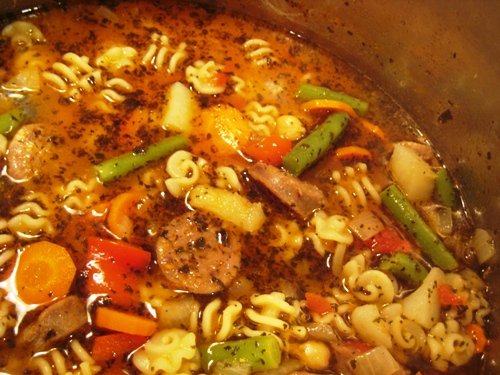 Quicker Minestrone

1/4 cup olive oil
2 cloves garlic, minced
1/2 cup chopped onion
1 cup diced potato
1/2 cup diced carrots
1/2 cup diced red or green bell pepper
8 cups chicken broth
1/2 cup tomato sauce (I used Crockpot Tomato Sauce)
1/2 Tablespoon dried basil
1/2 cup garbanzo beans
2 cups dry pasta
1/2 cup fresh green beans, cut into 1-inch lengths
2 Italian sausages, cooked and sliced thin (We like the hot kind)

In large stockpot, heat oil until shimmering. Add garlic and onion and saute until translucent. Stir in potato and carrots and saute for about five minutes. Add bell pepper and saute for another minute. Stir in chicken broth, tomato sauce and basil. Bring to a slow boil. Stir in garbanzo beans and pasta. Bubble for 5 minutes. Stir in green beans and sausages. Simmer another 5 minutes.
What's YOUR favorite fall recipe?