Feeding your teenagers healthy and economical food is not impossible. Here are 8 tips for feeding teens without going broke.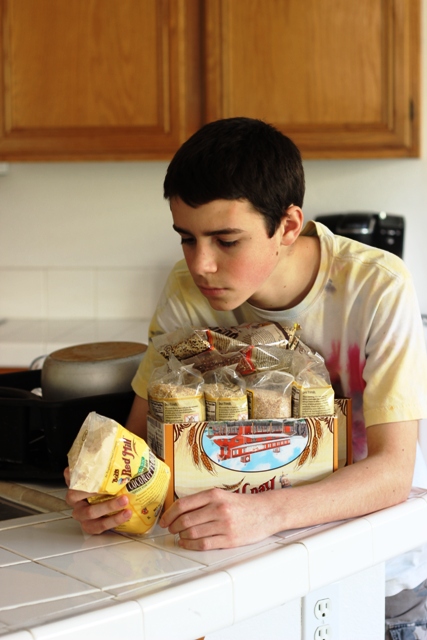 I've been receiving quite a few comments and emails that pose great questions as concerns grocery shopping and saving money on food costs. This week I thought I would tackle a question that Kelley, aka Ma Hubbard asked earlier this week:
Any tips for families entering the teen years on how to "feed the teens" or actually keep food in the house? The way mine are growing and eating, I make a huge shopping trip and then two days later, I am like Mother Hubbard!
For years folks warned me about what would happen when my crew of six children hit the teen years. "Just wait until you see that food bill," they would caution. "They'll eat you out of house and home!"
Six years ago when they were all under 12, our grocery budget was $400 a month. This was our leanest time; we were working to get out of debt. I was couponing heavily and we ate a ton of processed foods that I bought on sale for cheap. Today our monthly food costs range from $800 to $1000/month, depending on what's going on and how organized and/or stressed I am. (If I'm stressed and overwhelmed, I spend more.)
This price hike is not because I now have two, almost three teenagers. Sure, that might play into it, but we also buy fewer processed foods and more organics and use fewer coupons. The economy has changed dramatically in the last six years. I was at Ralphs yesterday and was stunned to see that their lowest cut beef price was $5.99/pound. This is 3 times what I paid a year ago! I had heard about a beef shortage, but this is ridiculous. Needless to say, we're not eating much beef these days.
Food shortages and crazy economics aside, teenagers do tend to eat more than younger children and sometimes even more than adults. Though on pasta night, my 5-year old daughter can pack more away than the rest of us!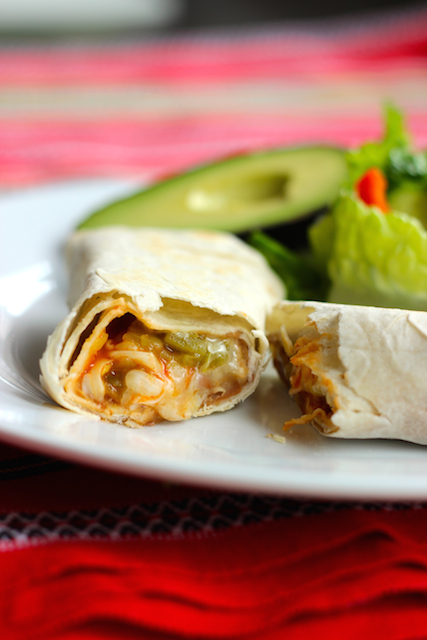 Here are some strategies that I use to keep my teens satisfied without breaking the bank:
1. I give them choices about what they eat.
As my elder two have matured, it's become apparent to me that they often don't like me to prepare their breakfasts and lunches. Dinner isn't a problem, but those daytime meals were increasingly annoying me. I'm not exactly sure why this is, but they'd often balk at what I prepared or ask to make something extra. This exasperated me to the point that I said, "You're on your own."
I swayed back and forth on the issue of fairness before just drawing a line in the sand: Those under 13 eat what I make for the daytime meals. Those over are on their own. I make the younger ones go to bed earlier than the older ones, so I have no qualms about exercising my right to differentiate between the ages when it comes to meals. And like I said, dinner is non-negotiable. We all eat together as a family, and really, the "big boys" typically enjoy whatever I make and aren't concerned about what it is.
2. I give an allowance for groceries.
My eldest, now 17, is very passionate about nutrition and eating healthy. I do not have to cajole him into eating sweet potatoes or spinach. He puts those things on my grocery list! But, there are things like whey protein and other nutritional supplements and vitamins that he has requested. I give him a $40/month allowance to order things like protein powder, chia seeds, and fish oil. How could I not? Can't really complain about a kid who wants to be healthy.
3. I stock up on grains and beans.
These are cheaper, bulk items that help fill you up without costing a lot. Yes, they are high in carbs, but kids don't really need to worry about that. My teens know how to use the rice cooker and often make their own batches to eat as snacks or with meals.
Instant Oatmeal Packets and Overnight Oats with Water are both quick and easy breakfasts that feature whole grains and limited sugar.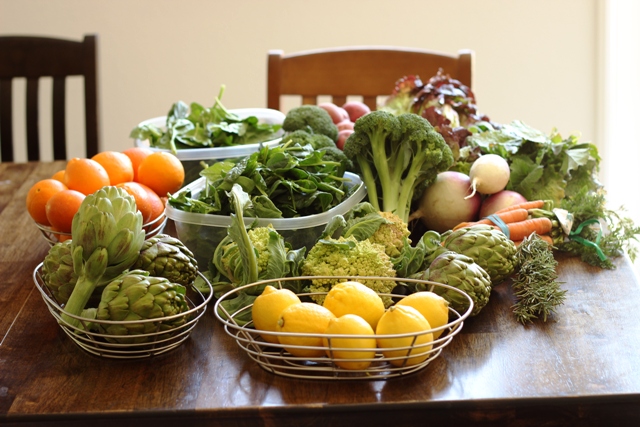 4. I buy lots of easy-to-eat veggies.
My kids love carrots, celery, cucumbers, and bell peppers. A veggie tray is a welcome sight. I try to offer a selection at lunch and snack time. Since carrots are cheap, whether baby or cut-your-carrot-sticks, it's an easy thing to provide. Hummus is a great addition, too.
5. I use Amazon's "subscribe and save".
I have some items on a regular delivery schedule with Amazon. They are items that I know are a good deal and that my kids will eat, like rice cakes, steel cut oats, and popcorn. These are ingredients and snacks that my older kids can make themselves. Even the younger ones can make popcorn or slather sunbutter on a rice cake.
6. I look to cheap proteins.
With beef the high price that it is, I look for proteins that the family enjoys that don't cost us an arm and a leg. We go through a lot of milk, eggs, ground turkey, and Greek yogurt. I buy individually frozen chicken pieces at Trader Joe's (about $2.80/pound) for a convenient quick-fix. They cook up easily in a fry pan or on the grill without a lot of hassle. In the old days, I looked to canned tuna to suit this, but with the issues of added soy (during processing) and mercury (via pollution), tuna has become a once-in-awhile treat.
7. I make/let my kids cook and bake.
It seems like it happened overnight. I'm not sure if it's their skills or my easing up on the reins of control, but I'm cutting my kids loose in the kitchen a lot these days. More often than not, it's my requesting one of the older boys to make the pizza dough or the hot dog buns. They're getting very good at it.
Since they are eating a lot of the fruits of their labor, it's a triple win: we save money eating homemade; they learn a skill; they are rewarded with extra food to eat. Often they will make the executive decision to make a double batch which saves me work and ensures that they get enough to eat. Works for me!
It's not always I who's making the decision to bake. Often they will do the baking of their own accord, in the instance of pancakes or cookies. I'm totally cool with that. Homemade is always cheaper so if they're making it, that's less I have to do. The less I have to do in the kitchen, the more I can spend time on other things on my list, feel less stressed, and spend less at the store. (see paragraph 4.)
8. I make my freezer work for us.
By preparing make-ahead meals and snacks and storing them in the freezer, I save a ton of money through bulk buying and cooking, giving us homemade convenience to enjoy for weeks. The kids love frozen burritos, Whole Wheat Snickerdoodles, and Chocolate Chip Banana Bread. Keeping these items on hand totally bridges the gap for us.
There are probably a lot more things that we do that I'm not thinking of now, but these seven strategies help us make ends meet and keep our growing teens satisfied without spending a ton of money to do it.
How do YOU keep your teens fed on a budget?
I'd love to hear YOUR tricks for keeping kids fed healthy and budget-friendly food. See you in the comments!