Despite all the back to schooly stuff going on, summer's not over. Live up the lingering days of the season with these Spicy Sausage Burgers.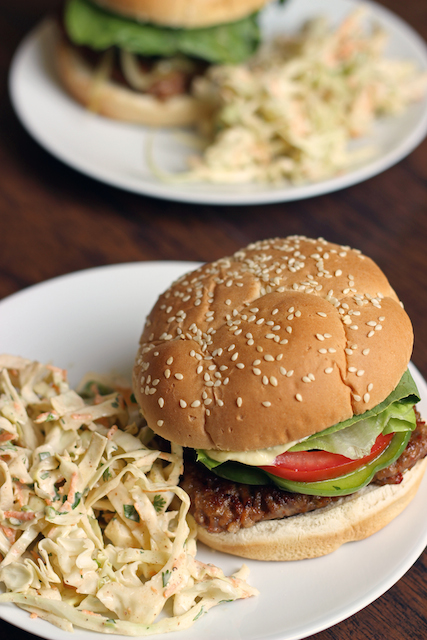 Despite the fact that the kids and I are finishing our first week of school, the calendar and the warm weather both concur that summer is still here. Fall doesn't officially begin for another month, so let's not rush things, eh? As much as I love pumpkin pie and my Salted Carmel Frappucinos, I'm not quite ready to close the books on summer.
At our house we're looking forward to a long weekend as we celebrate FishChick Day on Monday. The baby is going to be six! We've got family coming in from out of town which means I need to prepare to feed the masses. The birthday girl has determined the menu for Monday, but I've still got to feed folks on Sunday. I want to make it easy. I tend to overdo. Ahem.
One of the options I'm contemplating are these delicious Spicy Sausage Burgers. They are juicy and flavorful and so mouthwatering delicious….
Just the idea of this burger makes me start to drool. Spicy sausage, sautéed onions and peppers, and an herbed mayo? Yum! Excuse me while I go get a napkin.
These burgers are dairy-free and very make-ahead. You could make them gluten-free by swapping out the bun. We like them with hot Italian sausage, but if you prefer things to be less spicy, feel free to use mild sausage.
Be on the lookout for sales on Italian sausage. If you can't find it in your price range, feel free to use ground beef or turkey. There won't be the same spicy kick, but the sauteed vegetables and herbed mayo will still create a great burger.
Looking for more bright ideas to get dinner on the table? My latest cookbook is here! And it's designed just for you to make dinner quickly, easily, and affordably.
You can beat the clock without breaking the bank. And you'll eat well too.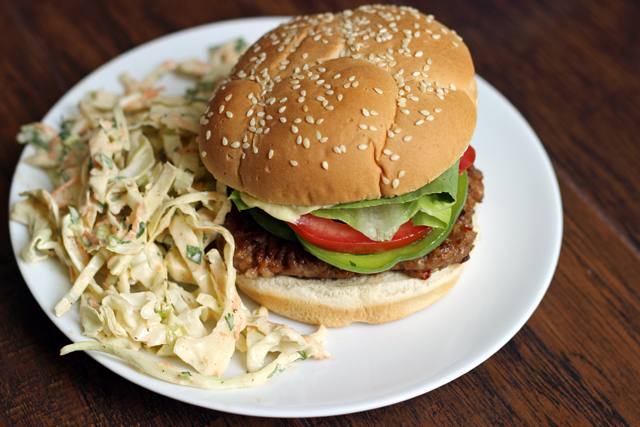 Recipe: Spicy Sausage Burgers
Ingredients
1 pound bulk spicy Italian sausage
1 tablespoon olive oil
1/2 medium onion, sliced into rings
1 green bell pepper, cored and sliced into rings
Fine sea salt and freshly ground black pepper to taste
1/2 cup mayonnaise
1 teaspoon dried basil
1/2 teaspoon dried oregano
1/2 teaspoon minced garlic
4 Kaiser rolls or hamburger buns
Tomato slices, for topping
Lettuce leaves, for topping
Instructions
Divide the sausage into 4 equal portions and form each one into a thin patty. Make a slight indentation in the center to prevent shrinkage.
Heat a skillet over medium-high heat or preheat an outdoor grill for a medium-hot fire. Cook the patties on the hot skillet or grill over direct heat until cooked through, 5 to 7 minutes.
Meanwhile, in a medium skillet, heat the oil over medium-high heat and cook the onion and peppers until very soft and starting to brown, about 7 minutes. Season with salt and pepper.
In a small bowl, combine the mayonnaise, basil, oregano, and garlic. Stir well.
To assemble the burgers, place one burger on a bottom bun half. Layer on the tomatoes, lettuce, and sauce, and top the bun.
Make-ahead: The patties can be formed and the mayonnaise spread can be made up to 1 day in advance and stored in the refrigerator until ready to cook the burgers.
Preparation time: 10 minute(s)
Cooking time:14 minute(s)
Number of servings: 4