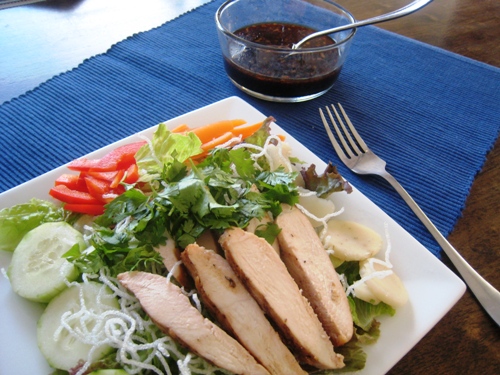 One of our family's favorite meals is an Asian-flavored Chicken Salad, that throw back to the nineties that was so very popular. It seems every restaurant had a version of an Asian Chicken Salad. And now, it seems like every restaurant still does. These are flavors that have found a place in our hearts.
And a good Asian Composed Salad is not hard to make. Full of crunchy vegetables and tender chicken, the right dressing can make the dish just sing! A few weeks ago, I shared with you how to fry rice sticks. So fun!
Since I like to keep a bag or two of Asian Chicken in the freezer, it's pretty easy to pull together some rendition of this salad. Mixing up a good dressing takes only a matter of minutes.
This last time I experimented with a premade teriyaki sauce and doctored it up with a few other Asian ingredients. If you don't have a teriyaki sauce on hand, you can mix up this dressing instead.
For the salad itself, combine any of the following components:
lettuce or cabbage
julienned carrots
chopped cilantro
peeled and sliced cucumbers
grilled chicken breast, sliced
drained, sliced water chestnuts
slivered almonds
mandarin oranges
chopped green onions
Recipe: Teriyaki Chicken Salad Dressing
Ingredients
1/4 cup soy sauce
1/4 cup teriyaki sauce, like World Harbors Maui Mountain
2 Tablespoons rice vinegar
1 Tablespoon sesame oil
1 teaspoon chopped ginger
1 teaspoon chopped garlic
1/2 teaspoon crushed red pepper
1/4 cup salad oil
Instructions
In a small mixing bowl whisk together all the ingredients.
Chill.
Serve with over Asian Chicken Salad.
Preparation time: 5 minute(s)
Number of servings (yield): 6
What's on YOUR plate?
What's on Your Plate? is designed to be a conversation amongst good eaters.
Tell us about a recent meal. Did it meet with rave reviews? Or did it bomb? What side dishes did you pair with the star of the show? Did you try a new ingredient? Find the groceries at great prices?
What's on YOUR Plate?
Share with us a recent meal you prepared. Either link it up below or tell us about it in the comments. Please make sure that you link to www.goodcheapeats.com in your post so others know where the dinner party is.
And don't forget to visit the other good eaters participating today. I'm sure you will be inspired to make all sorts of Good Cheap Eats at your house.
Disclosure: World Harbors has provided compensation for my time spent writing this post. All opinions are my own.