Enjoy an easy lunch with this Mediterranean Chicken Bowl. It's packed with flavor and late summer produce. And it's super-packable.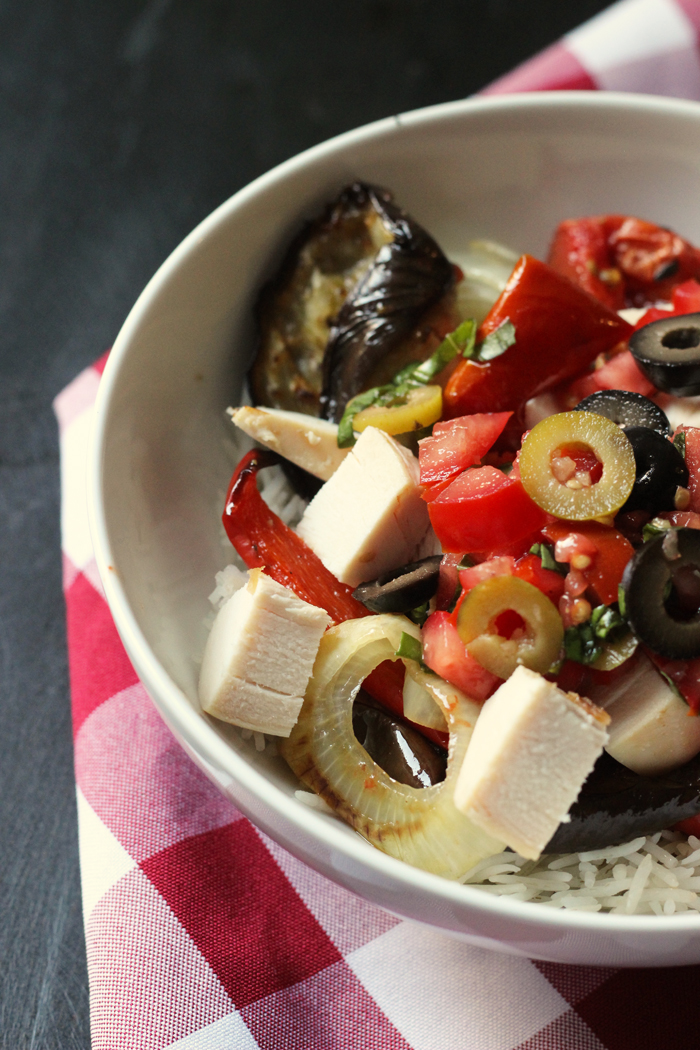 As you might know by now, Bowl Meals are some of my favorites. You don't need to stand on ceremony with a bowl meal; you just dig in. No fancy accoutrements necessary.
Bowl Meals are highly packable meaning they save you money. No longer do you need to stand in line for a mediocre burger when you've packed something amazingly delicious and homemade.
Plus, Bowl Meals allow you to explore all kinds of flavors and combine some of your favorite sauces, condiments, and side dishes into one dish, making for super fun, yummy bites. 
Today, I'm sharing my Mediterranean Chicken Bowl. It features some of my favorite flavors such as Escalivada, rich in succulent summer vegetables drenched in olive oil; an olive and tomato relish, redolent in garlic; a simple rotisserie chicken to add protein and substance; and cooked white rice to soak up all the juices. This dish is so easy, you'll want to give it a spot in your weekly meal plan rotation.
Make a roast chicken and Escalivada one night and then mix up bowls the next night. To really take the cook once, eat thrice trick to the limit, mix up a soup on the third night with any leftovers!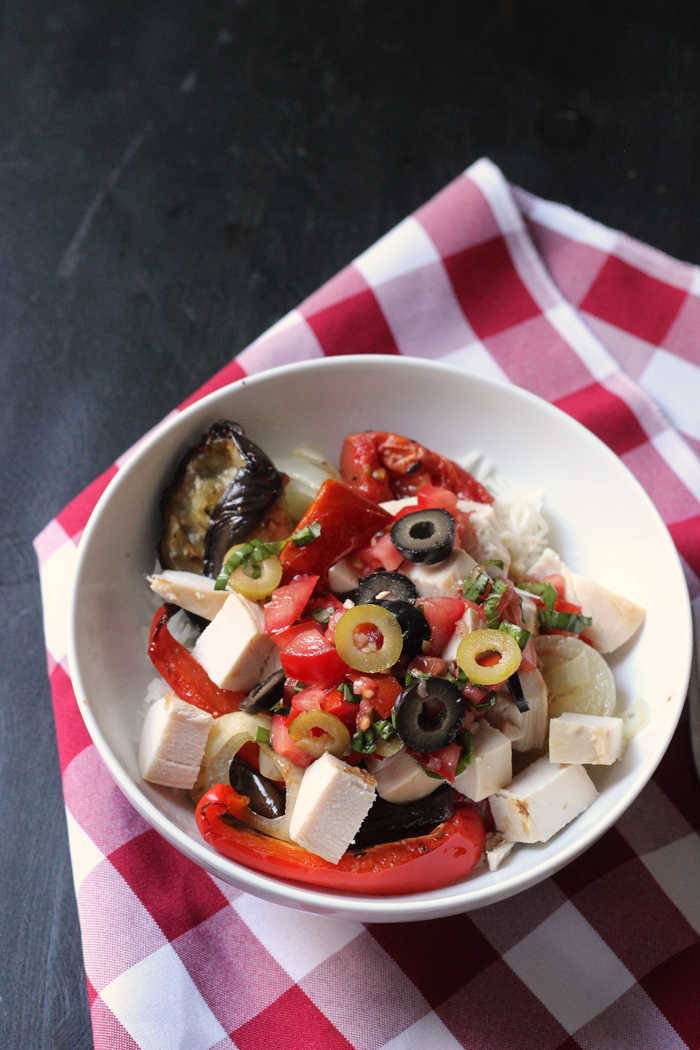 How to make this good and cheap:
Here are some of the strategies you can use to make this recipe more economical:
How I make this recipe easy:
This recipe really couldn't be easier than it is, but having the right kitchen tools can really make your time in the kitchen more enjoyable. Over time, I've honed my collection so that they are perfect for my needs.
This post contains affiliate links. When you make a purchase through those links, I am paid a small amount in advertising fees. Thanks for your support. I really appreciate it.
Here are the tools that I use for this recipe:
Mediterranean Chicken Bowl
Enjoy an easy lunch with this Mediterranean Chicken Bowl. It's packed with flavor and late summer produce. And it's super-packable.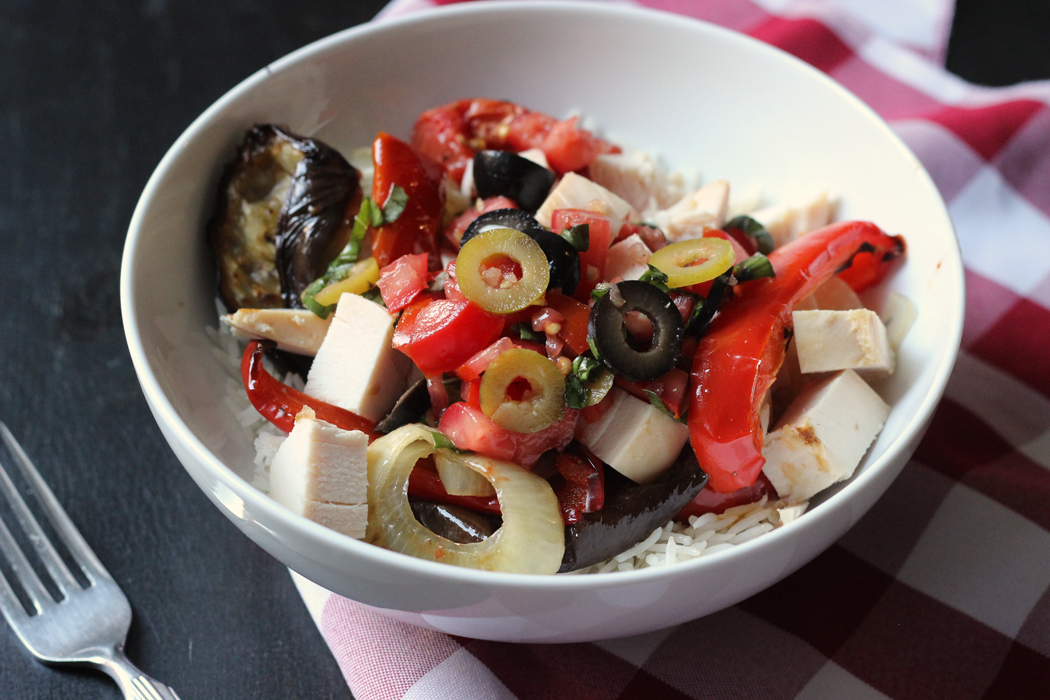 Preparation Time: 15 minutes
Cook time: 0 minutes
Total time: 15 minutes
4 servings
Ingredients:
2 roma tomatoes, seeded and chopped

5 black ripe olives, sliced

5 green ripe olives, sliced

2 tablespoons chopped fresh basil

1 tablespoon olive oil

1 teaspoon crushed garlic

4 cups cooked rice

2 cups cooked, chopped chicken

1 batch Escalivada
Instructions:

In a large mixing bowl, combine the tomatoes, olives, basil, olive oil, and garlic. Stir gently to combine.
Divide the rice among four dinner plates, or if packing for take-away, dishes with lids. Divide the chicken, escalivada, and olive mixture among the four dishes.
Serve warm or cold.