Eating on a budget while traveling can be challenging. You want to experience the culture, but also stay out of hock. Here are some of the strategies that work for us.
As you know I'm a huge supporter of good cheap eats and eating on a budget. By nature, I'm a food snob and a miser. Those appear to be incompatible, but they aren't. Not if you strategize, prioritize, and learn some creative tricks.
When I was studying in France years ago, my then-boyfriend, now-husband met me in Paris where he had leased a car. We drove all over west France and along the Mediterranean, enjoying great meals — on a budget. I think we allotted ourselves $10/person/day for all meals. On our recent trip to Great Britain with six kids in two, we averaged $15/person/day for all meals. Considering the cost of inflation, that's not too shabby.
Our family loves good food as well as travel. We couldn't do either or both if we weren't on a budget, so we've learned to combine the two. Here are some of the strategies we've put into practice over the years.
Keep in mind that your mileage may vary. Our family is accommodating certain tastes and preferences that are unique to our family as well as one serious food allergy. Our children range in age from 9 to 20, with four boys aged teen and above. We know how to eat!
Eating on a Budget While Traveling
We use a mix of these strategies for eating on a budget while traveling. It depends on the day, where we are, what options are available, how tired we are, how much time we have to be creative, and how our budget is trending. If we've been pinching pennies for many days in a row and our budget allows for it, we have no qualms about spending more on a more luxurious meal.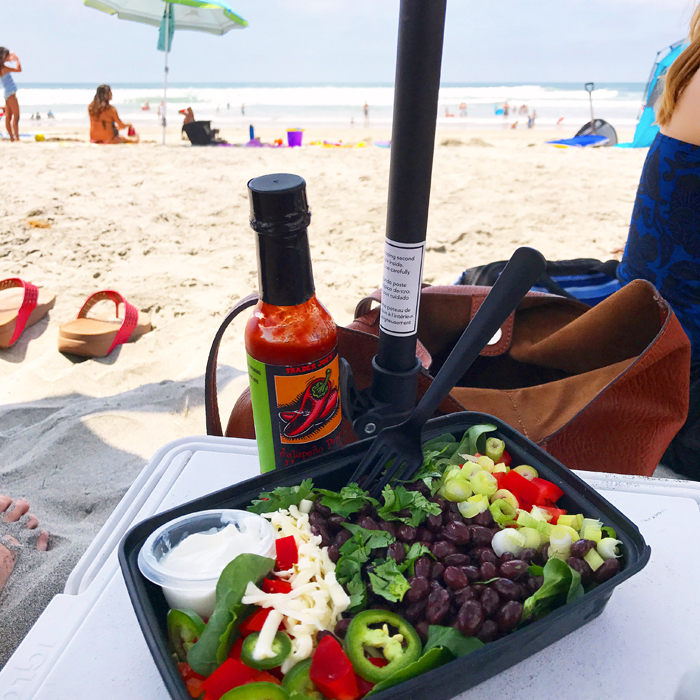 Pack your own.
Whenever possible, we pack food for the road. Yes, it takes a little extra planning and effort, but it's absolutely worth it! When I saw what a box of graham crackers sells for far from home, I was more than convinced that porting in your own food is worth the pain.
Packing salads and sandwiches for a day at the beach or taking freezer meals along on the journey when we're traveling in state allows me still to have a vacation and do my own cooking.
Even for foreign travel, packing a few snacks for the plane helps stave off hunger and protects us from astronomical airport prices.
Whether I pack food or not, I do pack essential picnic supplies, such as cutting boards, dishwashing liquid and sponge, kitchen towel, etc. For this trip, we purchased reusable plastic plates, cups, and bowls as well as a soft-sided cooler because I forgot ours at the last minute.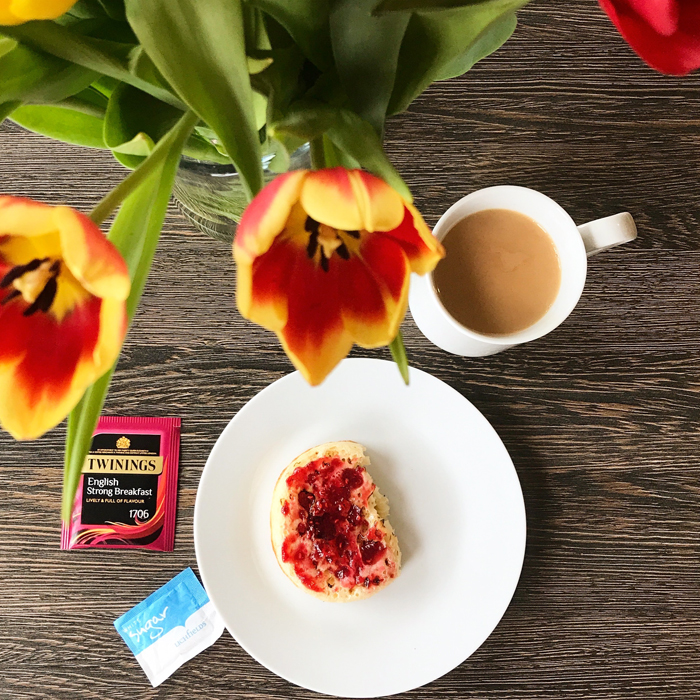 Cook your own.
If you can swing a kitchen at your destination, this can be a boon to your budget — if it pencils out. I'm a huge fan of the condo vacation stateside. During our time in France, we borrowed our friends' apartment in the South of France and found a great apart-hotel in Paris. This meant we could grocery shop, cook most of our meals, and save a lot of coin.
However, we found that for our UK road trip and the many stops we were making, it made more financial sense to stay at a budget hotel and dine out more often than to pay extra for rental apartments. Premier Inn rates plus restaurant fare was actually cheaper than apartments plus grocery bills!
That said, we bought a toaster — my husband's brilliant idea — so that we could cook our own breakfasts for just a few pounds a day. The hotel rooms were already stocked with hot water pots, coffee, tea, and sweeteners. We bought fruit, crumpets, bread, butter, honey, and jam at the grocery store and were able to pull together super cheap "continental breakfasts" with very little work.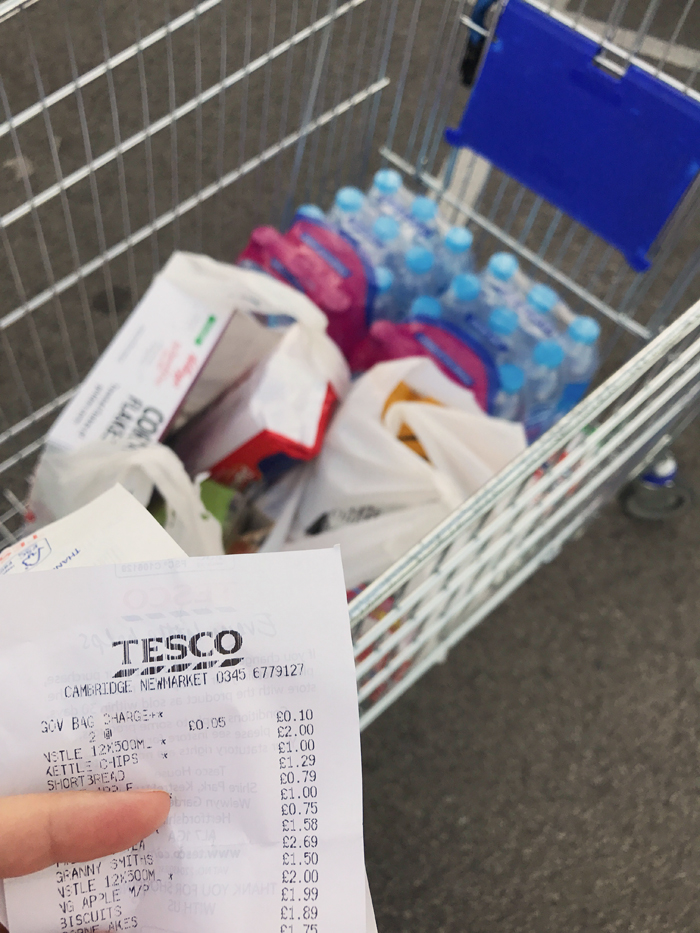 Picnic from the grocery store.
Grocery shopping while traveling is a super fun hobby of mine. My husband might have groaned a few times when I said we needed to go to the store. It was just so fascinating to see what the store had to offer that was different from home! Admittedly, it took us much longer to shop, even when it was just the two of us, when overseas, but I can't help it that I love grocery stores, can I?
We shopped at a variety of stores, finding ALDI to be the best for price, places like Asda or Tesco the best for selection. I think we saw the inside of almost every chain in the UK; we even had lunch at Costco once.
At the grocery stores in France, we regularly stocked up on apples, clementines, melba toasts, crackers, cookies, and water bottles, grabbing baguette and croissant from the boulangerie. These, along with fresh cheese, meat, and yogurt — when we had access to a fridge to freeze water bottles for ice packs — served as great snacks and easy breakfasts and lunches. It was near impossible to find ice in France, but I did use some cheap frozen vegetables to pinch hit for coolant.
In Great Britain, it was much easier to find bagged ice at the store; the folks at Premier Inn were always very gracious in giving us free ice in the evening, so it was easier to keep a cooler filled with the basics. We kept to pretty much a similar grocery list, swapping digestives for the melba toast and throwing in more crisps than crackers for a snack. Our picnics were always very tasty.

Find go-to restaurants that work for your family and budget.
We don't eat a ton of fast food when we're home in California; we're honestly pretty picky about where we go these days. However, fast food and take-out is almost unavoidable when you're on the road. It's a good idea to find the chains that work for eating on a budget while traveling.
You can find typical American chains overseas, such as KFC, McDonald's, and Burger King. We even found Subway and Chipotle in London. While we wanted to have a more cultural experience, on both European trips, we indulged a few times at American chains because our options were slim and we'd all had our fill of apples and digestives/toasts. Honestly, they weren't very good, though I do appreciate that a Big Mac tastes the same wherever you go.
Pizza was eclectic in France, but our go-to for cheap dinners. Our preferred take-out in the UK was either the local fish and chips shop (SUPER CHEAP!) or when in the city, either Pret a Manger or Paul, both places that offer gourmet take-away at decent prices. Pret a Manger locations are easier to find than Paul, but both are delicious. For a little higher price point, Zizzi and Nando's were favorites.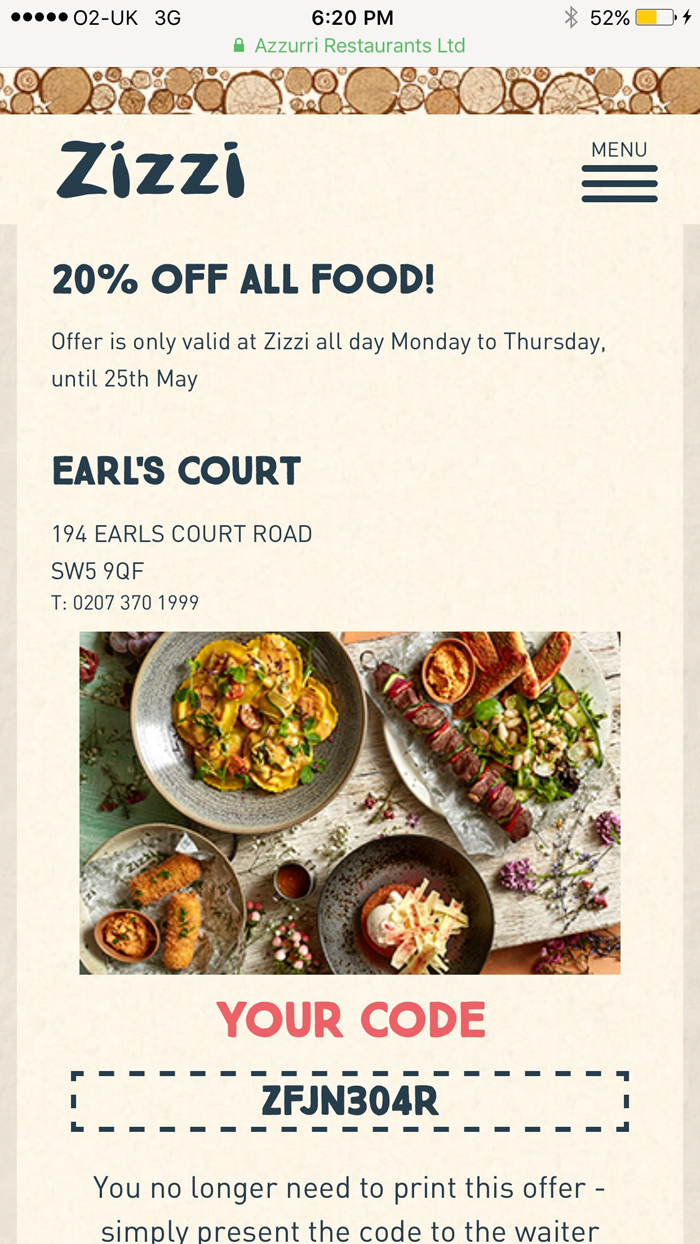 Look for coupons and specials.
On our first trip to London in 2014, we splurged twice at Zizzi, an Italian-style chain restaurant. We paid a pretty penny back then thanks to a weak dollar, but those meals went down in FishFam history as some of the best we'd ever had.
Thanks to Zizzi's online coupons — and a stronger dollar — we were able to work in Zizzi a lot more often on our trip. Except for a miserable experience at the Oxford location, Zizzi was delicious and consistently good.
Remember to check Groupon (that's my referral link) for stateside restaurant deals and check in with Money Saving Expert and Smart Canucks to get the 411 on deals in the UK and Canada, respectively.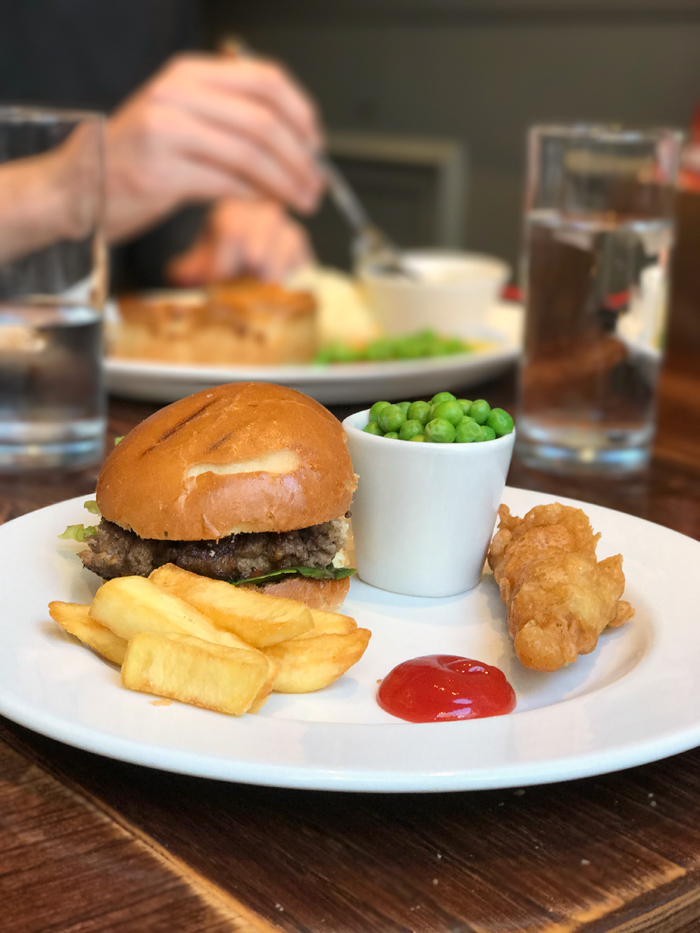 Be creative at sharing meals.
While we had committed to more restaurant meals on this last trip, we still tried to be creative and frugal when we could. This meant sharing meals when possible.
While most places offered a reasonably-priced kids' meal and allowed our littles to have the beauty of choosing, some did not. In those instances, we ordered a taster or sharing plate (pictured just above) and split it between 2 or 3 kids.
Since adult portions were often bigger than I needed — I'm trying not to stuff myself — I often passed half of mine to a ravenous teen boy. Extra hungry young men might have supplemented with apples and digestives back at the hotel!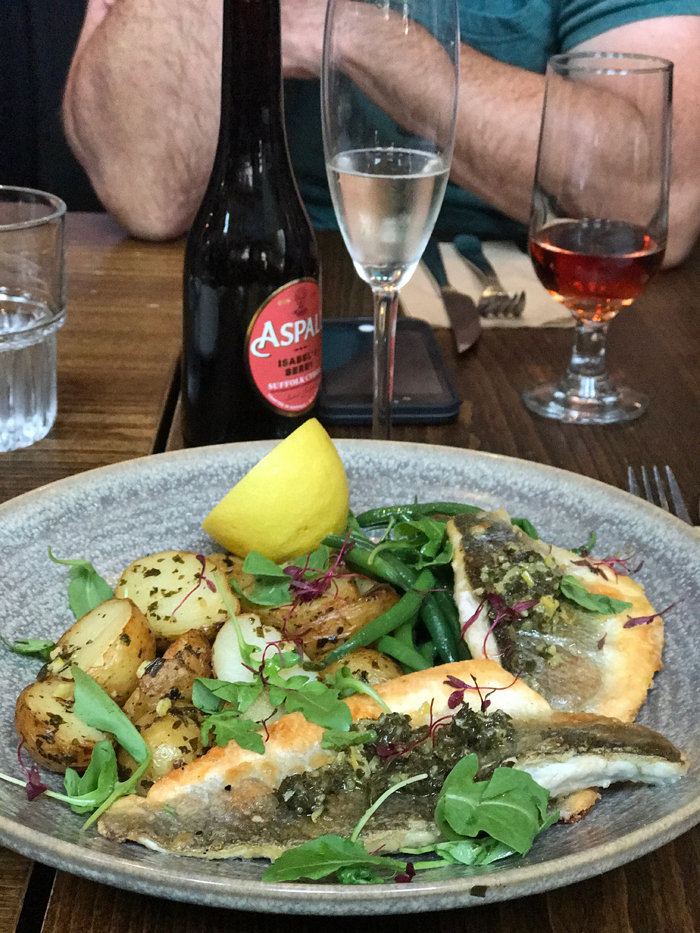 Plan for the occasional splurge.
While we are bargain hunters and have no qualms about eating a picnic in the middle of a city park or making apples and glorified graham crackers into a meal, we also like to make room for the occasional splurge. Pinching pennies most of the time allows us the budget to do it.
In France, restaurant dining was incredibly expensive. Incredibly. However, our splurging ( produced two of the best meals of the trip: one at Le Biscuit with Monsieur Renaud, and one at Chez Simone, a small restaurant in Collioure. The family agrees that homemade paella with Jean-Marc and Michele was the hands-down best.
Last week I asked the kids about their most memorable meals in the UK. These were manifold, but thankfully included some of the pricier experiences, assuring me that the splurges were worth it. And seriously, my birthday dinner at The Staunton Arms ranks as one of the best meals of my life.
Don't forget the regional specialities!
Everyone is full of opinions as to how you should eat when traveling. Seriously. The comments on this post will tell you that someone will disagree with your choices. While we didn't go by the internet rules for international dining — we ate fast food, we had Costco pizza, we ate Chipotle when we could have had another round of fish and chips — we did our best to hit the regional specialities while abroad.
On this recent trip to the UK, we made sure to try these regional specialities:
Haggis – delicious, spicy meatloaf-like concoction at The Stables.
Irn Bru – the national soda of Scotland that tastes like bubblegum. I think it's gross; some of the kids loved it.
Bubble and squeak – a potato and cabbage dish served at breakfast.
Fish and chips WITH the malt vinegar – we caused quite a stir at several fish and chips shops because we didn't order ours with the malt vinegar, prompting interesting discussions about the beauty of french fries and free samples from the owners so we could delight in the only way to eat them.
Duck cooked on the rare side – the kids deemed this to have the texture of steak, but the flavor of chicken.
Black pudding — Okay, only one kid tried it, but he ordered it several more times, so I guess he liked it.
The full English — our kids LOVED this part of our hotel stays when breakfast was included.
Sausage butties — soft white buns filled with sausage and onion, served from a little stand along the shores of Loch Lomond.
Eating on budget while traveling isn't rocket science. It sometimes takes some sacrifice and some careful planning. Obviously, each trip has its different kind of budget, as does each family. Our experiences might not be those that you might choose. These strategies, however, can make eating on a budget while traveling something that you can do, no matter where you go and what money you have to work with.
In the interests of full disclosure, how much did we spend for a month to feed eight people? We spent $3607 on food, including bottled water, toaster, plastic dishes, picnics, snacks, and meals out. Yes, that's three times what we normally spend at home, but it was VACATION for a month for 8 people. I make no apologies. It works out to $15/person/day which isn't too shabby when you've got FOUR teenage+ boys, eating their way through the UK.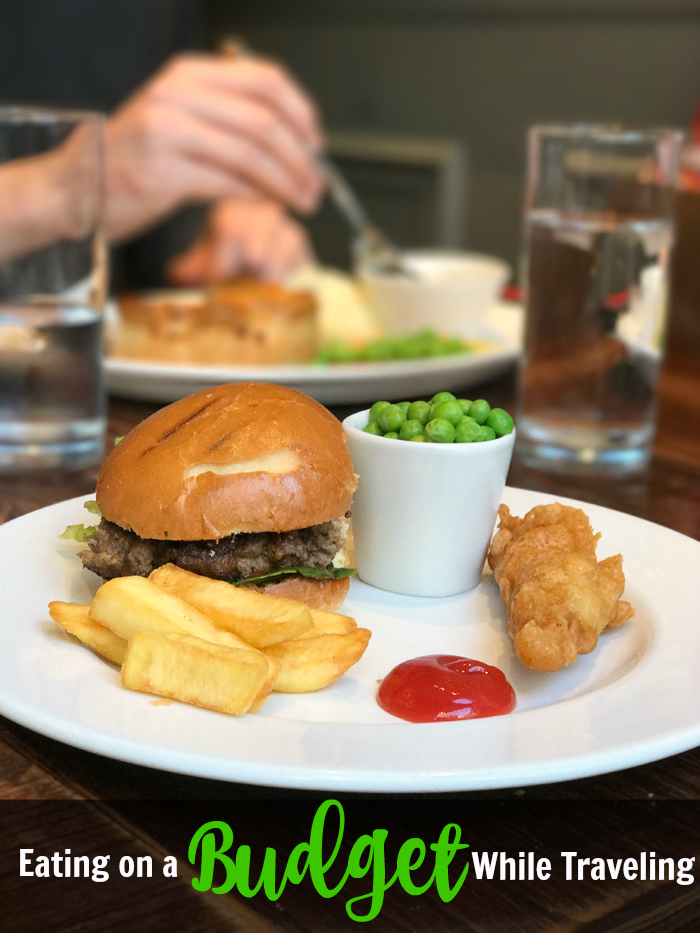 So far in this Great Britain on a Budget series:
Find all our UK planning tips and experiences here. Check out the instagram feed here.