Ever been tempted by the contents of the frozen food aisle? In today's installment of the DIY Convenience Foods series we're making our own homemade burritos for the freezer.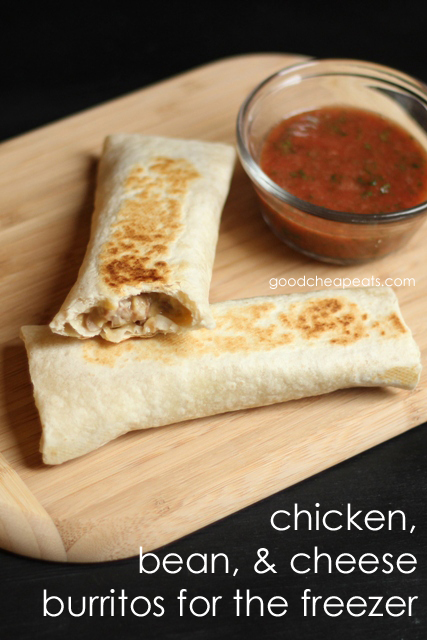 Many moons ago, I worked at Lucky Stores. It was a major grocery store chain back in the 80s. I was a box girl, as they say. Working there was like coming out of a cave and discovering a whole new world of food. Since I bagged up the customers' purchases, I saw everything that came down the line. A lot of it was food ingredients I had never seen before.
It makes sense, really. My family's food culture was rife with Sauerkraut and Pork, ChiChi's Salad and Pizzas, and Chili Stacks. Certainly my mom never bought everything there was to buy at the store. Some things were quite the mysteries to me.
Among those mysteries? The frozen burrito. Huh?
We ate a lot of burritos at our house, but never any we'd bought in the frozen food aisle. Del Taco, maybe, but not the frozen food aisle. I was intrigued.
Since I was working, I had spending money of my own, and that of course, meant I could buy things. And since I was always hungry in my teen years, the things I almost always wanted to buy were edible things. Like frozen taquitos and frozen burritos. Ha!
Between you and me, they weren't all they were cracked up to be. The beauty of home cooking is that you can make whatever you want in the world of food yourself, frozen burritos not withstanding.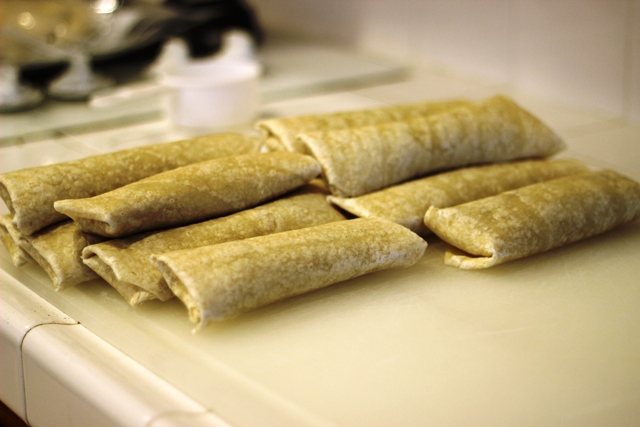 In my cookbook, Not Your Mother's Make-Ahead and Freeze Cookbook, I share three very different burrito creations. I'm actually quite proud of them. The bummer is that they are off-limits for blogging.
You'll have to buy the book or borrow it from your library to try them out, and I hope you will because Chipotle Chicken and Onion Wraps, Pepper Jack and Chile Burritos, and the aptly named Not Your Convenience Store's Frozen Burritos are pretty rocking awesome, if I do say so myself.
Today, though I have another great burrito creation, one that comes together quite quickly and easily. It makes a dozen. I recommend a double batch so that you have enough to eat fresh and then some more to freeze.
Making frozen burritos yourself.
Making burritos is not difficult. In her great book, Bake the Bread, Buy the Butter, Jennifer Reese claims its better to buy your burritos. She also says that potstickers and wontons are super easy to make. Both of us are native Californians; I think you can tell which halves of the state we each respectively call home.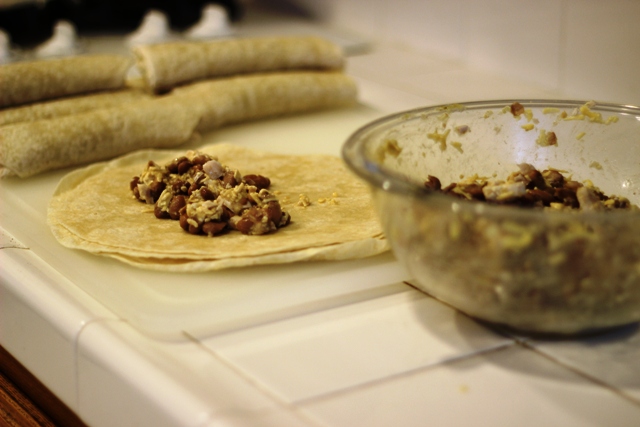 I have yet been brave enough to make potstickers or wontons. But didn't I just say, "The beauty of home cooking is that you can make whatever you want in the world of food yourself"? Yeah, I thought so. Maybe by the end of the month, I'll bust out a little bit. But I digress….
Burrito making is a simple affair. You need large tortillas, a filling (like beans, chicken, and cheese), and a ziptop freezer bag if you plan to freeze them.
Some folks are intimidated by burrito folding. Just check out this ancient (and amateur) vlog I did several years ago. (Turn down the sound. That voice is grating to my ears.)
Anyway, folding's not hard, right?
Making them cheaper.
Frozen commercial burritos range in price from $1.25 to $2, depending on the brand and quality.
My burritos?
1/2 pound boneless, skinless chicken breast – $0.99
shredded cheese – $1.00
homecooked pinto beans – $0.66
salsa verde – $1.00
dozen tortillas – $1.50
I spent a total of $5.15 for a dozen burritos filled with chicken, beans, and cheese. That works out to about $0.43 each.
The quality? Yeah, there's no comparison, really. Well, that's a no-brainer, isn't it?
So, it's not hard, it's cheaper, it's healthier, and it's tastier to make your own frozen burritos. Or your own fresh burritos, for that matter. A Chipotle burrito is a great treat in these here parts, but accounting for the difference in size — maybe two of mine equal a Chipotle burrito?– , those burritos are about 8 times more expensive that mine. Hmmm…..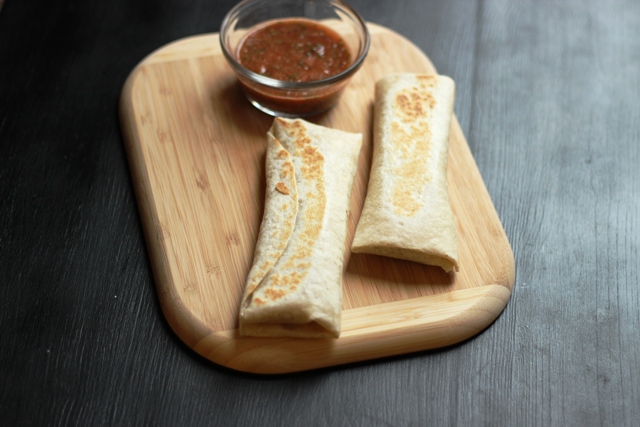 Chicken, Bean, and Cheese Burritos for the Freezer

Forget burritos from the frozen food aisle. Make your own homemade chicken and bean burritos for the freezer.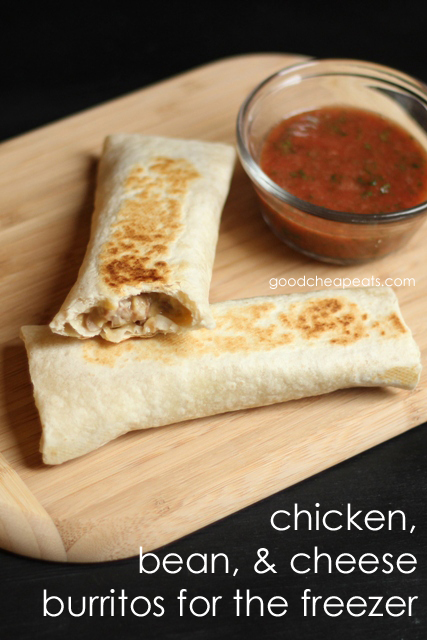 Preparation Time: 20 minutes
Cook time: 5 minutes
Total time: 25 minutes
12 burritos
Ingredients:
4 cups homecooked pinto beans (or you can use two 15-ounce cans of beans, drained)

2 cups cooked, chopped chicken

2 cups shredded cheese

7-ounce can salsa verde

12 burrito-size tortillas
Instructions:

In a large mixing bowl, combine the beans, chicken, cheese, and salsa.
Lay out the tortillas and divide the mixture in a line across the bottom third of the tortillas.
Roll up the tortilla tucking in the sides as you go.
The rolled tortillas can be placed in a ziptop freezer bag and frozen. Or you can heat them and serve them right away. We like to heat them on the griddle, turning to crisp all sides.
Frozen burritos can be reheated in the microwave, oven, or on the griddle.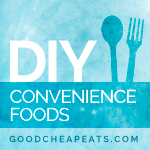 This is part of the DIY Convenience Foods series.