Summertime just calls for you to enjoy fresh fruit. With the exception of apples, pears, and citrus, summer is the peak season for many, if not most, fruits. And fresh is so much better than canned – particularly if you know how to prepare it.
One of our favorite fresh fruits is pineapple. Lately, I've been buying pineapples for $0.88 EACH. Yes, 'tis true. So, I've bought the limit each time there's been a sale and we've enjoyed fresh pineapple spears or fruit salads with pineapple for a few weeks now.
How to Cut a Pineapple:
This method is very similar to how we cut the melon and the grapefruit sections.
1. As with the melon, rinse the outside of the pineapple with water and vinegar. Even though you aren't going to eat the peel, you are going to cut through it, thereby possibly exposing the inner flesh to bacteria and other germs.
2. Cut off the two ends and stand the pineapple on one end.
3. With a chef's knife, cut away the rind, curving your cuts between the rind and flesh, thusly. Proceed around the sides of the pineapple until all the rind is removed.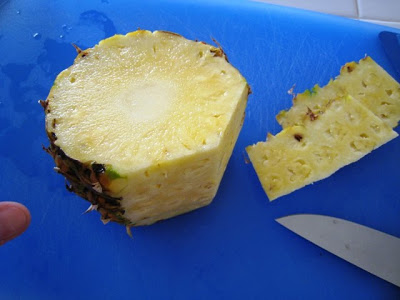 4. Now cut through the pineapple, just to the side of the hard, inner core. Cut all the way down.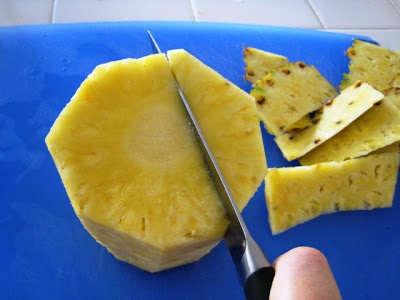 5. Continue cutting around the core until you have several long wedges of pineapple. Cut the wedges into spears or chunks.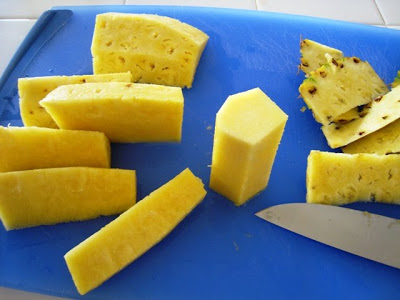 Want the dish on delicious ways to act your wage? Subscribe to GCE in a reader or via email.
Which do YOU buy – fresh or canned pineapple? Why?