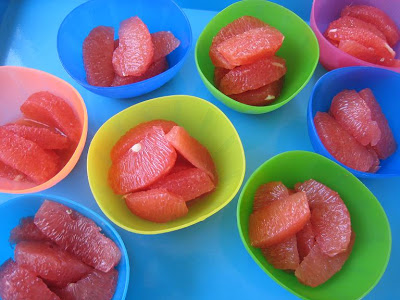 Grapefruit can be one of the most economical choices in fruit, but many people don't really know what to do with them. When we first started budget-eating, I would cut a grapefruit into quarters for FishPapa's lunch. It wasn't the tastiest of options, I confess. But, we were new home-owners and just had to suck it up, literally.
Then, I read in a magazine how to cut grapefruit sections. I tried it out and packed a little tupperware of grapefruit sections in his lunch the next day. He came home, calling it a lunch "fit for a king."
Taking that little extra effort made the humble grapefruit just a little sweeter.
Cutting Grapefruit Sections:
1. As with the melon, rinse the outside of the grapefruit with water and vinegar. Even though you aren't going to eat the peel, you are going to cut through it, thereby possibly exposing the inner flesh to bacteria and other germs.
2. Cut off the two ends and stand the grapefruit on one end.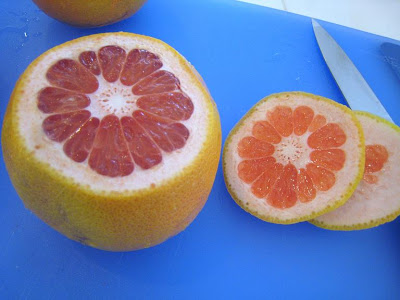 3. With a chef's knife, cut away the rind, curving your cuts between the rind and flesh, thusly. Proceed around the sides of the grapefruit until all the rind is removed.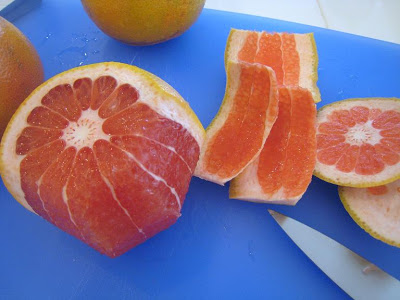 4. Once all the rind is removed, slice into the fruit, along the edge of one membrane. Cut along the other side of that section to remove the section.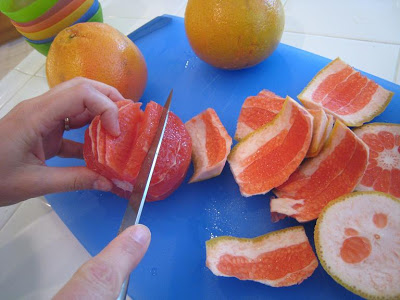 5. After cutting down one side, you can insert your knife under the inner edge and cut from the inside out. This will allow you to keep more of the fruit's flesh. Proceed until you have sectioned the entire grapefruit.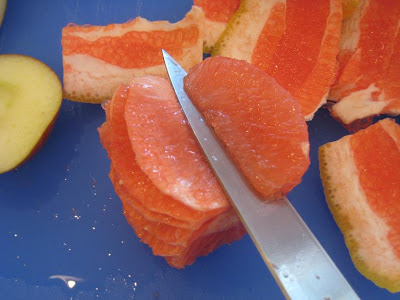 Do you DO grapefruit?
Want the dish on delicious ways to act your wage? Subscribe to GCE in a reader or via email.