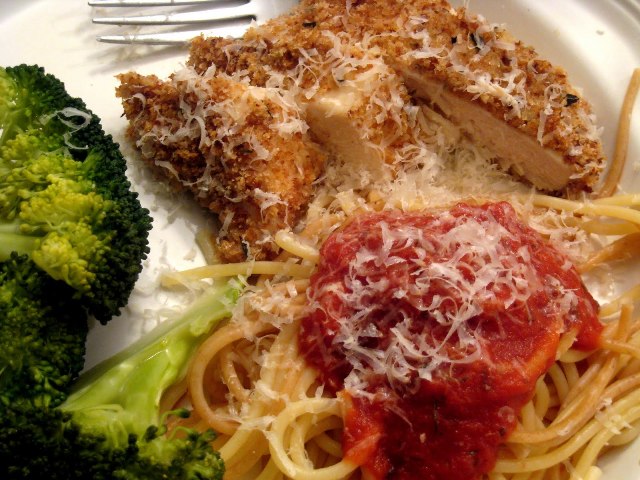 Many, many moons ago… in fact, about 18 years ago, I made dinner for the man who became my husband and the father of my children. Chicken Parmesan was the first meal I ever cooked for him. The chicken turned out okay, but you should have seen the look on his face when I broke the spaghetti in two!
That's how we always did it in my family. Doesn't everybody? Uh, no. True pasta connoisseurs do not break the spaghetti noodles in half. But, thankfully, he didn't hold it against me. And the rest, as they say, is history.
For the last few years I've recreated that first date dinner for Valentine's Day. We enjoy the meal with our kids and take a walk down memory lane.
This year in light of our new food goals for the year, I healthified it just a tad. Instead of coating the chicken in egg and white bread crumbs and frying it in oil, I used buttermilk, whole wheat bread crumbs, and non-stick spray and baked the chicken.
Instead of a heavy coating of mozzarella, I used a sprinkling of fresh Parmesan. And while white pasta is super delish, I mixed it with 1/2 whole wheat spaghetti. Steamed broccoli on the side rounded out the meal.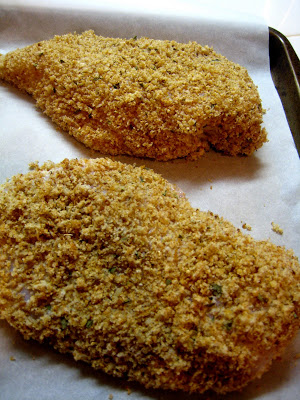 The added plus was that, all told, the meal — to feed all 8 of us — only cost $6.47! That's one good (and cheap) eat!
Recipe: Chicken Parmesan
Ingredients
1 cup buttermilk
1/4 teaspoon garlic powder
1/4 teaspoon black pepper
4 boneless, skinless chicken breasts
1 1/2 cup whole wheat bread crumbs (made from the heels of a loaf of bread)
1/2 teaspoon each salt, dried basil, dried oregano
nonstick cooking spray
2 cups heated spaghetti sauce
1 pound pasta, cooked according to package directions
grated Parmesan cheese
steamed broccoli
Instructions
Preheat oven to 375°. Line rimmed baking sheet with parchment.
In shallow dish, combine buttermilk, garlic powder, and black pepper. Rinse chicken breasts and allow to marinate in buttermilk mixture. Meanwhile, combine bread crumbs, salt and spices.
Dip chicken breasts in bread crumbs to coat. Place chicken breasts on baking sheet and spray with non-stick spray. Bake for 20-25 minutes until coating is crisp and chicken is cooked through. Juices should run clear.
Serve with pasta, pouring sauce over top and sprinkling with cheese. Serve broccoli on the side.
What's your first date dinner?
Want the dish on delicious ways to act your wage?
Subscribe to GCE in a reader
or
via email
.