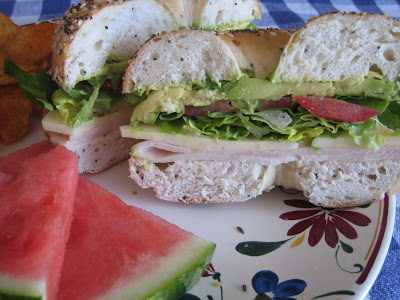 The man who invented the sandwich should be knighted. Oh wait a minute, I think he was.
Really, it was such a clever invention: two pieces of bread with all sorts of goodness inside. Love it! Sandwiches are one of my favorite meals, especially when someone else makes it….Subway, Panera, there're plenty of great sandwich joints out there.
While a $5 Footlong is certainly a great deal, it takes 4-5 footlongs to feed my family. Good eat, but not cheap. So, I've learned to experiment with sandwich making so that we can enjoy great lunches for less money.
One favorite combination is avocado and turkey. But, one of the pesky things about avocado is that it likes to escape your sandwich! The solution? Place the avocado slices on the bread and mash them lightly with the back of a fork. Season with salt and pepper and then place it atop your other sandwich fillings.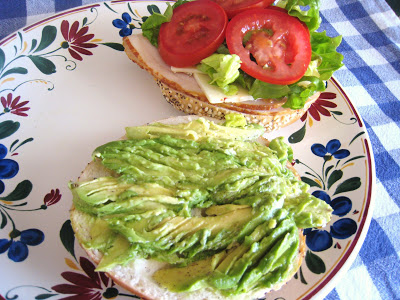 Try this great combination for a good. cheap. eat:
Turkey-Avocado on Everything
1 "everything" bagel, sliced in half $0.50
2 slices oven roasted turkey breast $0.40
1 slice pepper jack cheese $0.05
shredded lettuce $0.05
sliced tomatoes $0.05
1/4 avocado, sliced $0.25
On bottom half of bagel, layer turkey, cheese, lettuce, and tomatoes. On top half of bagel, lay avocado slices. Mash lightly with the back of a fork. Season with salt and pepper. Place top onto bagel.
Total cost per sandwich = $1.30
For more budget meals, visit $5 Dinners.