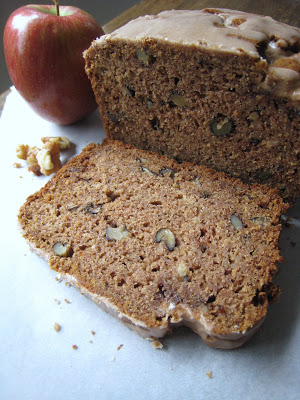 I love this bread. It's really more like a cake. But, we'll just call it a bread and we'll feel less guilty. I did healthify it just a tad, too. If you can't find whole wheat pastry flour, you can use regular whole wheat flour or just sub in unbleached. I won't tell. To be really fancy, use homemade applesauce. Oh my! Yummy and good for you and not too pricey. Enjoy!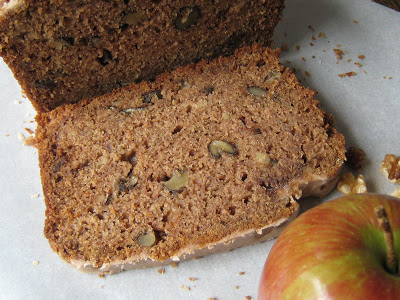 Applesauce Walnut Bread
3/4 cup oil
1 cup brown sugar
2 eggs
2 cups applesauce
1 teaspoon vanilla extract
1 cup whole wheat pastry flour
2 cups unbleached flour
2 teaspoons cinnamon
2 teaspoons baking soda
1 cup chopped walnuts
Preheat oven to 325°. Grease a 9×5 inch loaf pan with nonstick cooking spray. In large mixing bowl combine oil and brown sugar. Add eggs, one at a time, stirring well after each addition. Stir in applesauce and vanilla. In another large mixing bowl, sift together flours, cinnamon, and baking soda. Add to wet mixture. Sprinkle walnuts over dry ingredients. Gently fold until well incorporated. Pour into prepared baking pan. Bake for 70-85 minutes or until tester comes out with a few crumbs attached. Cool on rack and glaze with icing.
To freeze: wrap cooled loaves in plastic wrap and then place in a ziptop freezer bag in the freezer. Thaw wrapped at room temperature.
Cinnamon-Orange Icing
1 cup powdered sugar
1/2 teaspoon cinnamon
3 Tablespoons orange juice
Combine all ingredients until smooth.
For more yummy recipes, visit Ultimate Recipe Swap.
Want the dish on delicious ways to act your wage? Subscribe to GCE in a reader or via email.