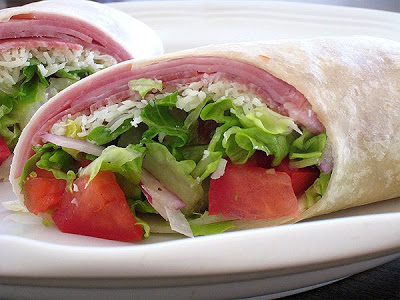 What's so secret about this submarine sandwich? Well, it's under wraps, of course!
Recently I tried making an Italian sandwich on a large, burrito size tortilla. It was delicious, easy, and inexpensive. It doesn't get better than that, does it?
Looking for more bright ideas to get dinner on the table? My latest cookbook is here! And it's designed just for you to make dinner quickly, easily, and affordably.
You can beat the clock without breaking the bank. And you'll eat well too.
Recipe: Super Secret Sub
Ingredients
1 large flour tortilla
2 slices ham
5 slices salami
shredded lettuce
sliced tomatoes
thinly sliced red onion
2 Tablespoons grated mozzarella cheese or Italian blend cheese
Italian salad dressing
Instructions
Soften the tortilla on a hot skillet.
Down the middle of the tortilla, layer ham, salami. Sprinkle cheese over top. Add lettuce, tomatoes, and red onion. Drizzle with salad dressing to taste.
Roll up like a burrito.
Number of servings (yield): 1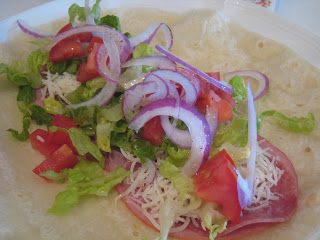 Cost per sandwich: about $0.75