The first time I ever went camping with FishPapa it was a coup de cuisine. His idea was opening a can of chili and cooking it on the fire. Ick. No thanks.
My idea of camping food was marinating chicken breast in a ziploc bag, grating some parmesan, chopping some lettuce, and having Grilled Chicken Caesar Salad al fresco.
(And yes, I could totally relate to Sally when it came to food. Totally.)
However, recent FishFam camping trips have entailed the men heading out for the Great Outdoors and the women staying home to cry over sappy chick flicks. The boys eat chili from cans and the girls, well, the girls enjoy a feast of salads, breads, and other dainty morsels.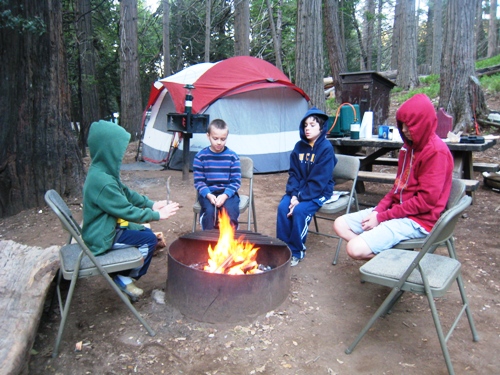 However, this last time, the guys decided to take things up a notch. And they came back with food photography to show me. Love those guys getting into the true blogging spirit. Their snaps of "fish and chips" (fried fish and Doritos) and chili dogs were hilarious.
But, while I'm happy to stay home and sob over Heidi with my 4-year old, I wouldn't have minded a few bites of their tri-tip sandwiches!
Hubs planned ahead, picking up fresh baguettes at the French bakery on their way up the mountain. He packed garlic butter and trimmed tri-tip in the cooler. And then I slipped a packet of homemade spice rub into their camping supplies. Since they already had a great fillet knife and cutting board in their gear, they were good to go. Not pictured: Salsa.
This is a typical grilled sandwich often served on the Central Coast of California, and one that both hubs and I can agree on. You could easily pack a make ahead garlic bread from the freezer to save time.
Tri-Tip Sandwiches
A classic from the central coast of California, tri-tip sandwiches are simple: toasted baguette, grilled tri-tip steak, and a spicy salsa. So good but so simple!
Instructions
Heat an outdoor grill.

Brush the oil over the surface of meat. Generously sprinkle the seasoning over the meat and rub it in.

Cook the roast over a hot grill until the meat reaches your desired doneness. 145 degrees is considered a safe internal temperature.

Meanwhile, cook the garlic bread on the grill, wrapped in foil, for about 15 minutes. Open the foil and crisp the cut sides by turning them upside down on the grill for a few minutes, watching for flare ups.

When the tri-tip is done, remove the roast from the heat and allow it to rest for 10 minutes before slicing. Slice it thinly.

Layer thin slices of meat onto one side of the grilled bread. Place the top and cut the loaf into four sections.

Serve the sandwiches with the salsa.
Notes
Promptly store leftovers in an airtight container in the refrigerator, for up to 4 days.
Nutritional values are approximate and based on ¼ the loaf.
Nutrition
Calories:
359
kcal
|
Carbohydrates:
66
g
|
Protein:
13
g
|
Fat:
6
g
|
Saturated Fat:
1
g
|
Cholesterol:
1
mg
|
Sodium:
973
mg
|
Potassium:
406
mg
|
Fiber:
7
g
|
Sugar:
5
g
|
Vitamin A:
438
IU
|
Vitamin C:
1
mg
|
Calcium:
182
mg
|
Iron:
7
mg
Tried this Recipe? Tell us what you think!
Your reviews help us develop better recipes and give newcomers the confidence to try your favorites. Scroll down to leave a starred comment.
What do YOU serve on camping trips?