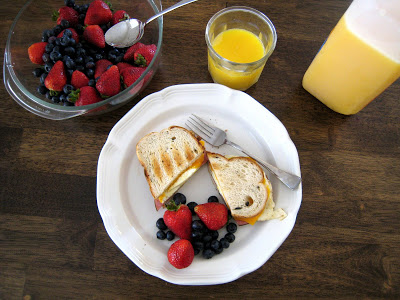 Breakfast is a wonderful part of the day. Many people skip it, though they know they shouldn't. But, even if you bypass your morning meal, that doesn't mean you have to miss out on "breakfast." It makes a great meal — any time of day.
Eggs, ham, cheese and bread can regularly be found on sale. I recently paid $1.39 for a dozen eggs and $1.50 for gourmet olive bread that was marked down for a quick sell. The bread still had several days before the sell-by date. The store just wanted it gone. Cheese regularly goes on sale at my local health food store for $2/pound, and I found thick sliced ham recently at a reduced price. Combine those ingredients and you've got yourself a fantastic and economical meal. Case in point:
Fried Egg, Ham, and Cheddar Sandwich on Olive Bread
per sandwich, you will need:
1 Tablespoon bacon drippings (free)
2 pieces of olive bread ($.18)
2 eggs ($.21)
2 slices ham ($.12)
2 slices cheddar cheese ($.11)
In small fry pan heat bacon drippings. Crack eggs into pan and season with salt and pepper. Once they start to set, gently flip each egg over. Cook until desired doneness. Meanwhile, toast bread. Warm ham slices in a dry skillet and place on toast. Lay fried eggs over ham. Top with cheese slices and second piece of toast.
Total cost per sandwich = $0.62. When served with orange juice that I purchased on sale for $0.84/64 oz. container and fruit salad which calculated out to be $0.35/serving, the entire meal cost only $1.07 per person.
Now that's one good (&cheap) eat.
For more budget meals, visit the $5 Dinner Challenge.