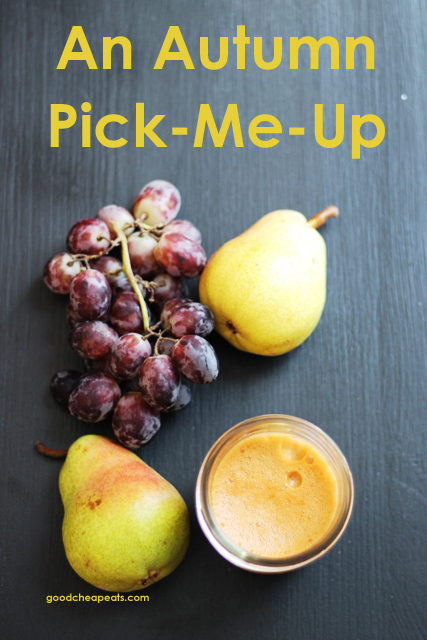 Summer weather is still here. Let me tell you. But, the growing season is early this year. So, even though we're still sweating, the fall produce is here. Last week's produce box was like a promise that cooler temps will come. Someday.
The bounty of fresh fruits and vegetables that we had made for a perfect juice combination. For some reason I don't like juicing summer fruits as much as I do the fruits that are available in fall and winter. I'm glad to be getting the juicer going again.
Homemade juice is so filling compared to the store-bought varieties. Though it took a little getting used to, the kids really dig it now.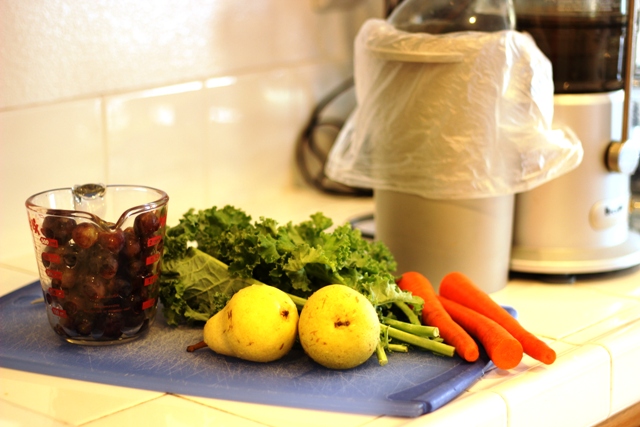 I didn't do a whole lot to prep the fruits and vegetables for juicing. Scrub the produce, line the pulp basket with a plastic bag, and then we juiced. My girls love to help.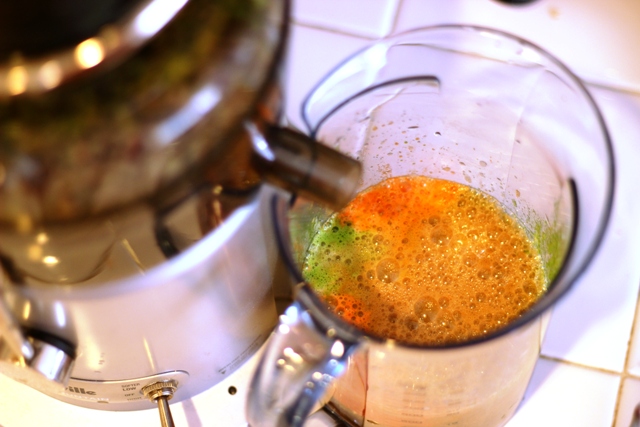 I also love the way the juice looks before it's whisked. This one looked like rainbow sherbet: green from the kale, purple from the grapes; orange from the carrots, yellow from the pear.
It was very tasty, too. None of the flavors were too dominant. I was worried that the kale might be overpowering, but it wasn't at all. It was present for sure, but it shared the stage with the other players.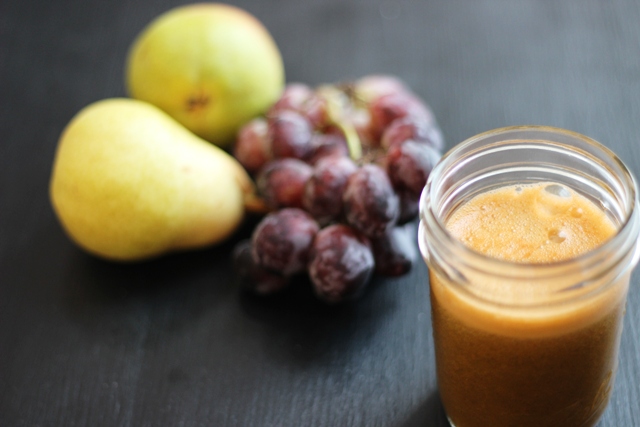 Depending on your juicer, you may or may not get foam on the top. We don't mind it at all, but you could certainly skim it off or wait for it to settle down. Just be sure to rinse the glass right away. That stuff sticks.
Autumn Pick-Me-Up
Servings:
1
(15-20 ounces)
Ingredients
3

medium

carrots

trimmed

1/2

bunch

kale

2

medium

pears

cored

2

cups

red grapes
Instructions
Juice the carrots, kale, carrots, pears and grapes according to the directions on your juicing machine following the manufacturer's directions.

Whisk to combine.
Notes
Nutritional values are approximate and are based on 1 serving of the recipe (makes about 15 - 20 ounces of juice). Refrigerate leftovers promptly and use within 4 days.
Nutrition
Calories:
518
kcal
|
Carbohydrates:
132
g
|
Protein:
8
g
|
Fat:
2
g
|
Saturated Fat:
1
g
|
Sodium:
161
mg
|
Potassium:
1895
mg
|
Fiber:
19
g
|
Sugar:
90
g
|
Vitamin A:
37354
IU
|
Vitamin C:
114
mg
|
Calcium:
220
mg
|
Iron:
3
mg