An inexpensive cut of meat, pork loin transforms into a feast when braised in the slow cooker and topped with a sherried mushroom gravy.
This post contains affiliate links which provide a means for me to earn fees linking to Amazon and other affiliate sites.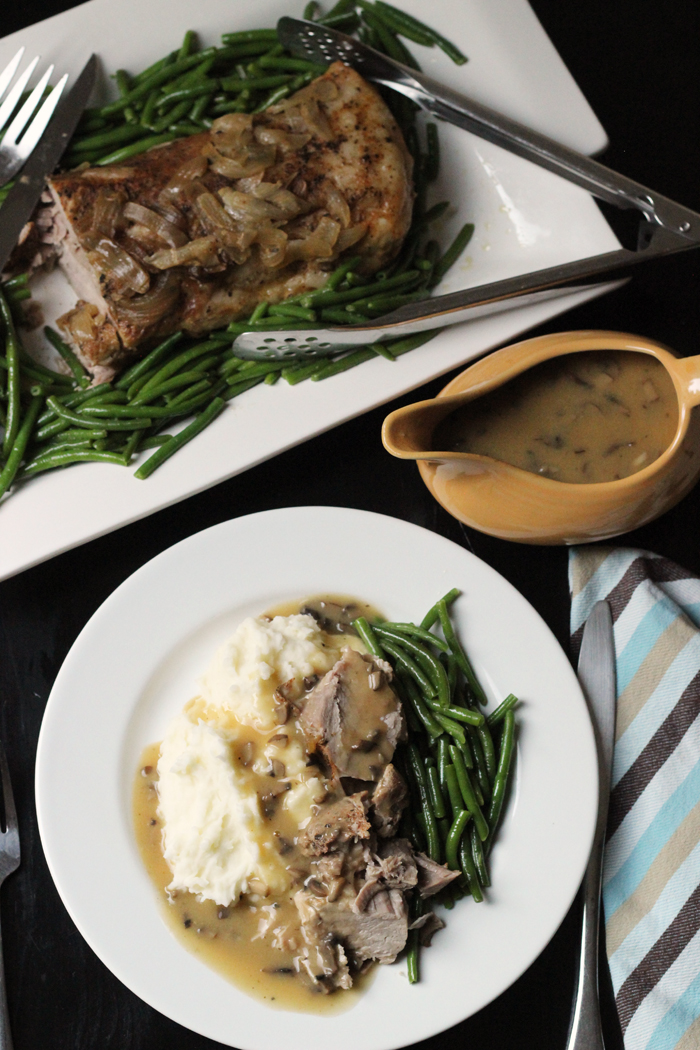 A few months ago I started doing the bulk of my shopping at ALDI and Costco. If you've ever been to either store, you know that neither carries everything you might need in a given week or month. Another downside is that sometimes they run out of the things. Sometimes you have to make do.
Such was the case back in September when I was looking for a particular cut of meat. They were out of what I wanted, and the only other cut that fit my price range was a half pork loin at $1.89/lb. I threw it in the cart, wondering what I would end up doing with it. To be honest, when I'd cooked pork loin in the past, it had been dry. Dry pork? Ugh.
Well, this turned out to be very serendipitous. I did some research and experimenting and, well…., we've had this dish FOUR TIMES in the last two months! It's that good. I think one of the tricks is the shorter cooking time, particularly if your slow cooker runs hot as mine always seem to do. This can be problematic if you're using your slow cooker while you're away from home all day. I guess I would say, put it on low and try to get it off the heat before it hits the 7 hour mark.
Not overcooking the pork results in very tender meat that slices well. Go too far and the meat shreds well but tends to be on the dry side.
One of my favorite parts of this dish, of course, is the gravy. I love mushrooms and I've slowly convinced most of my children to get on board with mushrooms. So yummy!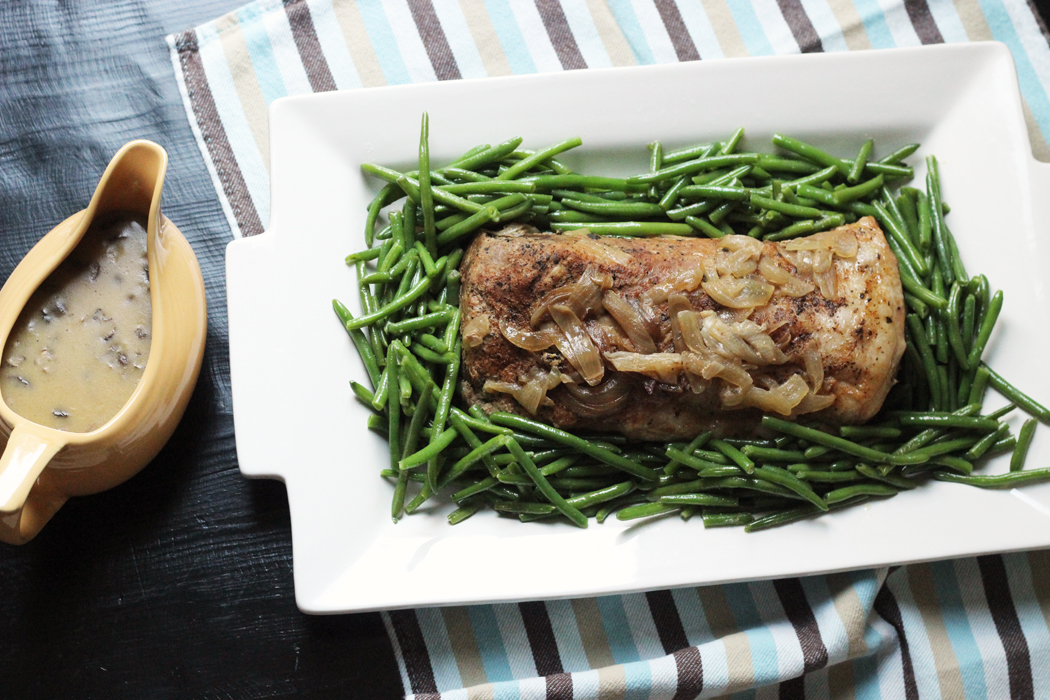 How to make this good and cheap:
Here are some of the strategies you can use to make this recipe more economical:
Stock up on ingredients when they are on sale

. 

Stock up when you see pork loin on sale and stash extras in the freezer. Likewise, load up on onions and mushrooms.
Price match. Check your grocery store fliers to see who has the best price on the items on your list.
Make your own spice mixes. I love to mix my own spice blends. I save so much money over commercial blends.
Tools I use to make this recipe easy:
This is a pretty straight-forward dish. You don't need any fancy equipment. However, having some good basic kitchen tools can really make your time in the kitchen more enjoyable. Over time, I've honed my collection so that they are perfect for my needs. Here are the tools that I like to use in this recipe.
Slow Cooker Pork Loin with Sherried Mushroom Gravy
An inexpensive cut of meat, pork loin transforms into a feast when braised in the slow cooker and topped with a sherried mushroom gravy.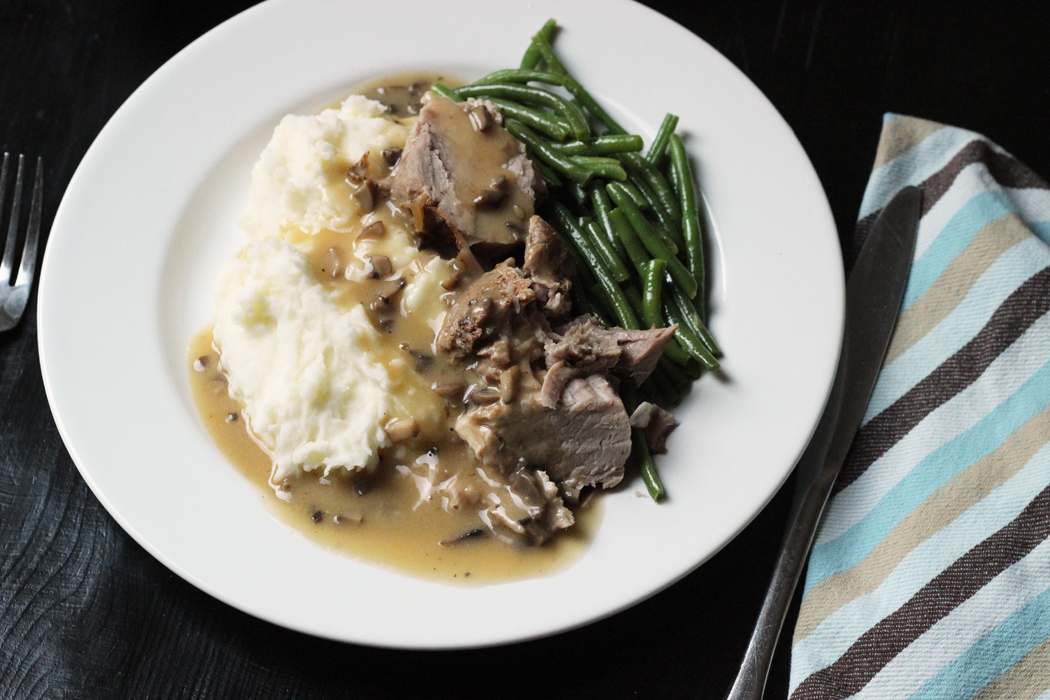 Preparation Time: 20 minutes
Cook time: 6 hours
Total time: 6 hours 20 minutes
8 to 12 servings
Ingredients:
1 tablespoon oil

4 to 5 pound pork half loin

2 tablespoons Jamie's Spice Mix

1/2 medium onion, sliced

2 cups chicken stock

2 tablespoons cooking sherry

1/4 cup butter (4 tablespoons)

2 cups chopped mushrooms

1/4 cup unbleached, all-purpose flour
Instructions:

Heat the oil in a large skillet. Season the pork loin generously on all sides with the seasoning mix. Brown the pork loin in the hot oil, turning to brown all sides. The seasoning mix will form a light crust. Transfer the pork loin to the insert of the slow cooker.
Add the onion to the drippings in the skillet and cook, stirring, until very tender. Place the onions atop the roast in the slow cooker.
Pour the chicken stock and the sherry around the pork loin in the crock. Cover and cook until the pork is tender, about 4 hours on HIGH or 5 to 6 hours on LOW.
Remove the pork roast from the slow cooker along with the onions and place on a platter. Tent with foil.
Strain the drippings through a fine mesh sieve and measure out 2 cups, adding more chicken stock if needed.
In a large skillet, melt the butter. Saute the mushrooms until they release their liquids and become very tender. Sprinkle the flour in and stir to coat. Cook on low for 1 to 2 minutes. The flour and mushroom mixture will smell a little toasty. Slowly add the 2 cups drippings into the pan, stirring continuously until well incorporated. Simmer for several minutes until the gravy is thickened to your desired thickness. Serve the pork roast with the gravy immediately.