Whip up an easy dinner in a flash with these Sausage Packets for the Grill. Toss together a green salad and dinner is ready in no time!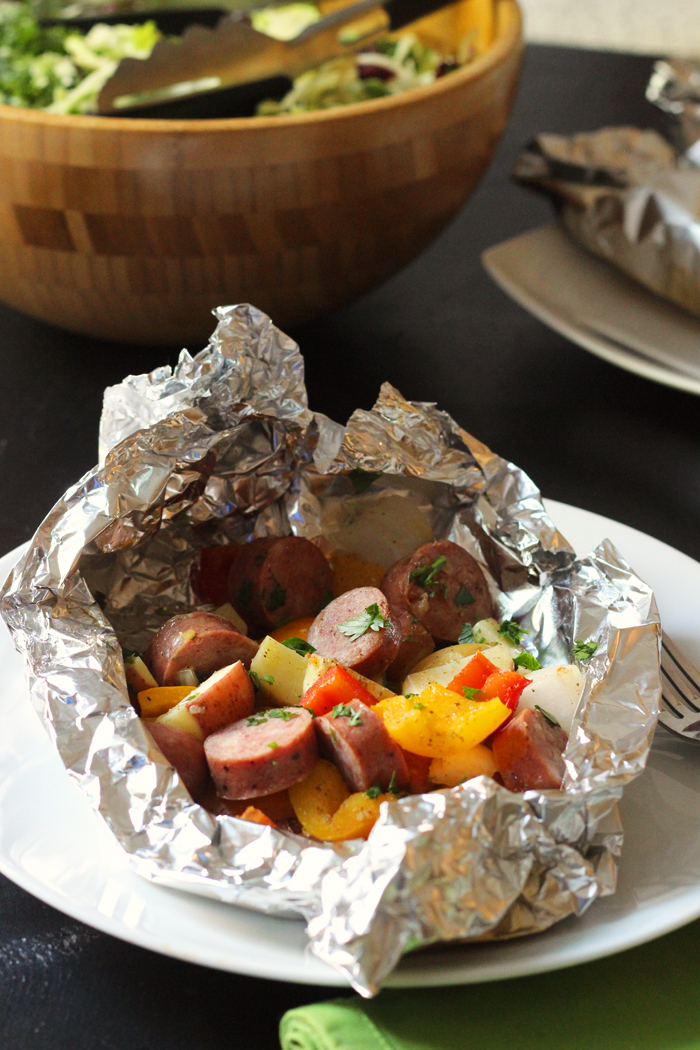 Quick and easy is the name of the game when it comes to summertime meals. If you can cook them outside on the grill, so much the better! Stay out of a hot and stuffy kitchen and still be able to enjoy a delicious dinner.
One such meal that we're enjoying a lot this summer are these Sausage Packets for the grill. It's gotten to the point that we've had them on a weekly basis, something I thought my kids would balk at. But, no, eyes light up.
The thing is that this meal is incredibly EASY. Like it almost feels like cheating to even call this a recipe, but it's so very good and simple and delicious, that it would be a crime NOT to tell you about it.
Mix up smoked sausages, chopped potatoes, peppers, and onions and douse them with olive oil and seasoning mix. Divide the mixture among foil sheets, fold up, and grill. I've seen people use other veggies, like zucchini, but because I wanted to include potatoes, I veered away from veggies that might get too soggy or mushy cooking alongside heartier potatoes. The peppers and onions seem to hold up really well. But, you do you, and if you like soft veggies, go for it.
I love it that this meal is naturally dairy- and gluten-free (depending on what kind of sausage you use, of course). That means you can easily make this for company without worrying that there'd be a forbidden ingredient. You could easily omit the sausage for vegetarian friends, too.
This combo reminds me so much of the dinner my friend Jen served us in France that recently I started serving it with her sour cream sauce. So good! If you're not intent on a dairy-free dinner, definitely plan to mix some up!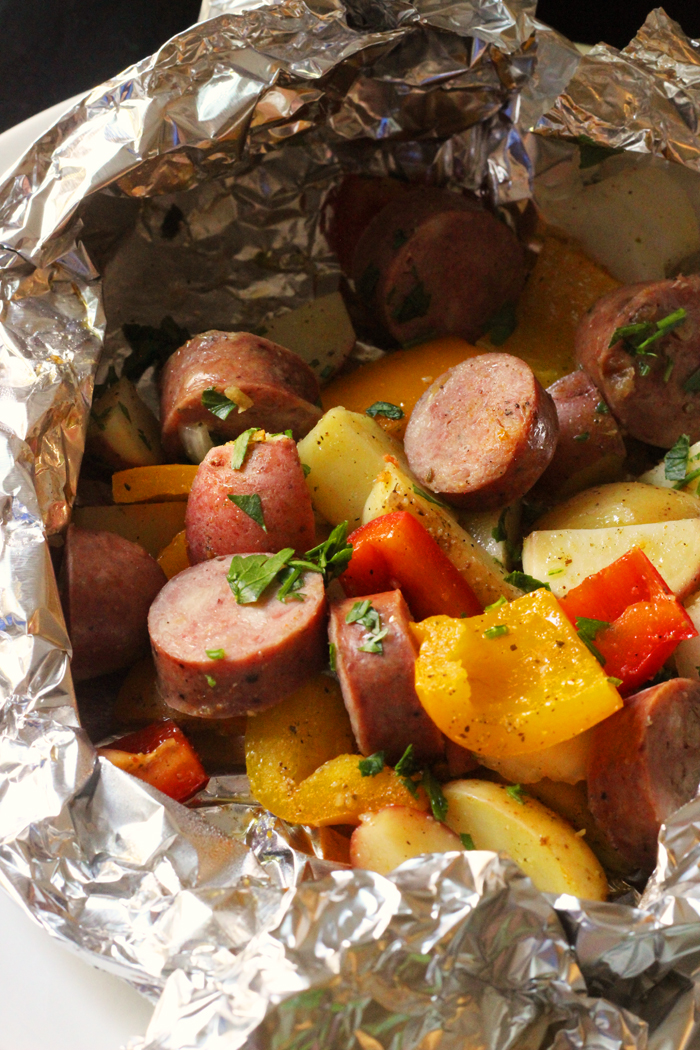 How to make this good and cheap:
Here are some of the strategies you can use to make this recipe more economical:
How I make this recipe easy:
This recipe really couldn't be easier than it is, but having the right kitchen tools can really make your time in the kitchen more enjoyable. Over time, I've honed my collection so that they are perfect for my needs.
Here are the tools that I use for this recipe:
Sausage Packets for the Grill
Whip up an easy dinner in a flash with these Sausage Packets for the Grill. Toss together a green salad and dinner is ready in no time!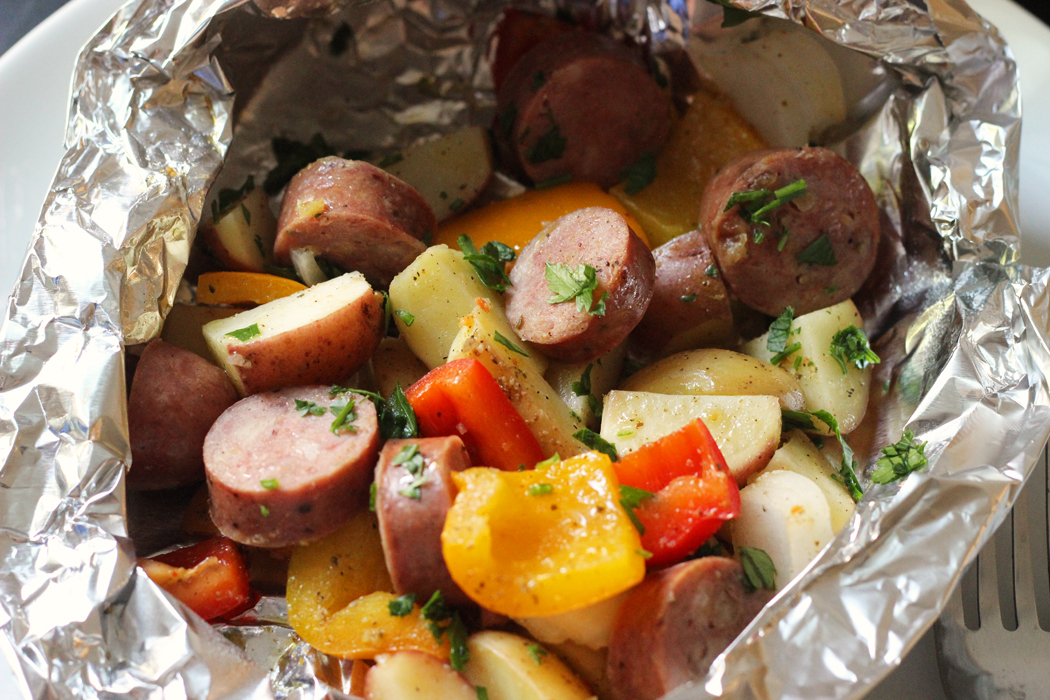 Preparation Time: 10 minutes
Cook time: 25 minutes
Total time: 35 minutes
6 servings
Ingredients:
8 smoked sausages, sliced

1 1/2 pounds baby potatoes, cut into bite-sized pieces

2 bell peppers, chopped

1 sweet onion, chopped

1/4 cup olive oil

1 to 2 tablespoons favorite seasoning mix, like Jamie's Spice Mix or FishMama Spice
Instructions:

In a large bowl, combine the sausages, potatoes, peppers, and onions. Drizzle with the oil and douse with the seasoning mix. Stir well to combine.
Lay out six 12-inch pieces of heavy duty aluminum foil. Divide the mixture among the six pieces. Fold up facing sides to meet in the middle and then crimp together. Crimp each side closed.
Cook the packets over a hot grill for 25-30 minutes or until the potatoes are tender. Alternatively, you can make them in a 375 degree oven. Serve hot.