This is Day 15 of my month-long Pantry Challenge series  where we're eating down the pantry (and freezer and fridge) to use up what we have, rotate stock, and save some cash. Today I made yogurt.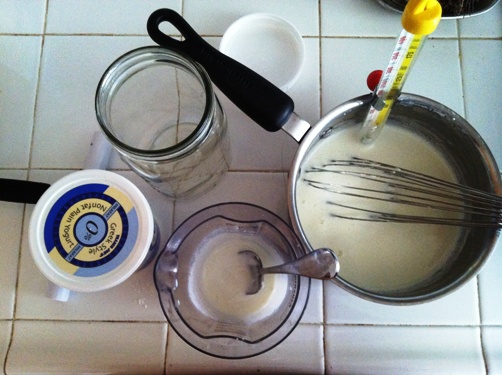 I'd like to say, don't try to make yogurt, prepare breakfast, and drink a cup of coffee all at the same time. With six hungry children clamoring at your feet. And get out the door by 9 am.
It's more than my multi-tasking brain can handle.
I think we survived though. Everyone ate. The yogurt got made. We weren't late.
My coffee might have suffered.
At the store a couple weeks ago I played the debate in my mind about buying a large container of Greek yogurt or making my own. The price of milk favored making my own. This morning I finally got around to it. It's not hard to make yogurt at home.
You can read my full post on the experience. Short story is, the crockpot method didn't work for me. I recommend the temperature/heating pad method.
I didn't incubate the yogurt as long this time. After five hours is was pretty thick. A reader had said that a shorter incubation time would make it less sour. Here's hoping that's true. The Google led me here which supports the theory.
The yogurt is chilling until tomorrow morning. We'll see then.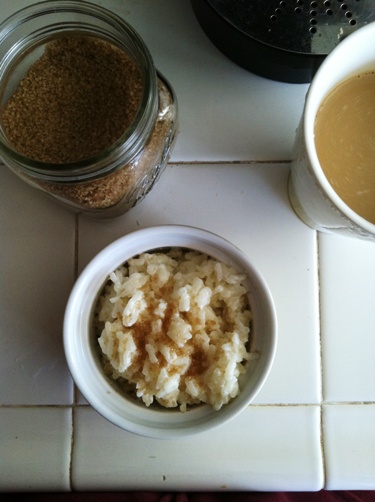 For breakfast, I made Creamy Rice using whole milk instead of half and half/milk. I had a partial bag of arborio rice and a vanilla bean in the pantry, so that made for a tasty breakfast. I just tossed the vanilla bean into the pot at the start. In retrospect, I would have used half a vanilla bean to stretch it a little further.
I also made a homemade juice of apples, carrots, pears, ginger, and spinach. I really liked it. The kids did, too.
Lunchtime saw us using up leftovers. The children were not thrilled. C'est la vie. I made up for it after school when we had cookies from the freezer. So glad I did all that baking last month. We're reaping the rewards now.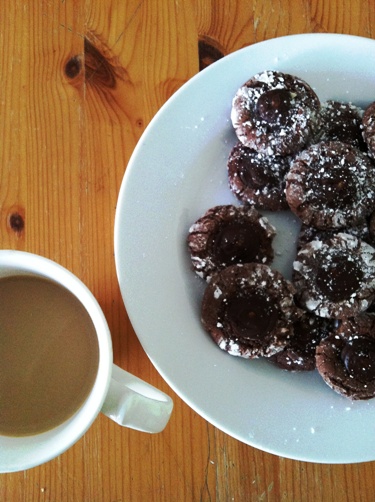 Tonight was date night. I had a gift card to Chipotle, so that's where we went. The kids had an easy dinner: Quesadillas. FishBoy12 took care of the meal prep. Yeah for kids who can cook!
Day 15 Menus

Breakfast: Creamy Rice, homemade juice
Lunch: leftover Summer Rolls, leftover salad, leftover Stuffed Shells
Afternoon snack: Chocolate Minty Melts
Dinner: date night for parents at Chipotle, Quesadillas for kids
We're almost halfway done with the challenge.
How's it going for you?
This post is part of a month-long Pantry Challenge series. You can read more about my goals for the challenge here.