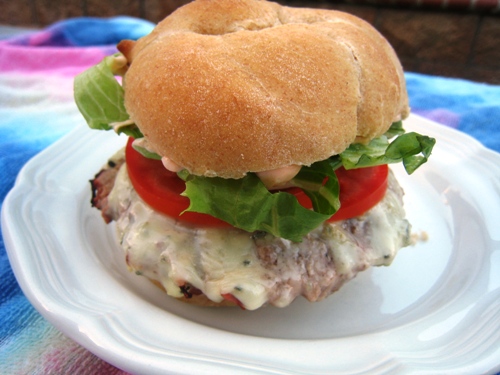 One of my favorite burgers of all time is the Bleu Ribbon Burger at Red Robin. The highlights of this sandwich are the bleu cheese crumbles and the chipotle mayonnaise. Yum! But, an outing at Red Robin is pretty pricey. So, I've taken to recreating these flavors at home. Even though hubs doesn't care for bleu cheese, he has been enjoyoing the Chipotle mayonnaise as well.
Burger nights are so much more fun, now!
While my preference is an all-beef patty, beef prices have been rather high lately with sale prices rarely dipping below $3/pound, so I've taken to making turkey burgers instead. There are two techniques I use to making ground turkey work well in burgers.
1. Dress it up.
I don't do straight turkey, but instead I take a few minutes to spice it and infuse the meat with a little extra flavor. This takes a few extra steps, but it's worth it.
2. Freeze the patties in advance.
Not only does freezing the patties and storing them in the freezer help  Burger Night to happen quickly, and whenever I want it to, but  frozen patties go on the grill so much better than uncooked; they cook without sticking to the grill.
Adding seasonings and preforming and freezing the patties have been very successful techniques for making turkey burgers work for me.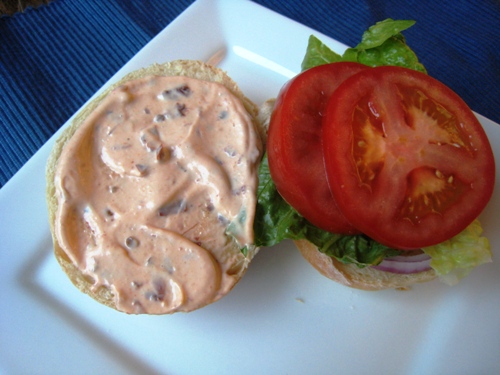 Recipe: Tarragon Turkey Burger with Bleu Cheese and Chipotle Mayonnaise
Ingredients
20 ounces ground turkey
1/4 cup chopped green onion
1/2 teaspoon dried tarragon
1/2 teaspoon kosher salt
1/4 teaspoon ground black pepper
1/2 cup Bleu cheese crumbles
1 chipotle chili canned in adobo sauce
1/2 cup mayonnnaise
hamburger buns, try homemade
sliced tomatoes
lettuce leaves
sliced onion
Instructions
In a large mixing bowl, combine the turkey, green onion, tarragon, salt, and pepper. Combine just until the ingredients are lightly mixed.
Divide the mixture into five equal portions.
Form each portion into a hamburger patty.
If freezing, divide the patties with waxed paper and wrap the stack with plastic wrap. Place the bundle in a ziptop freezer bag and freeze.
To cook, place patties on hot grill and cook until no pink remains inside. In the last few minutes of cooking, place 1 to 2 Tablespoons of blue cheese atop each burger.
Meanwhile, assemble the toppings.
To prepare the chipotle mayonnaise, chop the chipotle chili and stir it into the mayonnaise in a small dish.
Serve the burgers with the toppings.
Preparation time: 15 minute(s)
Cooking time: 15 minute(s)
Number of servings (yield): 4
Welcome to What's On Your Plate?!
What's on Your Plate? is designed to be a conversation amongst good eaters.
Tell us about a recent meal. Did it meet with rave reviews? Or did it bomb? What side dishes did you pair with the star of the show? Did you try a new ingredient? Find the groceries at great prices?
What's on YOUR Plate?
Share with us a recent meal you prepared. Either link it up below or tell us about it in the comments. Please make sure that you link to www.goodcheapeats.com in your post so others know where the dinner party is.
And don't forget to visit the other good eaters participating today. I'm sure you will be inspired to make all sorts of Good Cheap Eats at your house.