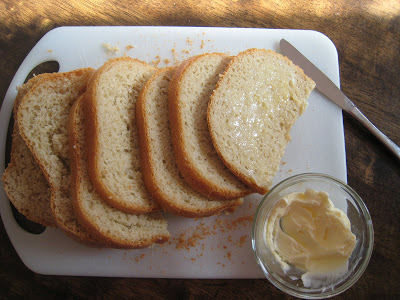 Back when I was a young bride (circa 1994) bread machines were all the rage. Just dump in the ingredients, push start, and come back in two hours to a freshly baked loaf of bread. Seem too good to be true?
It was.
Friends and relatives rushed out to buy these machines and once the initial excitement wore off, most admitted that their bread machine sat on a shelf, gathering dust. And I smugly relished in the thought that I hadn't wasted hundreds of dollars on a useless machine.
Years later my friend Jessika made homemade pizza for us that was really good. Previously, I had only tasted the Chef Boyardee kind of homemade pizza, so obviously, hers was a step up. But, truly it was good pizza. The dough came from a bread machine. And with the high price tag at pizzerias, I was intrigued.
But I still didn't want a machine that would sit on a shelf, gathering dust. So, I learned to make pizza dough by hand. Finally, after years of sticky hands and a wreck of a kitchen from making pizza dough every week, I succumbed. I needed some kind of machine to lighten my load. I tried out a friend's Bosch mixer, but there was too much room for error. I needed something more user-friendly.
Let's go with the bread machine, says I.
I proclaimed hinted very carefully to my husband that I'd really like a bread machine for Christmas. We didn't research the purchase; we just bought the cheapest model Target sold. My sweet Santa even picked up a few boxes of bread mix in case we didn't have the necessary ingredients come Christmas morn.
The first loaf flopped.
And the second.
Not wanting to fail a third time, I just shrugged and cried. Sweet hubs helped me snap out of it. Surely there's a cookbook out there with recipes that work, he said. A few days later, I parked myself on the floor of Barnes and Noble right next to the bread cookbooks. I found it! And then I went home and ordered it cheaper on Amazon.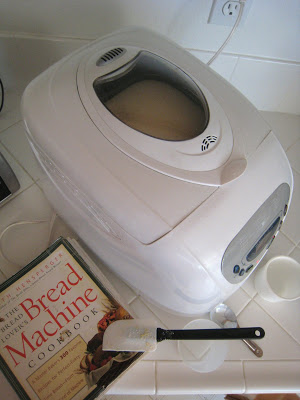 The Bread Lover's Bread Machine Cookbook is the answer to all bread machine issues. My copy is falling apart. I love it! It is the necessary partner to a bread machine purchase. Author Beth Hensperger explains the ins and outs of bread machines, what works, what doesn't, and how to troubleshoot a problem loaf. With this book, no bread machine should sit on the shelf, gathering dust.
But, why should you buy a bread machine?
When compared to store bought baked goods, homemade breads and doughs
taste better
cost less
can be customized to your family's tastes, allergies, and preferences
can reduce the amount of mess in your kitchen when it's time to get baking
What can you make with a bread machine?
We used
our first machine
so much that after five years of almost daily use, the bread pan fell apart. I tried to live without it for almost a year, but found that it served me too well not to get another. We bought
a second machine
, a twin to the first but marketed under a different label, which was the cheapest Walmart had in stock. A bread machine is definitely one handy tool for making good and cheap eats. It certainly
works for me
.
What's been your experience? Do you bake bread at home? What tools do you use?
Want the dish on delicious ways to act your wage? Subscribe to GCE in a reader or via email.