Omelets can be a filling meal any time of day. Try this one filled with fajita vegetables.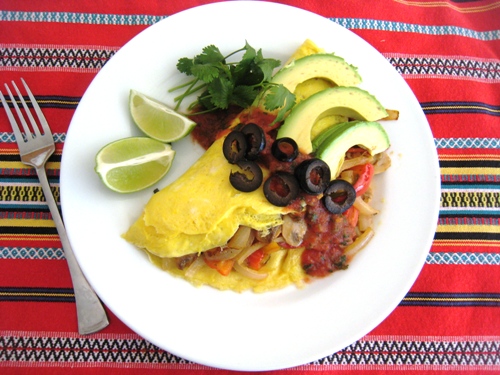 Since our pediatrician gave us the green light on eggs for my youngest, it's opened new worlds for us. Foods that I previously avoided are now okay to try out on the family, like crepes and omelets.
I've been trying out a new eating regiment that involves a good dose of protein and lots of vegetables at each meal. While skillet eggs are certainly one of my favorites, I don't want to have them so often that I get sick of them.
Consequently, I've been trying other combinations of eggs and vegetables. One morning I made a scramble with broccoli, mushrooms, peppers, and onions. Good. Another day, I made this fajita omelet. Definite win.
This recipe works for one person, quite generously. Just repeat the steps for as many people as you're serving. Omelets are tricky for a crowd. When I prepare omelets for the whole family, I warm the oven and stash plates of omelets in there until they're all done. Have the filling already to go and kept warm on the back burner for easy serving.
This recipe is dairy free, unless you use the optional toppings listed in the recipe.
Recipe: Fajita Omelet
Ingredients
1 tablespoon olive oil
1/2 onion, sliced
1 bell pepper, sliced
5 mushrooms, sliced
1 teaspoon crushed garlic
3 eggs, beaten
salt and pepper
for topping: avocado slices, salsa, sliced black olives
Optional toppings: shredded cheese, sour cream
Instructions
In a medium skillet, heat olive oil until shimmering.
Add onion, pepper, mushrooms, and garlic. Saute, stirring, until the vegetables are tender and starting to brown a bit, about 7 to 10 minutes. Remove vegetables from pan and set aside.
Heat pan to medium high. Pour eggs into the pan and cook until done, tilting the pan and pushing cooked portion toward middle, letting uncooked eggs run to edge. I like to flip them or cover the pan to ensure total doneness. (I don't like "wet' omelets.
Sprinkle filling over half of the omelet and fold over.
Place omelet on plate and garnish with avocado, salsa, and olives. If desired, add additional toppings.
Preparation time: 5 minute(s)
Cooking time: 20 minute(s)
Number of servings (yield): 1
There are a variety of ways that you can fill an omelet.
Do YOU have a favorite omelet filling?