It's a beautiful thing when you can make a dish that tastes just as good the second night — if not better — as it did the first night you served it. Such is this cabbage salad full of root vegetables and scented with ground cumin.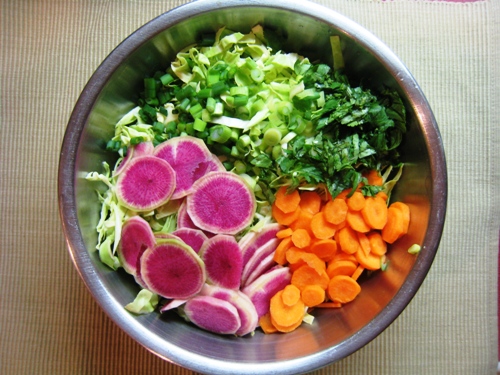 For some reason during the last week or two of the Pantry Challenge, I ignored the contents of my vegetable drawer. Probably because it was just too full. The cold temps have had me drifting toward carbs instead of the abundance of fresh vegetables that I normally enjoy.
The other night while preparing Cheese Enchiladas and simple bean and rice side dishes, I decided to dig into the crisper and face the music. I'm so glad I did.
The cabbage, a few weeks older than when the farmer packed it in my produce box was still in very good shape. I thank my ten-year old KitchenAid refrigerator. I splurged on the bells and whistles which includes a crisper that does its job.
We had carrots, a few green onions, and cilantro, so I knew I could pull off a colorful and tasty salad.
And don't forget the watermelon radishes! Yes, really. They are red in the inside with a greenish-white exterior.
We've had them in the produce box from Abundant Harvest Organics on a number of occasions. But, these were amazing! A little sweet, a tad spicy, making them the perfect addition to this salad.
We enjoyed the salad with our Enchilada supper one night and as a cole slaw the next night. Delicious both times! I'm going to make this with tacos next time. I think they'll be a perfect crunchy filling.
Cumin-Scented Cabbage Salad

This easy cabbage salad is full of root vegetables and scented with ground cumin.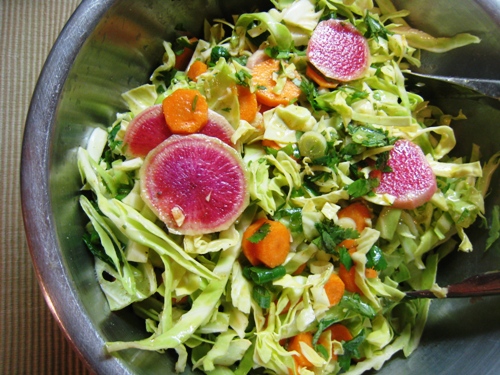 Preparation Time: 10 minutes
Cook time: 0 minutes
Total time: 10 minutes
8 servings
Ingredients:
1 head green cabbage, thinly sliced

2 large carrots, sliced into coins

5 scallions (aka green onions), sliced

2 large watermelon radishes, peeled and sliced (other radishes are fine, just don't peel them)

1/4 cup chopped cilantro

1/4 cup apple cider vinegar

1 clove garlic, minced

1/4 teaspoon ground cumin

1/4 teaspoon sweet paprika

1/8 teaspoon fine sea salt

1/8 teaspoon freshly ground black pepper

1/4 cup olive oil

Instructions:

In a large salad bowl combine the cabbage, carrots, scallions, radishes, and cilantro. Toss gently.
In a small jar or bowl, combine the vinegar, garlic, cumin, paprika, salt, and pepper. Add the olive oil and mix well. Toss with salad.
Serve immediately. If desired chill and serve within 2 days.