A typical chef's salad boasts hard-boiled eggs, cucumbers, tomatoes, cheese, and meat on a bed of dressed greens. This garlicky anchovy vinaigrette adds some punch to the melange.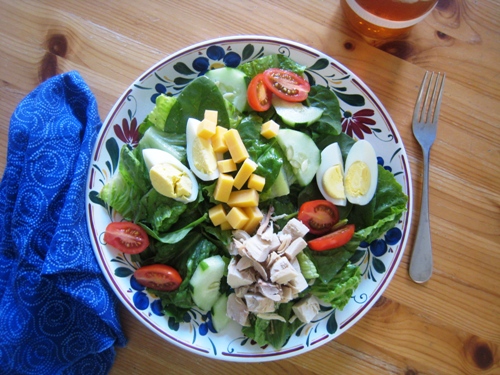 Said to have been created sometime in the 1930's, the Chef's Salad boasts a number of topppings: hard cooked eggs, cucumbers, tomatoes, cheese, and meat, such as roast beef, ham, chicken, or turkey. The assortment of proteins and vegetables rests on a bed of dressed greens.
The traditional dressing is Thousand Island. Since I reserve that for my hamburgers, I've punched up my Chef's Salad with this garlicky vinaigrette. Several early recipes for the salad include anchovies, so I tossed a bit into the dressing.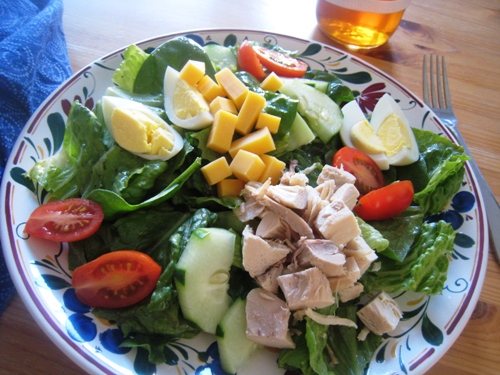 Recipe: Chef's Salad with a Garlicky Anchovy Vinaigrette
Ingredients
1/4 cup red wine vinegar
1 tablespoon chopped fresh basil
1 teaspoon crushed garlic
1 teaspoon anchovy paste or fish sauce
1/2 teaspoon kosher salt
1/4 teaspoon black pepper
1/4 cup extra virgin olive oil
5 cups mixed greens
4 hard cooked eggs, peeled and quartered
2 cups chopped, cooked chicken, ham, turkey, or beef
1 cup cubed cheddar, jack, or swiss cheese, omit if dairy free/whole 30
1 cucumber, peeled and thinly sliced
1 tomato, cored and chopped
Instructions
In a small mixing bowl or jar, combine the vinegar, basil, garlic, anchovy paste, salt, and pepper, Stir or shake to combine. Add the olive oil and stir or shake to combine.
Place the mixed greens in a large salad bowl and add enough dressing to coat. Divide the dressed greens among four plates.
Top each plate with 1 egg, 1/2 cup chicken, 1/4 cup cheese. Divide the cucumber and tomato evenly among the plates.
Serve immediately with extra dressing on the side.
Preparation time: 10 minute(s)
Number of servings (yield): 4
I love to make my own dressings. Not only are they quick and economical to prepare, but they allow me to control the ingredients that I use. I've partnered with Holland House, a maker of vinegars and cooking wines, to bring you tips and tricks about using vinegar and cooking wine in your recipes. It's so easy!
Holland House is running a Facebook sweepstakes in conjunction with The Meal Makeover Moms. Three winners will get a "meal makeover" and at the end of the promotion, one Facebook fan will win a cooking set, valued at $500. Check out their facebook page for more information. The promotion ends June 4, 2012.
Disclosure: Holland House has provided me with sample product as well as compensation for my time spent writing this post. All opinions are my own. You can read more about Holland House and other simple ways to dress up everyday foods on their Facebook page.