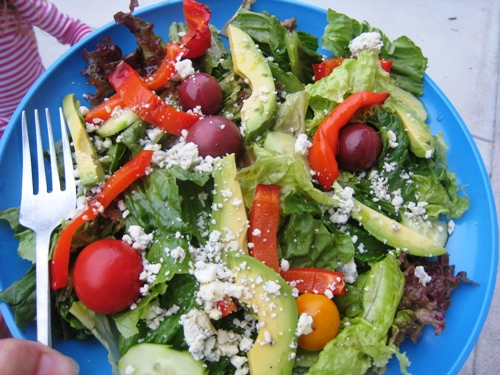 I've always been a salad fiend. I would rather eat salad than dessert sometimes. My college roommate could not understand it. I don't think I ever saw her eat anything green. Poor thing.
There are so many delicious salad combinations, you never have to be bored. Ahem… Let me count the ways.
I could go on….
Make your own dressing.
It was sometime in college when I realized that salad dressing was just as easy to make from scratch as it was to open a bottle of commercially made salad dressing. That discovery opened a whole world of flavors and tastes. Especially since I love salads.
One flavor combination that is absolutely delicious is balsamic and tarragon. The herb and the sweetish vinegar combine well. Stir in a little Dijon mustard for a little bite and you've got a dressing or marinade to wow even the snobbiest of foodies.
I particularly love this dressing on simple composed salads. If blue cheese is involved, so much the better.
Holland House is the balsamic vinegar that I used in this dressing and it was absolutely delicious. The brand has long been a regular in my cupboard for cooking wines, like sherry. I'm glad to be able to add their line of vinegars to my stores. I've also been able to test their Garlic Red Wine vinegar which is part of one of my favorite salads.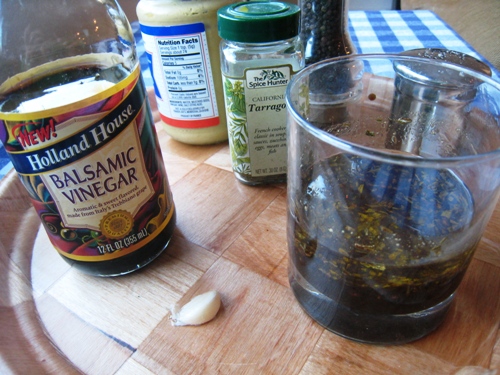 Recipe: Tarragon Balsamic Dressing
Ingredients
1/4 cup balsamic vinegar
1 teaspoon Dijon mustard
1/2 teaspoon dried tarragon
1 clove garlic, minced
salt and pepper to taste
1/4 cup extra virgin olive oil
Instructions
In a small bowl or glass combine the vinegar, mustard, tarragon, garlic, and salt and pepper. Blend well.
Stir in olive oil in a thin stream, mixing constantly.
Use as a dressing or marinade for fish, chicken, or beef.
Preparation time: 5 minute(s)
Number of servings (yield): 8
What's on YOUR plate?
What's on Your Plate? is designed to be a conversation amongst good eaters.
Tell us about a recent meal. Did it meet with rave reviews? Or did it bomb? What side dishes did you pair with the star of the show? Did you try a new ingredient? Find the groceries at great prices?
What's on YOUR Plate?
Share with us a recent meal you prepared. Either link it up below or tell us about it in the comments. Please make sure that you link to www.goodcheapeats.com in your post so others know where the dinner party is.
And don't forget to visit the other good eaters participating today. I'm sure you will be inspired to make all sorts of Good Cheap Eats at your house.
Disclosure: Holland House has provided me with sample product as well as compensation for my time spent writing this post. All opinions are my own. You can read more about Holland House and other simple ways to dress up everyday foods on their Facebook page.