Start the morning with a cheerful breakfast. This Raspberry Baked Oatmeal is easy to bake and full of great sweet tart berries.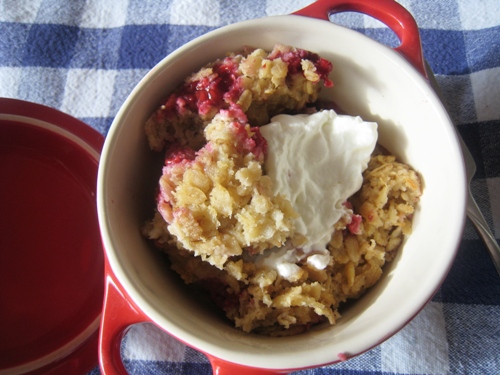 I had heard about baked oatmeal years ago, but I was extremely skeptical. I don't like mushy oatmeal and I was worried that baked oatmeal would be mush. But, after hearing about it and hearing about it, and finding it in multiple cookbooks, I started to wonder, Could all of these people be wrong?
In the midst of a Pantry Challenge, I had spotted a bag of raspberries in the freezer, so I decided to give it a try. Blueberry Bake Oatmeal didn't attract me; neither did Peanut Butter Baked Oatmeal. But, Raspberry Baked Oatmeal? I could go for that!
After intense consultation with the woman I consider to be the expert on baked oatmeal, I set to work tweaking her basic recipe and making something that I loved, that reheated well the next day, and that I have a sneaky suspicion might freeze well also. This raspberry and oat concoction was delicious, served with a little barely sweetened whipped cream.
Unlike the original recipe, I did not refrigerate this overnight prior to baking — and the result was exactly what I wanted: oaty goodness, not too sweet, with dots of tart sweet berries and no mush involved.
10/11/11 – Update: Recently I experimented with freezing this breakfast casserole prior to baking. It was great. Wrap well and freeze prior to baking. Pull it from the freezer the night before you want to serve it and store in the refrigerator. Continue with baking directions as noted.
Raspberry Baked Oatmeal
Start the morning with a cheerful breakfast. This Raspberry Baked Oatmeal is easy to bake and full of great sweet tart berries.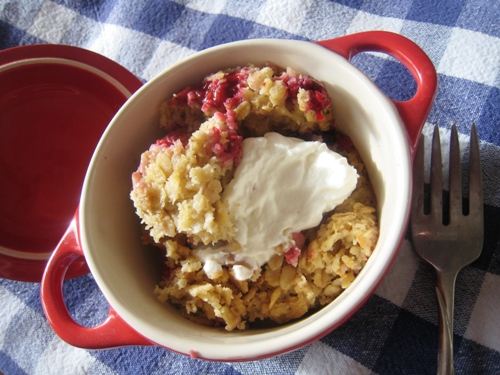 Preparation Time: 15 minutes
Cook time: 45 minutes
Total time: 1 hour
8 servings
Ingredients:
3 cups old-fashioned oats

1/4 cup brown sugar

2 teaspoons baking powder

3/4 teaspoon salt

1/2 cup applesauce

1/2 cup plain yogurt

1/2 cup nonfat milk

1/4 cup canola oil

1 teaspoon vanilla

2 eggs

2 cups raspberries

heavy cream, whipped or plain
Instructions:

Preheat the oven to 350°.
Grease a 9×13 inch baking pan.
In a large mixing bowl, combine the oats, sugar, baking powder, and salt.
In a second mixing bowl, whisk together the applesauce, yogurt, milk, oil, vanilla, and eggs.
Pour the wet ingredients onto the dry, and add the raspberries.
Fold gently to combine.
Spoon the mixture into the prepared pan.
Bake for 45 minutes or until golden.
Serve with cream, whipped or not.
For freezing: The dish can be frozen at step 7. Simply wrap well and freeze. Thaw overnight in the refrigerator before proceeding with the recipe. To bake from frozen, add 10 to 15 minutes to the baking time.
How do you like your oatmeal?