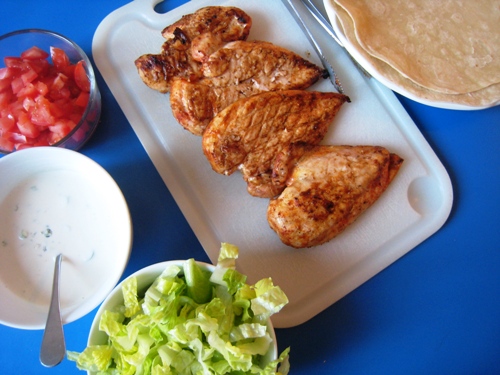 The Buffalo Chicken Salad was so good that I decided to put it into a wrap. Wraps are easily portable and not as heavy as sandwiches, making them light fare for hot nights.
Hubs grilled up a batch of Buffalo Chicken Breasts that I had marinated while I assembled lettuce, chopped tomatoes, tortillas, and a blue cheese dressing. The kids thought we were having burritos, but no, that's a wrap. They just looked at me funny.
Oh well.
Here's how you can make your own at home. Just tell your kids not to look at you funny. They're wraps, OK?
Recipe: Buffalo Chicken Wraps
Ingredients
1 pound boneless, skinless chicken breasts, filleted
1 Tablespoon Tabasco sauce
2 Tablespoons melted butter, cooled
1/2 Tablespoon garlic powder
1 teaspoon smoked paprika
1/2 teaspoon sea salt
1/8 teaspoon cayenne pepper
8 large flour tortillas
thinly sliced romaine lettuce
chopped tomatoes
Blue Cheese Dressing (recipe below)
Instructions
Place the chicken breast fillets in a medium bowl. Drizzle the Tabasco sauce and butter over the tenders. Toss to coat.
In a small bowl, combine the garlic powder, paprika, sea salt, and cayenne pepper. Sprinkle 1 to 2 Tablespoons over the chicken tenders, tossing to coat. Allow flavors to blend for 15 minutes before cooking on a hot grill.
Allow cooked chicken to rest while you assemble the other ingredients.
Chop the chicken into bite-sized pieces. Allow diners to assemble their own wraps. Serve immediately.
Recipe: Blue Cheese Dressing
Ingredients
1/2 cup buttermilk
1/2 cup mayonnaise
1/4 cup blue cheese crumbles
2 Tablespoons finely chopped green onion
salt and pepper to taste
Instructions
In a small mixing bowl, combine all ingredients. Chill to allow flavors to blend.
Welcome to What's On Your Plate?!
What's on Your Plate? is designed to be a conversation amongst good eaters.
Tell us about a recent meal. Did it meet with rave reviews? Or did it bomb? What side dishes did you pair with the star of the show? Did you try a new ingredient? Find the groceries at great prices?
What's on YOUR Plate?
Share with us a recent meal you prepared. Either link it up below or tell us about it in the comments. Please make sure that you link to www.goodcheapeats.com in your post so others know where the dinner party is.
And don't forget to visit the other good eaters participating today. I'm sure you will be inspired to make all sorts of Good Cheap Eats at your house.