Years ago diced green chiles were a regular in my pantry. Back when they were $0.25 a can. They are regularly over three times that early 1990's cost! When we moved to one income I decided that they weren't a necessity. Spicy food was mandatory, but not the little green guys in a can. I started replacing them with finely diced jalapenos or roasted poblano chiles, pictured here.
Now, there is some culinary dispute over the poblano chile. It's often marketed as a pasilla. And that is how I first discovered it in my grocery store on Calle Real in Goleta, CA. However, technically, this is a poblano.
And, technially, and otherwise, it is delicious. Especially when you roast it.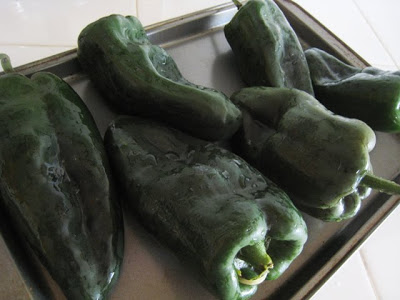 Rinse your peppers and poke a hole in one end. Lay them on a baking sheet and place in the broiler. Broil for about 5 minutes, turn, and broil the other sides. Sometimes, the peppers can be really round, forming four "sides," but sometimes they're flat, necessitating one turn.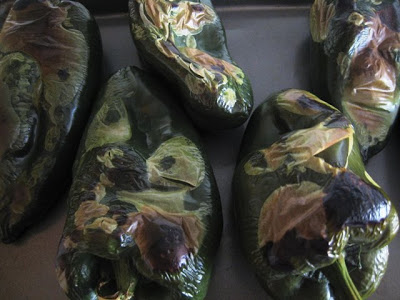 The skins will be black and charred. Place them in a covered dish, paper bag, or wrap in foil, whatever is easier, to steam the skins loose. Then peel.
Some peppers are really hot, some aren't spicy at all. It's a mixed bag. But, be careful, as the juices can burn. You might want to wear gloves or plastic bags on your hands as you peel.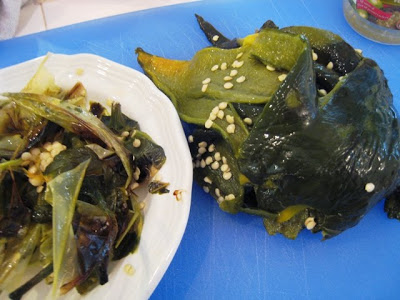 Pull away skins, seeds, and the stem end. I don't mind if they tear because I usually use them chopped or sliced in my recipes. And I don't worry about some straggling seeds. They help add some spice.
What kind of chiles do you like and what do you do with them?


For more recipes with rich flavor, visit Ultimate Recipe Swap.
Want the dish on delicious ways to act your wage? Subscribe to GCE in a reader or via email.