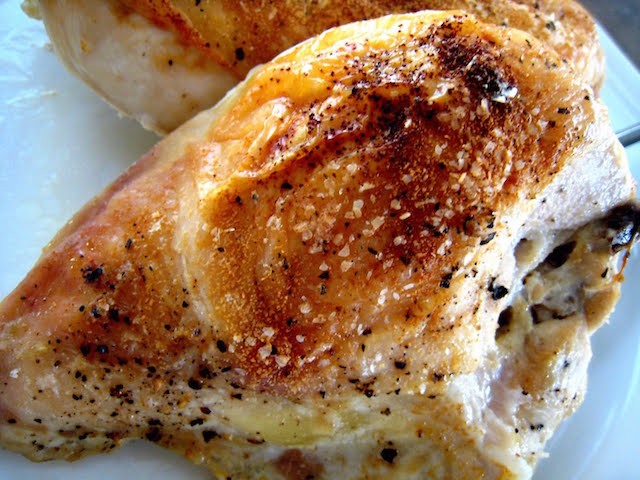 This is my kids' favorite way for me to cook chicken. And it is probably the absolutely easiest method of preparation. It's simple and tasty, and definitely not fussy.
Bone-in chicken breasts often go on sale for about $.99/pound. I rarely see them for less, but I consider that a good price. For about $3 or $4 I can bake up enough for our entire family of 8 as well as have some for chicken salad the next day.
Simply season the chicken, and slide the pan into the oven, accompanied by several foil wrapped potatoes. Serve with a side salad and you have an easy, inexpensive, stick-to-your ribs kind of meal. Your sons and husbands will love it. Promise.
You can even prepare the chicken in the morning and store the pan, uncovered in the refrigerator. The coolness of the ice box along with the spices helps the skin to dry out a little and create a brown, crispy crust. Plus, make ahead prep also helps alleviate the witching hour, that time of day when everyone is restless, hungry and grumpy.
Recipe: Easy Baked Chicken
Ingredients
4 large chicken breasts, with skin and bones
kosher salt
pepper
garlic powder
Instructions
Preheat oven to 375°.
Rinse chicken breasts and pat dry with paper towels. Place in large, rimmed baking sheet. Season generously with salt, pepper, and garlic powder.
Bake for 45-60 minutes or until juices run clear and skin is crispy and golden brown.
Remove from heat and rest for 10 minutes. Cut each breast in half and serve with baked potato and a side salad.
Baked chicken is wonderful to keep on hand in the freezer. Chop the cooked and cooled meat and store it in 2-cup portions, airtight, in the freezer to use in recipes, fill sandwiches or burritos, or to top salads.
Cooking time: 45-60 minutes
Number of servings (yield): 8