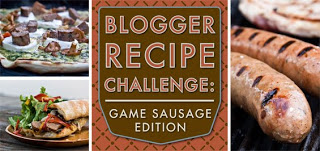 I was recently chosen to participate in Marx Food's Blogger Recipe Challenge: Game Sausage Edition. I was sent four links of one of the sausages in their game sausage sampler. The type I was to receive was a mystery until the FedEx man delivered me my cute little, ice-packed, cooler-type package. We were waiting with bated breath because if foie gras was on the menu, I might have had a hard time getting FishPapa to play this game with me. As it turned out, our mystery meat was one we could go hog wild over: Wild Boar Italian.
Italian sausage is a regular staple at our house. I often use it in making Queso Fundido. However, since that is a recipe that I adapted from a magazine, I didn't think it was fair to use it for the contest. Our second application for Italian links is to serve them with pasta.
Kids and adults alike love pasta, so how can you lose? No mom wants to be met with wrinkled noses when she brings dinner to the table, does she? And she doesn't want to slave all day, either.
So, I concocted a super easy, but delicious recipe – one that utilizes budget pantry items, the crockpot, and the grill. Mom does a little work, Mom saves a little money, and the appliances and hubs finish the job. Can I get your vote on that?
Without further ado, I present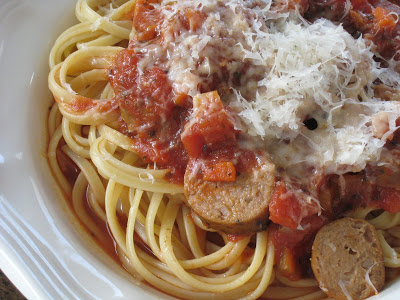 Recipe: Wild Boar Italian Sausage with Spicy Tomato Sauce
Ingredients
1 Tablespoon extra virgin olive oil
1/2 cup finely chopped carrots
1/2 cup chopped onions
2 cups tomato sauce
2 cups (one 15-oz can) canned, diced tomatoes
2 teaspoons dried basil
1/4 teaspoon crushed red pepper*
1 teaspoon kosher salt
1/8 teaspoon black pepper
4 Wild Boar Italian Sausage links
cooked pasta or spaghetti squash
Instructions
In small saute pan, heat olive oil until shimmering. Add carrots and onions. Over medium-low heat, saute vegetables, covered, until very tender, about 10 minutes. Meanwhile, combine tomato sauce, diced tomatoes, basil, crushed red pepper, salt, and black pepper in the slow cooker. Add cooked carrots and onions. Stir to combine. Submerge uncooked sausage links. Cover. Turn crockpot's heat to low and allow sauce and sausages to simmer all day, about 8 hours.
Remove sausages from sauce and shake off excess sauce. Heat grill. Brown sausages on grill. (If you don't have a grill, just brown them in a pan on the stove.) Cut sausages on the diagonal.
Serve sausages and sauce over cooked pasta or spaghetti squash.
*The crushed red pepper gives the sauce a nice kick. But, if you prefer, you can reduce this amount of pepper to tone down the spiciness.