Vegetables and cubed roast beef play happily together in this soup to warm the tummy.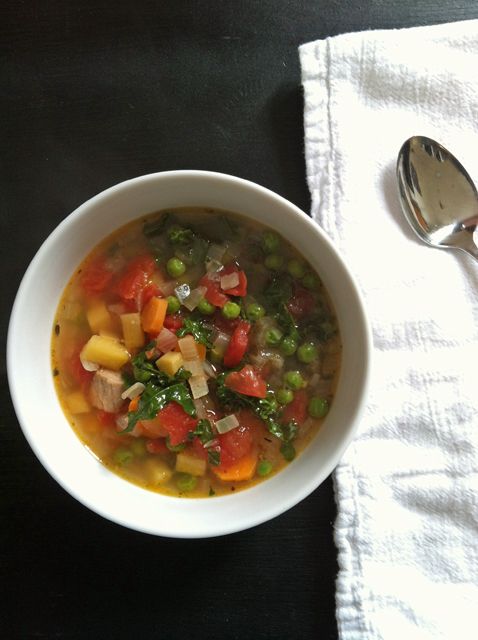 When I was growing up, canned soup was a staple in our home. It was easy to open a can, pour it into a pot, and reheat. Yes, the convenience was awesome. It went to college with me. And into the newlywed days.
However, eventually I learned that homemade soup was almost as easy to make as opening a can. Soup making is not rocket science. I imagine folks have been making soup for as long as there have been pots to cook in.
It's a great way to use up leftovers, eat more veggies, or stretch your budget and your groceries to go a little farther. Plus, if you make a big pot and freeze it into 2-cup containers, you've got your old-fashioned convenience without the new-fangled MSG, fake food, and other additives.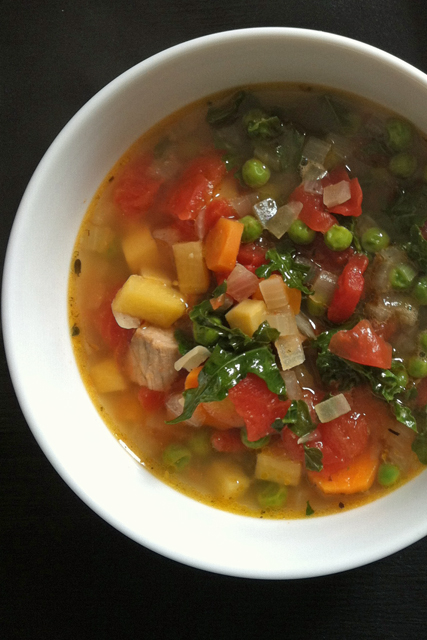 This week's rainy weather and my abundance of fresh produce, not to mention a roast that I forgot about and had to cook, resulted in this big batch of Vegetable Beef Soup. You can add rice or barley to it if you like, but my kids gobbled it down in its original, paleo-style form.
Yep, I made it to fit the Whole 30 because that's how I roll for at least 8 more days. (You can read more about that here.)
Recipe: Vegetable Beef Soup
Ingredients
1/4 cup olive oil
2 cups chopped onions
1 1/2 cups chopped turnips or potatoes
1 1/2 cups sliced carrots
1 Tablespoon crushed garlic
4 cups beef broth
4 cups water
14.5 ounce can chopped tomatoes
2 cups cubed, cooked beef or 1 pound round or chuck steak, cubed
2 cups chopped kale
1 cup green peas
1 teaspoon kosher salt
1 teaspoon paprika
1 teaspoon herbes de Provence
1/4 teaspoon black pepper
Instructions
In heavy stock pot, heat oil until shimmering.
Add onion, carrots, turnips, and garlic. Cook over medium heat, stirring occasionally for 10 minutes. If you're using uncooked beef, add it now.
Add broth, water, and tomatoes. Bring to simmer and cook 20 minutes.
Stir in beef, kale, peas, and spices. Simmer for 10 minutes. Adjust seasonings.
The cooled soup can be stored in meal-size portions in the freezer for up to 2 months. Reheat before serving.
Preparation time: 10 minute(s)
Cooking time: 30 minute(s)
Number of servings (yield): 8