Have you ever been grocery shopping at ALDI? Did you know this discount grocer is coming to California? Here are 7 things you might want to know.
This post is sponsored by ALDI. I have been compensated for my time spent writing this post. All opinions are my own.
Did you know that discount grocery store ALDI is coming to California? Over the years readers have written to me, urging me to shop at ALDI because they know I am a Grocery Geek and could save even more money on groceries shopping at ALDI.
The problem was: we didn't have ALDI in California!
I shopped at ALDI a few times during our last few months in Kansas and was impressed with their prices, but not overly so with the product line. Since that time, almost a decade ago, I've heard that ALDI has really stepped up its game in terms of organic, all-natural products.
I've been really curious to know if the rumors were true, so you can imagine that my interest was piqued when I saw a billboard along the freeway one day: ALDI is coming to California!
Say what?! Curiosity officially increased.
Earlier this month I had a great opportunity to spend two days learning about ALDI, tasting ALDI food, and generally pining away for the day when my local ALDI opens its doors next month. Along with nine other bloggers, I got a behind-the-scenes look at how ALDI operates, how they are able to offer such great prices, and how their food tastes. (Great, by the way.)
Today I thought I would share some of my discoveries and "pull back the curtain," as they say. Here are a few things you might wanna know about shopping at ALDI.
Shopping at ALDI: 7 Things You Might Not Know About ALDI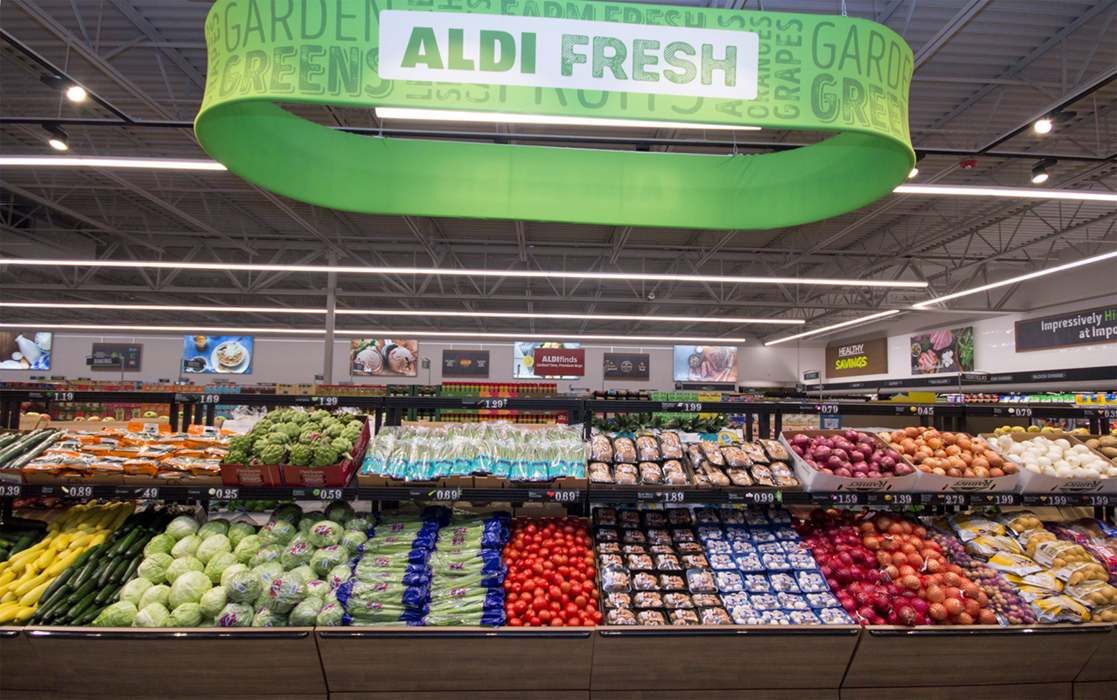 1. ALDI uses a number of efficiencies to give better service and low prices.
Shopping at ALDI is guaranteed to save you money on groceries. Up to 50%, depending on where and how you shop already. But, this might make some wonder? How are they able to do that?!
ALDI has made it a practice to study how their stores can be more efficient and to make the shopping process easy and effortless for its customers without increased costs. Efficiency helps them lower the bottom line for everyone concerned.
Here are a few ways that this works:
The stores are smaller, creating a lower overhead and smaller physical footprint.
The product arrives at the store packed in shelf-ready cases so the staff doesn't have to spend time shelving product.
There are multiple barcode labels on every package. This means that clerks don't need to spend time turning a package around in order to scan the barcode.
The clerks sit at the check stand, instead of standing on their feet all day. This is better for the employees and helps prevent injuries.
A limited product line allows ALDI to stay on trend without having to worry about waste or moving less popular products.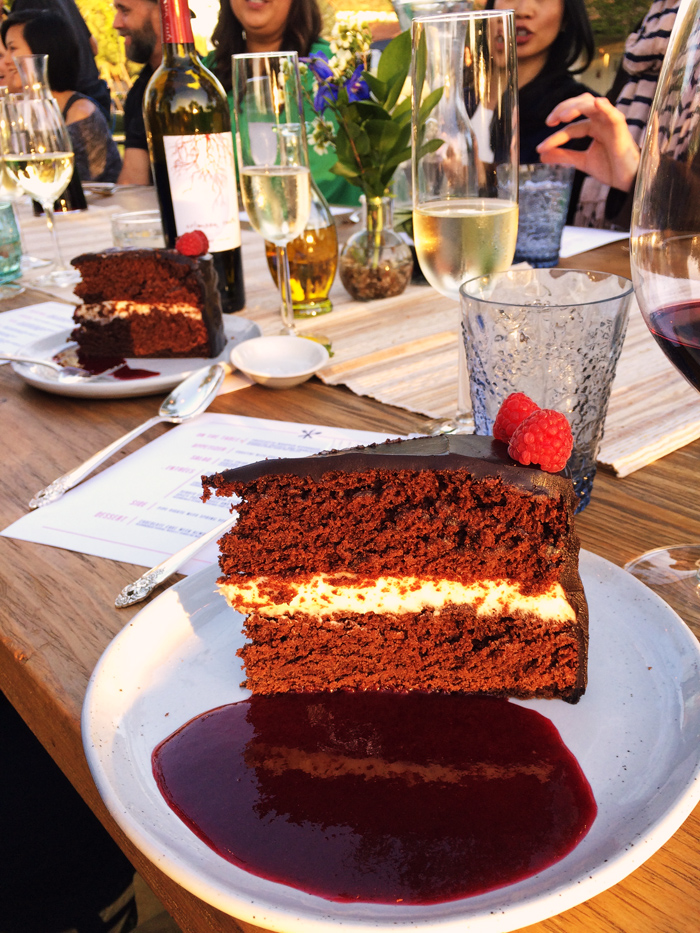 2. ALDI has very high standards for the products they sell.
ALDI carries 90% store brand products that they curate from a variety of national food producers. They require that their store brands be as good or better than the national equivalent.
During our Taste of ALDI event we had a chance to taste test a number of different products, some on their own and some in comparison with national competitors. I was really impressed with many of these items, particularly these:
Specially Selected Original Naan Bread
Simply Nature Exotic Vegetable Chips
France Sparkling French Pink Lemonade
Little Salad Bar Original Guacamole.
Yum! Thank goodness their prices are low because I think I will have a full cart right off the bat!
We had several delicious meals that were composed of all ALDI ingredients. Amazing! Absolutely amazing.
3. ALDI does carry a few brand names so you won't have to make a second stop on your way home.
There are some name brand products (about 10% of what's available at ALDI) that you can pick up, such as a favorite brand soda or type of toilet paper. These are there for shoppers' convenience so they don't need to make another stop on the way home from ALDI.
ALDI strives to provide everything you need as a one-stop shop.
4. ALDI accepts a variety of payments.
During its early years, ALDI accepted only cash or debit card. They have now expanded their forms of payment to include cash, Visa, MasterCard, Discover, American Express, most debit cards, the Electronic Benefits Transfer (EBT), and Link cards. At this time, they do not accept WIC or personal checks, but they have opened things up to give folks more flexibility when shopping at ALDI.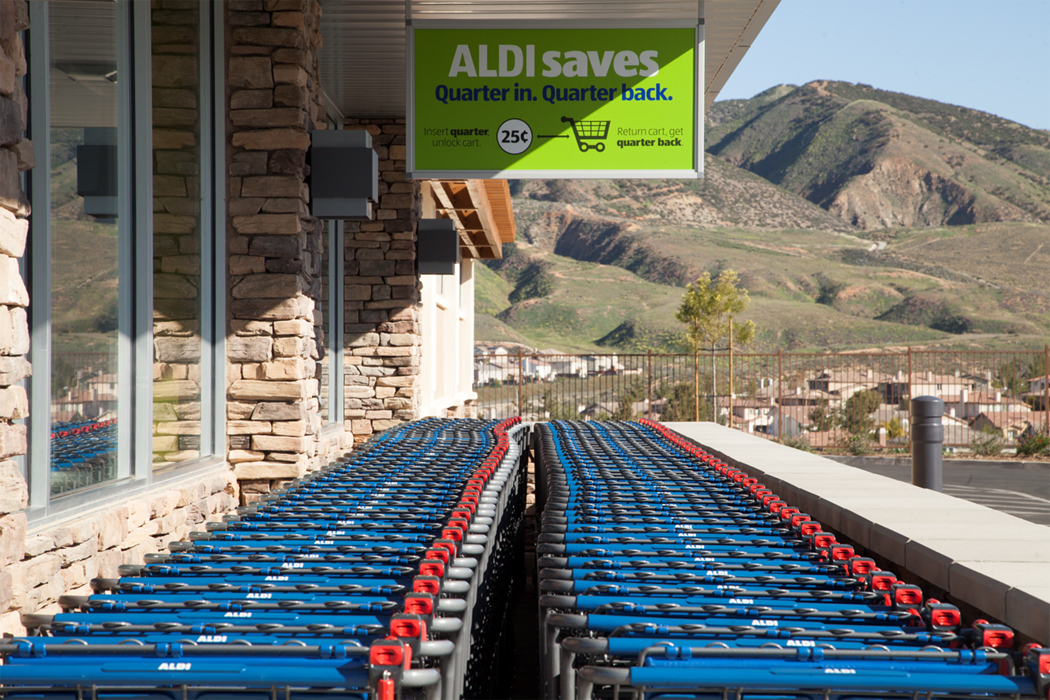 5. ALDI's grocery cart system requires a 25 cent deposit.
You will need to carry at least some cash to shop at ALDI, but not much. You'll need a quarter in order to use a shopping cart. Now, before you freak out, know that this system has been used in Europe for over 20 years!
I think it's a great system to keep costs down. You take your cart back; you get your quarter back. The store doesn't need to pay someone to chase down wayward carts. As a former grocery store courtesy clerk, I can attest to the fact that this job is NOT fun.
By incentivizing the cart return, ALDI can keep costs down – and save some poor kid from schlepping carts through the parking lot. Ahem.
6. ALDI is not owned by Trader Joe's.
I've been trying to dispel this myth for years after doing my own research, but I'm glad to hear it straight from the source. While Trader Joe's and ALDI both have great things going for them, the stores are not owned by the same company. The original grandmother company founded by the Albrecht family divided into ALDI Nord and ALDI Sud in the 1960s. (ALDI stands for Albrecht Discount.)
Today the companies operate independently. ALDI Nord owns Trader Joe's, while ALDI Sud operates ALDI USA. While Trader Joe's has its roots in the west, I've got a feeling that ALDI is going to give Joe a run for his money!
7. ALDI has a Double Guarantee.
ALDI wants to make sure you're super duper happy. There's really no risk to trying out their selection. If you aren't 100% satisfied with your purchase, they will replace the product AND refund your money. (Just be sure you have the packaging and any unused product when you make your return.)
Clearly, we Californians have nothing to lose when it comes to giving ALDI a try.
Can you tell I'm super excited about my new neighbors? I'd love to hear about your experiences shopping at ALDI.
Keep up with A

LDI on the web!

For cooking tips and the 411 on what's fresh at ALDI, be sure to add ALDI to your feed!
What do YOU love about shopping at ALDI?
This post is sponsored by ALDI. I have been compensated for my time spent writing this post. All opinions are my own.