This month, we're shopping our kitchen in order to use up what we have so we can save money and clear kitchen clutter.
Here we go with Day 7 of the Pantry Challenge! I don't know about you, but that first week went by pretty quickly! How are we already one week down?
I was up early when Bryan and the boys left for work, so I got started on my sourdough right away. It felt a little like 2018. That was a good feeling. 😉
No, I did not start doing sourdough during the pandemic. I was doing it long before it was cool, folks. I put pretty much everything I know in this post on sourdough starter.
This morning I mixed up two double batches of Sourdough Rye Bread as well as a double batch of Sourdough Pizza Crust. I pretty much used most of the starter I had, so I fed it and will do that again the next couple days.
We have enough flour for the near future, but since I bake most of our bread, I will need to buy more probably before the month is out.
When I checked the freezer, we only had self-rising left (all I could find back in 2020), so we'll have to do some Cranberry Chocolate Chip Scones and Whole Wheat Beer Bread soon to use it up.
So far, I've done preliminary inventories of the freezers and well as more thorough analysis of the pantry and fridge so that I have a good idea of what's at our disposal. We can easily have most dinners this month without having to buy too much. Lunches may be different since we have specific routines for lunch that I would like to keep, like Bryan's burritos and my salads.
As I've mentioned before, I keep an emergency stash of food in tubs in the cupboard under the stairs. That way, I'm not worried about eating down what we have in the pantry.
If you don't already have an emergency supply, please think about doing that with some of the money you save this month. It will relieve buried anxiety as well as help you in a pinch.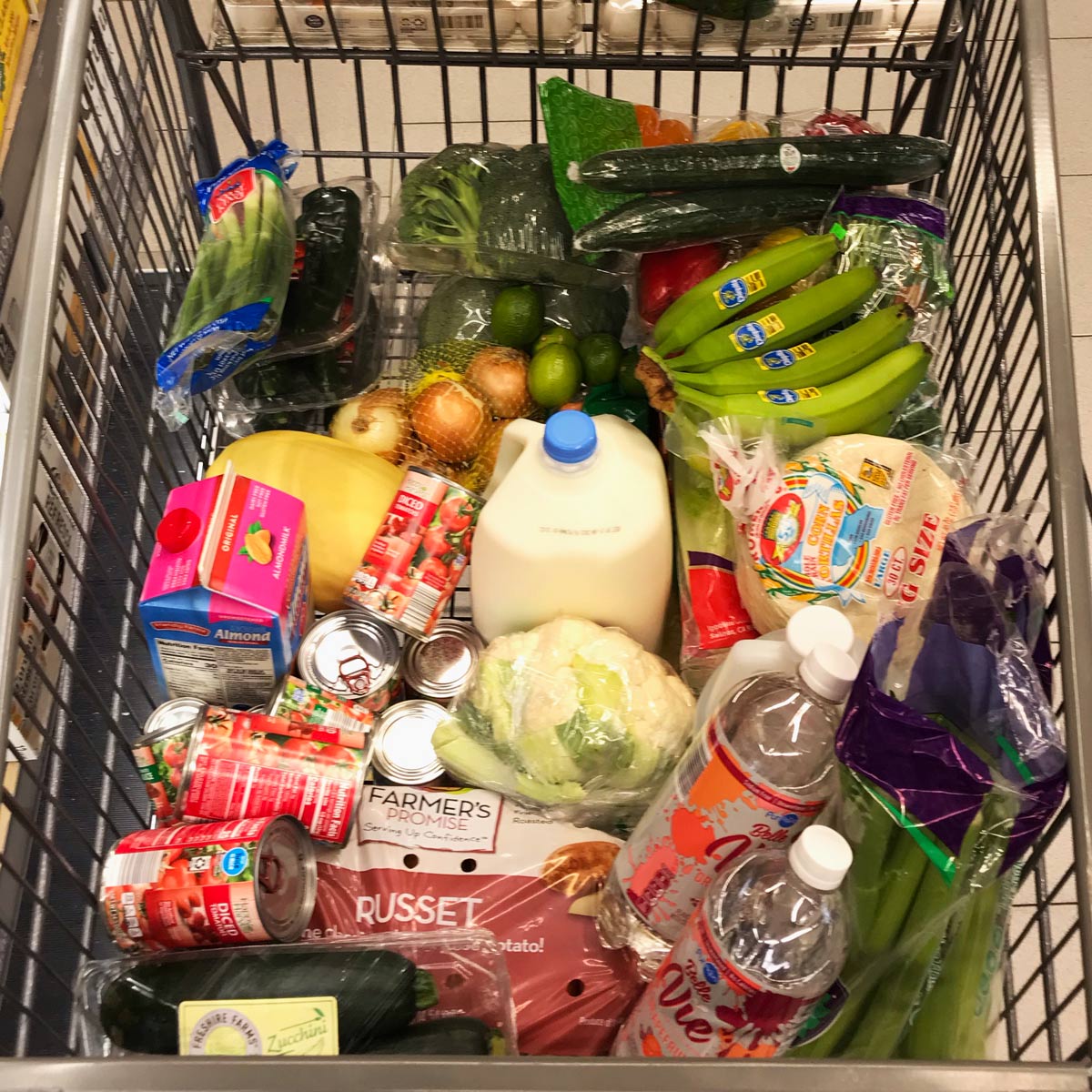 Today went pretty well, and while this first week has gone quickly, I'm not sure how I feel about all the food we have in the freezers. It looks like a bunch of hodge-podge.
I really want to be more organized going forward, but I want it done now! I'd like my clean slate to happen now.
Unfortunately, reordering your groceries isn't the same as organizing your closet. Unless you ditch or donate it all, a clean slate doesn't make sense — at least not overnight. You gotta chip away at it. And that requires eating. lol
I am making lists and freezer cooking plans for February, though. I'm excited for that and will be ready to hit the ground running when we've cleared out the cluttery stuff.
Though we do have a lot of proteins and condiments on hand, I did make a run to ALDI today for eggs, milk, fresh produce, and canned tomato items. We were basically out of all those things and they're pretty much staples around here.
I knew ALDI wouldn't have certain things (like Fage or eggplant) so I started a Walmart Grocery Pickup order and then when I came home, I completed it with anything ALDI didn't have. Their shelves were pretty empty, but I'm trying not to be concerned by it.
To date: I've spent a little more than $150. That is zero out of pocket since I'm using my Ibotta rebate money first. That should cover the first two weeks for sure.
My overall goal is to spend less than half what the feds say food should cost for my family, half of $1400, so $700. One-fourth of that is $175, so we're on track with our spending of 150-ish now.
What We Ate
(Remember there are only four of us home on weekdays for breakfast and lunch.)
Breakfast – Again several kids had leftovers for breakfast; one child made a poached egg (my kids have taught themselves as I don't know how to do it).
I had one of my go-to, healthy-ish breakfasts, Skillet-Poached Eggs with Spinach. We had some sliced leeks in the freezer and some bell pepper that I subbed for the other veg in the recipe as well as power greens I bought on clearance in December. They've held up surprisingly well!
Lunch – One child had a salami sandwich on Sourdough Rye Bread; another made a couple grilled cheese sandwiches.
The third child made the Cheetos Mac and Cheese she got in her stocking. Alongside carrot sticks, orange bell pepper, and orange juice, her lunch was all orange! She did not like the Cheetos Mac and Cheese, despite loving boxed mac and cheese as well as Cheetos. Just not together.
I had my go-to Iron Woman Salad: baby greens, cabbage, shredded carrots, lentils, quinoa, turkey meatballs, dried cranberries, pepitas, goat cheese, and drizzled with balsamic. The veg was all from Christmas, the lentils and turkey from the freezer, the quinoa, craisins, and pepitas from the pantry.
Dinner – Rain or shine, our regular Friday night dinner is The Easiest Grilled Pizza You Can Make. Tonight was no different. We had all the toppings everyone wanted, either in the freezer or the pantry, so it was easy.
For our gf eater, he has been a great sport about pizza night and we've explored different kinds of gf pizza so that he can find some he likes best.
What I Prepped
How did Day 7 go for you?