Everyone needs to know how to make meatloaf, right? Here's the basic meatloaf recipe that you can fancy up however you like — or not.
This is one of those great dishes to serve with mac and cheese. It's also good with Roast Vegetables as well as our favorite Chimichurri Rice.
After more than eight years of blogging, I've shared a lot of recipes. Throw in 4 cookbooks and the number gets even higher. I think I'm approaching 1000 recipes that I've developed and tweaked over the years. And yet, there's no great post for me to point you to when it's time to make meatloaf.
This is the kind of stick-to-yer-ribs kind of dish that everyone should know how to make. Everyone needs a basic meatloaf recipe; I'm going to suggest that this be that recipe.
I love meatloaf, yet it's not a dish my mom ever made. There was one night my dad brought home a prepared grocery store meatloaf for my mom to cook and it didn't go over well. It was covered in some crazy sauce and not at all tasty.
It wasn't until I was in high school and had meatloaf at a friend's house that I learned it could be absolutely delicious. The dad in that family was the cook so I quizzed him on the process and then went home to make meatloaf every week until I moved out.
I still make meatloaf — and everyone loves it. Not everyone loves meatloaf sandwiches the next day, but honestly, there's never any leftovers to make one!
How I make this good:
Whenever possible I like to cook with plain old ingredients. While the convenience of mixes and canned sauces is nice, I feel better about feeding my family just real food whenever possible. (Go here for some of my reasons on all that.)
In my early meatloaf making days, I used packaged bread crumbs and onion soup mix. Nowadays I use fresh whole grain bread crumbs and a mixture of dry onion flakes, herbs, and spices. This reduces my need for any processed ingredients in this basic meatloaf recipe.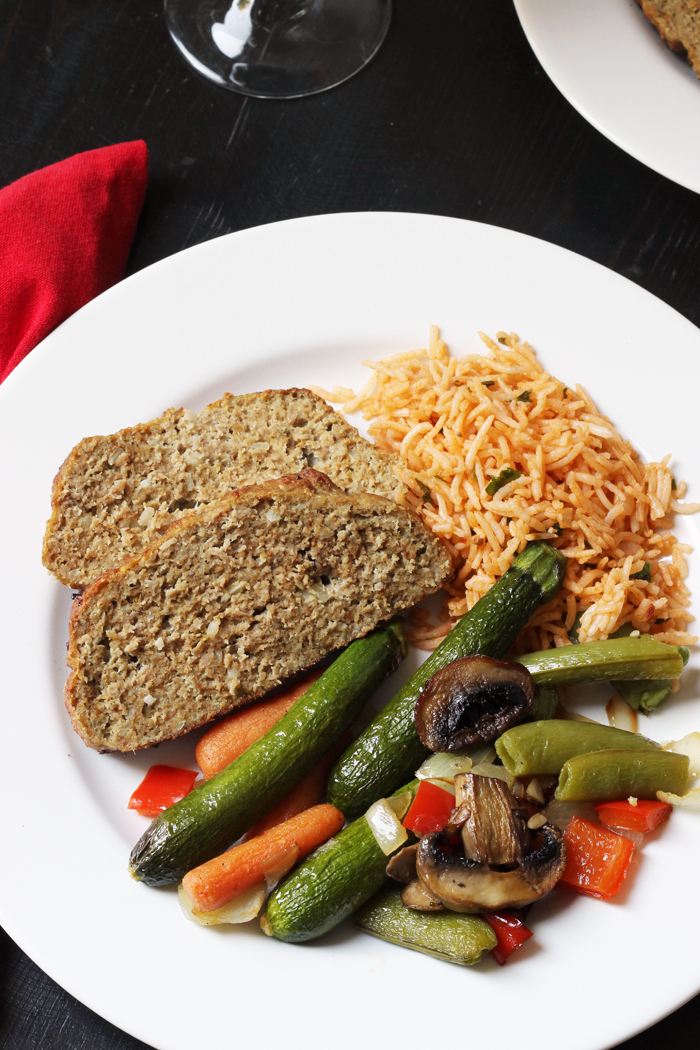 How I make this cheap:
Here are some of the strategies I use to make this recipe more economical:
Stock up on ingredients when they are on sale! When I see a great price on ground turkey, I buy a lot of it and store it in the freezer. Then I'm always using it at the price point I feel comfortable spending.
Buy spices in bulk. Typically I buy spices at Costco or from Amazon in the big containers. If it's a spice I won't use up quickly, I store the excess in the freezer to extend it's shelf life.
Use fresh bread crumbs. Unless you want a fancy panko crispiness in a recipe, many recipes that call for bread crumbs can use fresh bread crumbs instead of the dried, sodium-laden crumbs you buy at the supermarket. This recipe calls for two slices of bread run through the food processor. Use the heels since, according to my daughter, no one wants to eat those anyway.
Tools I use to make this recipe easy:
This is a pretty straight-forward dish. You don't need any fancy equipment. However, having some good basic kitchen tools can really make your time in the kitchen more enjoyable. Over time, I've honed my collection so that they are perfect for my needs. Here are the tools that I like to use in this recipe.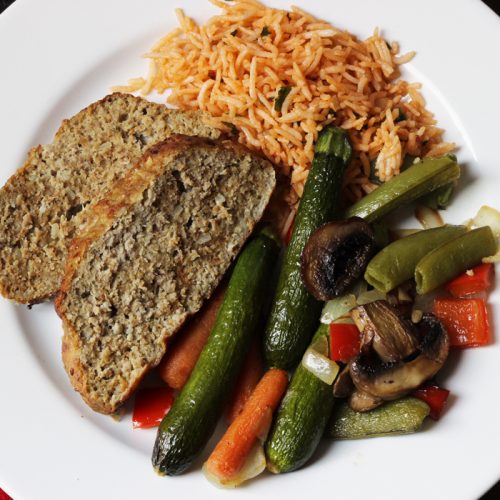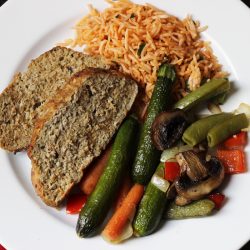 Basic Meatloaf Recipe
Everyone needs to know how to make meatloaf, right? Here's the basic meatloaf recipe that you can fancy up however you like — or not.
Print
Pin
Rate
Ingredients
2

lb

ground turkey

2

egg

beaten

1 to 1 ¼

cup

fresh bread crumbs

about 2 slices

¼

cup

dry onion flakes

1

teaspoon

salt

½

teaspoon

dried oregano

½

teaspoon

ground cumin

¼

teaspoon

paprika
Instructions
To bake the meatloaf in the oven.
Preheat the oven to 375 degrees. Grease a 9×13-inch baking pan with nonstick cooking spray.

In a large mixing bowl, combine the turkey, eggs, bread crumbs, onion flakes, oregano, cumin, and paprika. Mix the ingredients until well combined.

Form the meat mixture into a loaf about 8×5 in the middle of the prepared pan. Bake for about 45 minutes or until an internal temperature of 165 degrees is reached. Remove to a cutting board. Slice and serve.
To cook in the slow cooker:
Fold a piece of foil 12X9 inches. Spray the foil with nonstick cooking spray.

Prepare the meat mixture as directed above. Form it into an 8×5 loaf and transfer to the foil sheet. Use the foil sheet to lower the loaf into the slow cooker.

Cook on low for 3 hours or until an internal temperature of 165 degrees is reached. Using the sling, remove the meatloaf to a cutting board. Slice and serve.
Notes
The meatloaf can be frozen prior to baking. Simply wrap the loaf in aluminum foil and place in a labeled ziptop freezer bag. Prior to serving, thaw the loaf completely in the refrigerator and proceed with the baking directions.
Nutrition
Calories:
216
kcal
|
Carbohydrates:
14
g
|
Protein:
31
g
|
Fat:
4
g
|
Saturated Fat:
1
g
|
Cholesterol:
103
mg
|
Sodium:
488
mg
|
Potassium:
411
mg
|
Fiber:
1
g
|
Sugar:
2
g
|
Vitamin A:
119
IU
|
Vitamin C:
1
mg
|
Calcium:
47
mg
|
Iron:
2
mg
Tried this recipe?
Tell us what you think! Your reviews help us develop better recipes and give newcomers the confidence to try your favorites. Scroll down to leave a starred comment.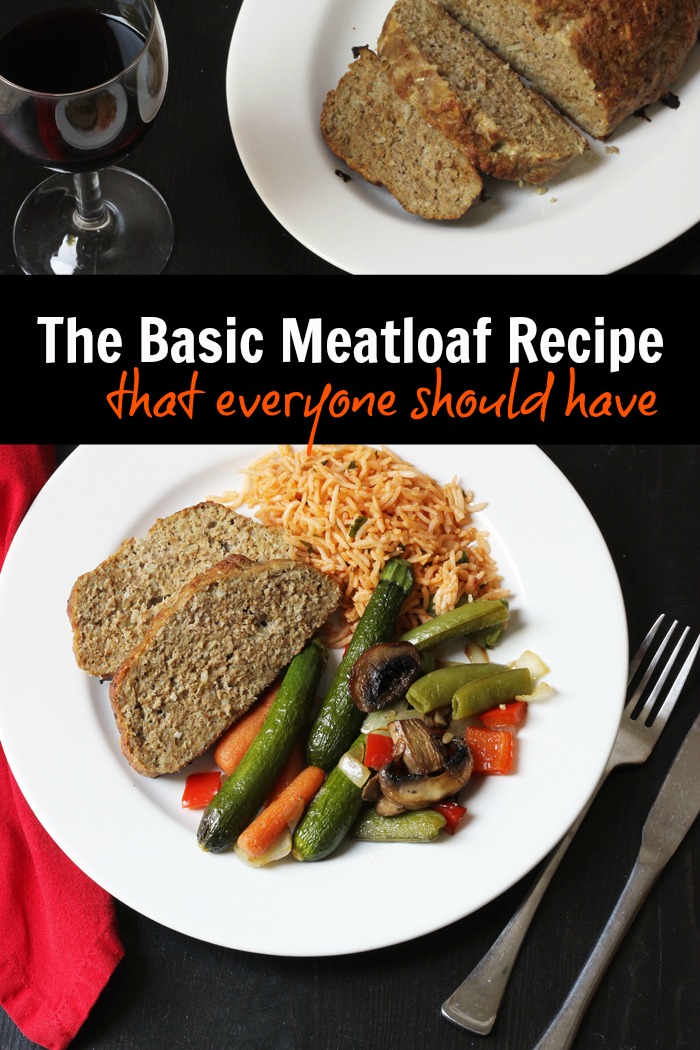 Are you looking for more good cheap eats?